Litecoin (LTC) halving has finally occurred but the price is not shooting up as the market expected it to. In fact, it keeps on falling back to the $100 mark and is struggling to remain above it. If we take a look at the daily chart for LTC/USD, we can see that it has finally broken the 38.2% fib extension level to the upside which is a bullish sign but it has yet to break past the 50 day EMA. It has now retraced aggressively below the 50 day EMA and for good reason. If we take a look at this daily chart since December, 2018 we can see that Litecoin (LTC) traded more aggressively than any other coin and was extremely bullish until June. In fact, Litecoin halving is what gave most investors reason to expect further upside in the market.

So, if we think about it, people who invested based on hype or FOMO are still in profit. This rarely happens in the market and even if it happens it does not end well as we have seen in the past. Let's just assume that Litecoin (LTC) will keep on rising from here. Now, there are two things to consider. First of all, retail traders have gobbled up most of the coins as Litecoin (LTC) halving neared. So, this means that the market makers have fewer coins than before and the balance is now in favor of retail traders. Second of all, once traders saw the parabolic advance begin, they started entering margined longs. Even if most of these traders entered long positions at a late stage, they are still in profit. So, if LTC/USD were to go up from here, the market makers would not only have fewer coins than retail traders but they would be paying massive payouts to those sitting on margined longs.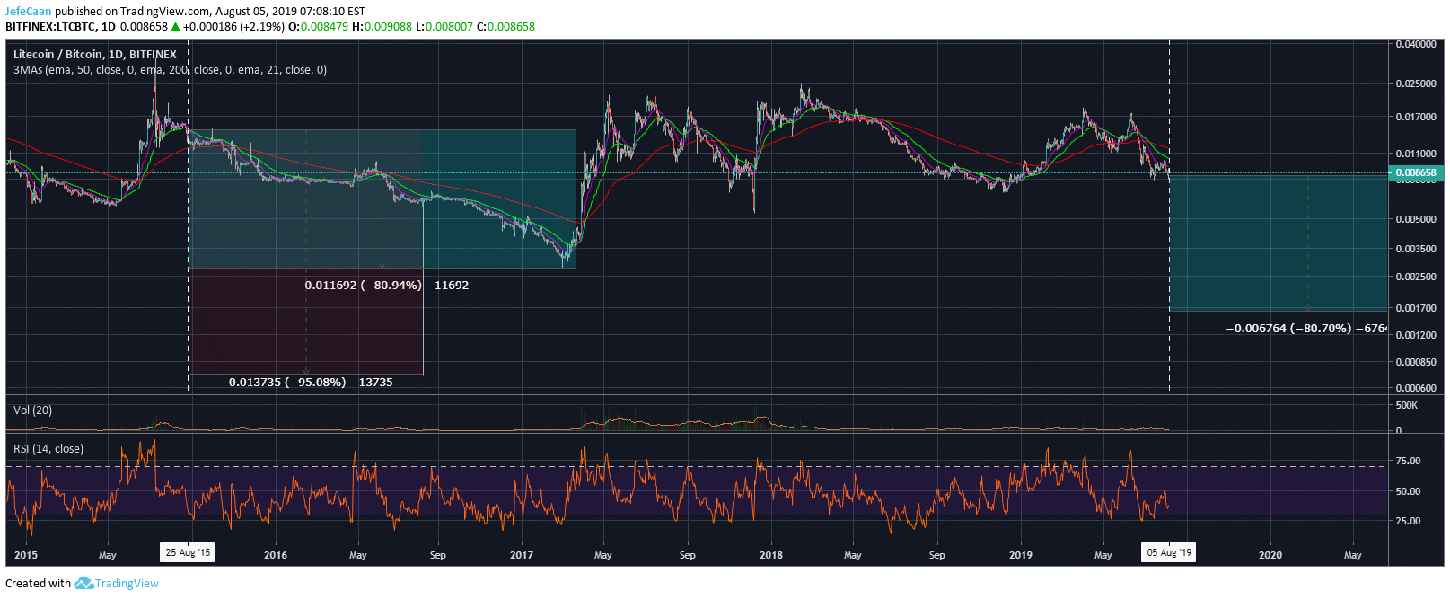 Fortunately, the market is not yet a place to reward dumb money over smart money. People that do their research and due diligence will always be ahead of those that follow the hype. Let us now take a look at the daily chart for LTC/BTC. The second last Litecoin halving was on August 25, 2015. You can take a look at the chart and see what happened to the price after that. It flashed crashed by 95% and it ended up declining 81% eventually.
That is when the Litecoin halving FOMO bubble burst and retail investors were left surprised because they expected a rally to the moon after halving. It is very important to note that this correction during Litecoin (LTC)'s second last halving of August, 2015 happened when the market was just preparing to enter a bullish cycle. I think the circumstances are even worse this time as we are not on the verge of a bullish cycle. We are in the 2014, not in the 2015 part of the last cycle which means that Litecoin (LTC) might end up falling more than 90% against Bitcoin (BTC) from here onwards.