Litecoin (LTC) has started the week in green which is a good sign but it is still struggling to rally towards the 38.2% fib extension level from the December, 2018 lows. So, is the price likely to shoot up before its expected halving in five days? We saw it continue to decline the last time this happened because most investors sold ahead of the halvening and then it continued to decline during and even after the halvening. The difference is that the last time it happened, the price was in a bull market but this time it is in a bear market. We saw a sharp decline in the price starting from June onwards but it has now retraced back to a strong trend line support which stands between further upside and a brutal downtrend in LTC/USD in the near future.

There is no denying that Litecoin (LTC) is at risk of a major correction after its parabolic run up but a large number of people are still waiting on the next halving as the precursor to a major rally in Litecoin (LTC). As with most other things in trading, when everyone starts having the same opinion about something, it is usually a good contrarian indicator to think about the opposite, because it all comes down to money. The market makers cannot afford to pay the majority which is why the majority is always proven wrong one way or the other. In the case of Litecoin (LTC), if the price were to pump on the halvening hype from here onwards, the market makers would be handing out free money to people that buy high and sell low. This is something that rarely happens not just in financial markets but in life in general.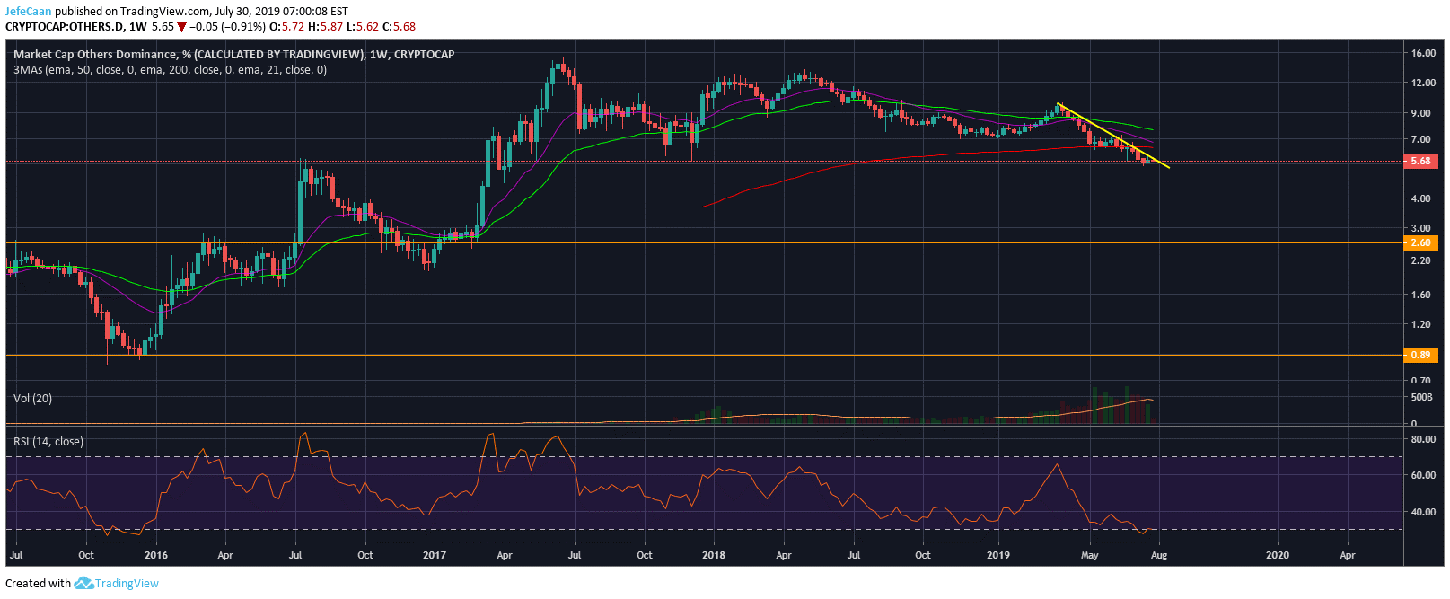 The weekly chart for Altcoin Dominance (OTHERS.D) shows that we can expect massive further downside in the altcoin market. It clearly shows the manner in which altcoin dominance has peaked out and is now long overdue for a major correction. Meanwhile, Bitcoin Dominance (BTC.D) is on the verge of a major breakout. If we had just entered a bull market and altcoins including Litecoin (LTC) were to rally hard in the weeks and months ahead, this would not be happening. Instead, we would have seen Bitcoin dominance decline against Altcoin dominance as we have seen in the past during previous bull markets. The fact that altcoin dominance is falling against Bitcoin dominance tells us that there is further downside to come that will see altcoins lose their gains more aggressively compared to Bitcoin (BTC).
Cryptocurrencies like Litecoin (LTC) that have been hyped up mostly because of its halving hype are likely to see the most pain when the next downtrend begins. It is important to note that Bitcoin (BTC) may be around for a long time as it has a good chance at becoming a global currency but spinoff coins like Litecoin (LTC) that aggravates the double spending problem while posing as Bitcoin alternatives may not have a future at all in the grand scheme of things. As the market matures, it has become more important to carefully invest in projects that have a future. This is no different than the dot com era. At first, we saw anything with a .com do extraordinarily well but later on we saw the useless projects get wiped off the market.