Another day, another crypto exchange opening up for business trying to attract new customers to buy and trade cryptos on their platform. A year ago, it seemed as though the crypto exchange space was already quite saturated with dozens of exchanges coming out of the woodwork. In 2019 we are seeing even more exchanges entering the stage and trying to compete for a piece of the pie before the market matures. These days we see a mix of big and highly centralized exchanges, smaller decentralized exchanges, and everything in between; creating an overwhelmingly massive free market for consumers to choose from. With the heated competition amongst these now hundreds of companies, we are seeing all sorts of methods to get customers to join and stay with their crypto exchanges. Godex.io is one of these newer exchanges trying to separate themselves amongst the crowd by staying true to the spirit of decentralization.

Godex.io is different from many other crypto exchanges. They try to live up to the spirit of absolute privacy that crypto was built upon in the first place and do not require any personal data, accounts or registrations to use their platform to the fullest. They tout in providing anonymous, quick, and secure cryptocurrency trades. All transactions data is wiped from the server weekly. Further, the only kind of data retained for longer periods is for support related concerns such as refunds or technical issues. The retained data is limited to an email address of the customer (if the customer even opts to provide it), the wallet address, and tx hash.

The exchange currently offers over 170 of the most popular cryptocurrencies to buy, sell, and trade with an ever-expanding list of coins to choose from. Unlike many bigger exchange, Godex.io does not have exchange limits, only a minimum spend for transactions to process. They have built-in automation for exchanges which mean no human is going to make an error on the backend when handling your purchases. If and when there were some kind of customer service concern, they have support always available to assist.

The best rates of exchange are tracked in real-time on platforms like Binance, Bitfinex, Coinbase,HITBtc and many other of Godex.io's partners. This ensures the customer will have the best exchange experience even for any random or last-minute trades. They are a fixed rate exchange, meaning Godex can conduct an exchange at the displayed rate appearing on the client's screen at the precise moment of transaction. When that transaction is created, Godex freezes the exchange rate to protect the customer from market swings, creating a seamless experience. This set rate will remain as long as your purchase is made within 30 minutes from the completed transaction.

The execution of trades ranges anywhere from 5 to 30 minutes and is dependent on the speed in which the transaction can be confirmed by the network and when the new block is formed within the blockchain network. Obviously, different coins take varying amounts of time to transfer due to different network infrastructure. The exchange will notify users if and when a transaction may exceed 30 minutes prior to the purchase being initiated. Larger transactions of 1 Bitcoin or more can take longer to process.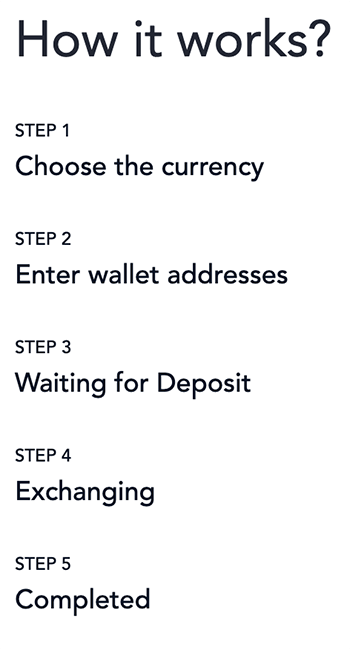 The people and underlying infrastructure running Godex.io brings further confidence to the exchange. The team working behind the scenes are self-proclaimed masters in the blockchain field with a passion to continually improve processes. The servers are highly secure. SSL is enabled, as well as DDoS attack protection. Further, they only partner with trading platforms that live up to their security standards.
If the privacy, security, lack of exchange limits, and variety of coins wasn't enough to convince you to try out Godex.io, maybe their sign-up offer will. They are currently offering one of the highest sign-up bonuses out there. When you join Godex.io now with this link, you will immediately receive 0.005 Bitcoin as a welcome bonus. I highly recommend giving this a shot if you want to quickly grab up some free bitcoin without needing to provide an ID and personal information to claim it, as this offer might not last for long. Good luck in your crypto ventures, let me know what you think on twitter @MarcusHenryHODL and HODL to the moon and beyond!
Marcus Henry is an American Journalist with over 11 years working in tech. He has been actively involved in the crypto community for the past three years and currently works out of Austin, Texas. He covers breaking news, writes perspective pieces and reflections, and conducts interviews with industry professionals and community members. Follow Marcus Henry on Twitter- @MarcusHenryHODL