Ripple (XRP) is in a very vulnerable spot as it has yet to break out of a large descending triangle that it has been trading in against Bitcoin (BTC). Throughout Ripple (XRP)'s trading history, we have seen most of such triangles break to the downside. The price breaks below one triangle and forms another. There is a good chance that the same could happen this time especially as the cryptocurrency market prepares for the next big decline. A lot of people look at the bear market that started in early 2018 and continued till now and they think it is pretty bad. Well, if it was pretty bad we would not be seeing posts about Bitcoin (BTC) or Ripple (XRP) going to the moon so soon. It is going to be a long time for this market to recover again and cryptocurrencies like Ripple (XRP) will experience maximum pain during that time.
The weekly chart for XRP/BTC shows that Ripple (XRP) has remained oversold against Bitcoin (BTC for the most part in the past few weeks. The last time we were in a similar situation, Ripple (XRP) made a big move against Bitcoin (BTC) and tested the current trend line resistance. There is a good chance Ripple (XRP) might do the same this time and XRP/BTC could retest the trend line resistance again before beginning its downtrend. It is quite likely that this would be Ripple (XRP)'s last move to the upside before it begins its long anticipated downtrend. For those that are wondering if the bear market is over or not, let us say that the ongoing bear market comprises of two parts. The first part was the short and fast bleed which seems to have come to a close and now we are in the second part which is the long and slow bleed.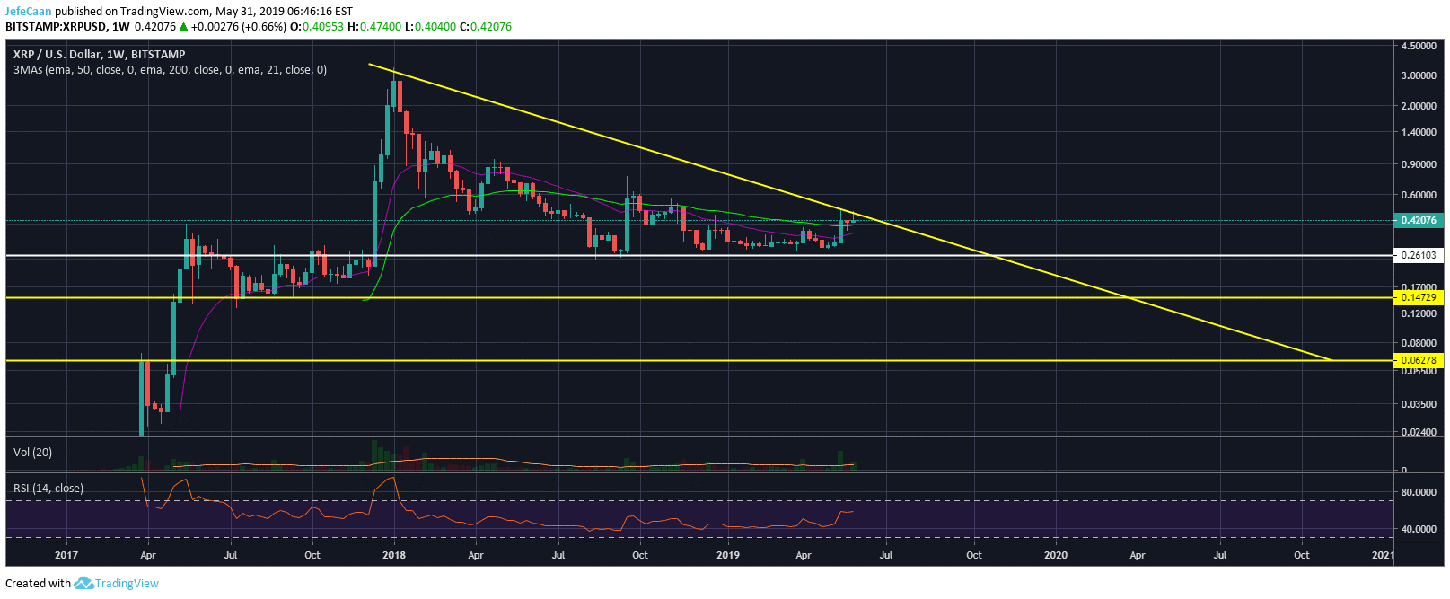 The weekly chart for XRP/USD shows perfectly what is going to happen next. The price is currently trading in a descending triangle which will most likely be broken to the downside and then the price will enter another descending triangle. It will keep attempting to breakout as it has in the past. During the next decline, the price should settle close to $0.15 and trade between $0.14 and $0.26 till the end of the year. After that, if XRP/USD falls again below that descending triangle which seems likely, it might decline all the way to $0.06 which is a very strong support.
Ripple (XRP) is a wonderful project that has a lot of room for growth in the long run but short term, we are very likely to see it fall towards $0.06 somewhere in 2020. This would be the best time to buy as XRP/USD might have the longest bull run in its entire history from there onwards. It might take longer than before to see the price move and complete that bullish cycle but we are certainly likely to see price targets of $5 or higher being reached during the next cycle which would definitely be worth the wait.