The EUR/USD pair has seen a long period of downtrend but we have yet to see it bottom. The recent rally that saw the pair escape the descending triangle and later test it as support is more likely a fake out. This rally could see EUR/USD continue to rise within the ascending channel for the time being but sooner or later it has to come down again. The price of Bitcoin (BTC) is predominantly paired to the US Dollar (USD) on most exchanges. This means that if the US Dollar (USD) goes down, Bitcoin (BTC) goes up in dollar terms. Bitcoin (BTC) started to turn bullish again amid fears of further sell off just when EUR/USD broke past a key trend line resistance and tested it as support. This is a very bullish development for BTC/USD short term but the Euro (EUR) has yet to decline further against the US Dollar (USD) in the weeks and months ahead.
We have seen Bitcoin (BTC) rise above $8,000 again and there is little doubt that the price is headed towards $10,000 from here. The hype around Litecoin (LTC)'s upcoming halvening seems to be driving the market forward as investors see no reason why the price of Litecoin (LTC) might fall around its next halvening if the mining rewards are cut in half and it costs twice as much to mine one Litecoin (LTC) after August, 2019. This has seen LTC/USD leading the markets with BTC/USD and other cryptocurrencies following its lead. Some analysts have said that we might see LTC/USD profits funnel into BTC/USD which will eventually see BTC/USD rise above $10,000 but this is being really optimistic. The $10,000 level is a strong psychological level that is not going to be easy to breach. This is because a lot of people are going to want to sell at that mark especially as they realize that the price has topped out.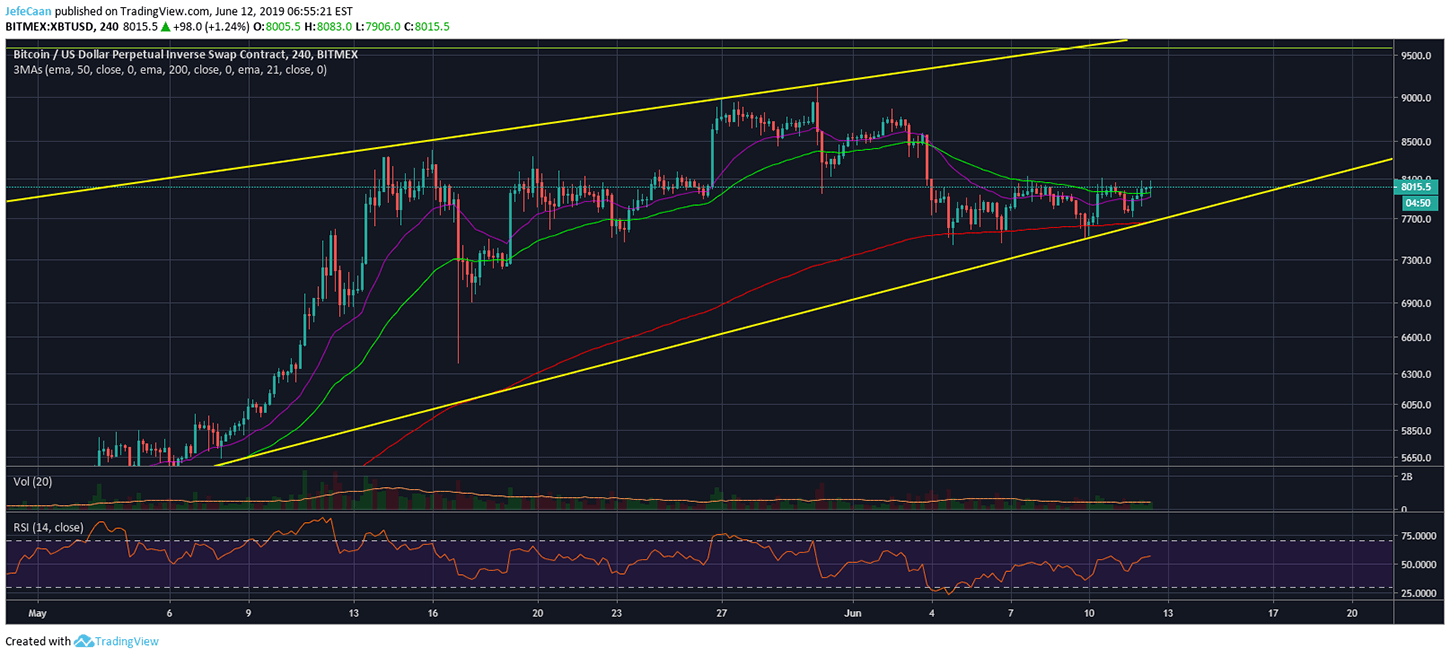 The most likely scenario here is the one that is going to be very boring but it will fit the big picture perfectly. In our previous analyses, we have repeatedly discussed that the ongoing cycle is going to be longer than the previous cycle. This means that we are going to see a lot more sideways movement. In the case of BTC/USD, we are likely to see it trade in the low $8,000s for a long time till Litecoin (LTC)'s halvening nears. That is when we might finally see a spike to the upside and that is perhaps the only way we could see this frenzy come to an end.

If Bitcoin (BTC) does succeed in breaking past $9,000 again, we will be eyeing the $9,600 mark for a retest of the 38.2% fib retracement level from ATH. This is important to determine the direction of BTC/USD for the weeks and months ahead. Bitcoin (BTC) may rally towards $10,000 after testing that level but it is very unlikely to break significantly past $10,000 and will have to begin its next downtrend soon afterwards to find its true bottom in the months ahead.