Bitcoin (BTC) struggles to break past $8,100 as price begins the day in red and declines sharply after testing the 38.2% fib retracement level. The price has now formed a triple bottom on the 1H time frame but we have yet to see BTC/USD climb above the 38.2% retracement level. That being said, the price has already tested the bottom of the rising wedge it has been trading in and is now primed for further upside. We might see sideways movement for a while before we see any big moves to the upside but BTC/USD is now in a far better position than before to finally test the 38.2% fib retracement from ATH around $9,600. This would be one of the most important developments in the entire bear market as it will determine where the price is going in the months ahead.
So far, Bitcoin (BTC) investors remain very optimistic. The Crypto Fear and Greed Index is now back above 61 from 46 yesterday and 27 last week. This goes on to show that sentiment does not take much to change in this market. This is why it is important not to fall for short term FUD or FOMO. As investors, we need to prepare for all possible outcomes short term while staying focused on the big picture. The big picture in this case is that BTC/USD has rallied too far too fast and it is primed for a big decline sooner or later. The small picture is that BTC/USD has retraced significantly and is now likely to rally further to rise above $9,000 again. It is important to realize that for those of us that are not trader or cannot properly manage risk or hedge their bets, it would be a good idea not to chase the price to the upside short term. Their best approach would be to wait for the price to fall before they buy again.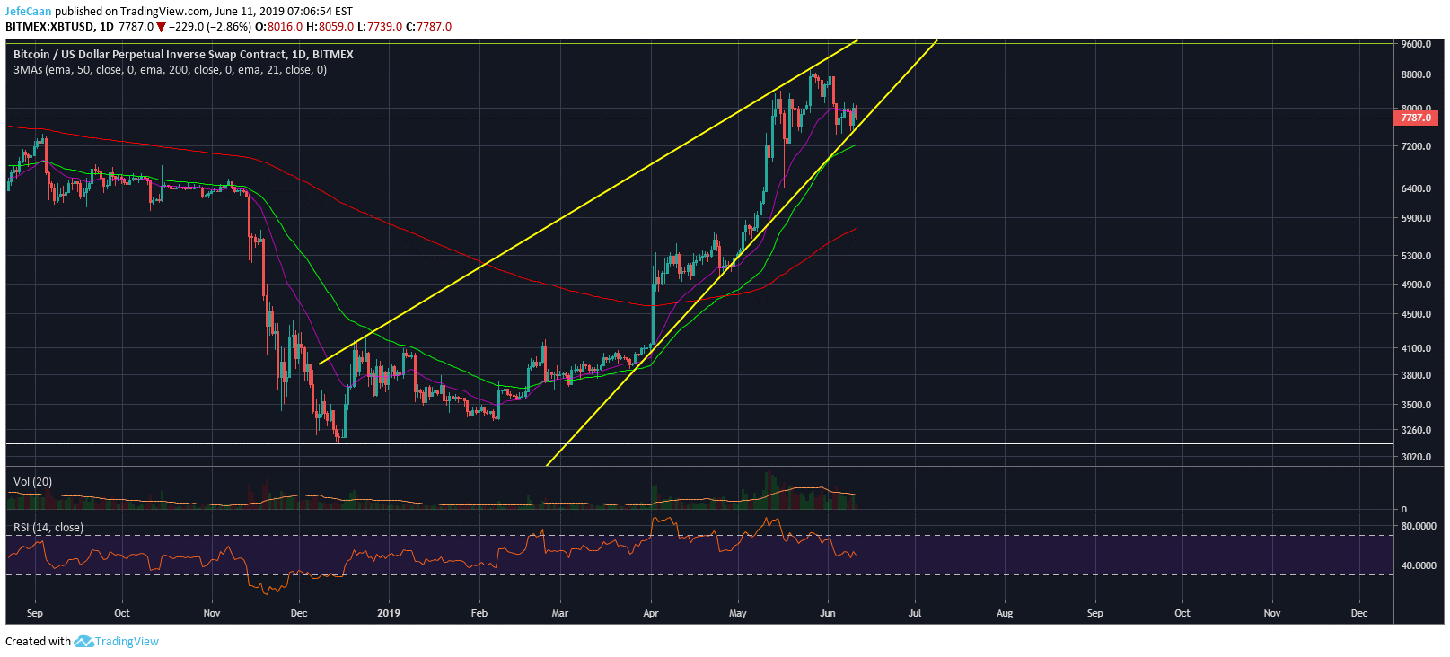 The daily chart for BTC/USD shows the big picture. As we can see, the price is still trading within a large rising wedge. This wedge could break to the downside any time now and we will see the price decline sharply at least to the 200 day exponential moving average and possibly a lot lower long term. As we have mentioned in our previous analyses, this is the best time for value investors to get out because the price of Bitcoin (BTC) has far outgrown the organic buying interest in the market. This growth is not organic and it is very likely to end badly for stubborn investors who do not realize the risks.

Desperation is an investor's biggest enemy. "I gotta make this trade", "I gotta buy Bitcoin (BTC) before I miss the train", "I gotta make X% gains in X days". When you are desperate to do something, you always fail in financial markets. Why? Because it is all about patience and discipline. There is nothing wrong with being greedy but you have to be fearful when everyone else is greedy and vice versa. If it weren't for desperation and wanting to get rich quick, a lot of people would have seen the top and gotten out near $20,000.