Whether you've noticed or not, there's been a sharp rise in consumer preference for digital content since the dawn of the internet. This is mainly due to the lack of legal barriers to accessing information on the world wide web. With a simple internet connection, anyone can access whatever information they desire. Further, they can get it any way they desire, from movies, sports, politics, religion, etc. Nevertheless, the current iteration of the internet, commonly referred to as web 2.0, is plagued with a variety of issues such as centralized control of digital information, lack of data transparency, challenges in protecting authorship (often leading to piracy) just to new a few. Because of these limitations, many people become discouraged from taking a more active role on the web to create movies, games, and other forms of entertainment.
To solve this significant problem, a variety of blockchain-based entertainment applications have been developed to address most of the issues plaguing web 2.0 These include but not limited to:
Flixxo

Theta Networ

TV two

Monvid

Breaker

Vuulr
All the above networks have been making significant strides in order to revamp the current entertainment industry. But as we all know, the success and level of influence of a company depends, to a greater extent, on the reputation of the participants, and not just the idea itself. And that is exactly where HollyGold stands out from the crowd.
HollyGold is a revolutionary blockchain-based entertainment company founded by world-renowned experts in the entertainment and financial technology industries. The company has formed a strategic partnership with Base FX, a well respected digital effects company in the world. Base FX has numerous awards in the visual effects industry, with production studios and offices in globally distributed offices in Beijing, Kuala Lumpur, Los Angeles, and others. Moreover, Base FX has also assisted in the production of more than 200 films and has equally expanded its collaboration as it teamed up with Industrial Light and Magic, another US-based visual effect-related company.
On November 17th, CEO of HollyGold Dior Wu spoke at Michael Madsen's grand imprint ceremony, held at TCL Chinese Theatre, in Hollywood, California. Madsen is known most notably for his role as Vic Vega in Reservoir Dogs. The event was meant to pay tribute to Michael for his decades-long career contributions. The ceremony was proudly sponsored by HollyGold to show its dedication to the Hollywood Film Industry.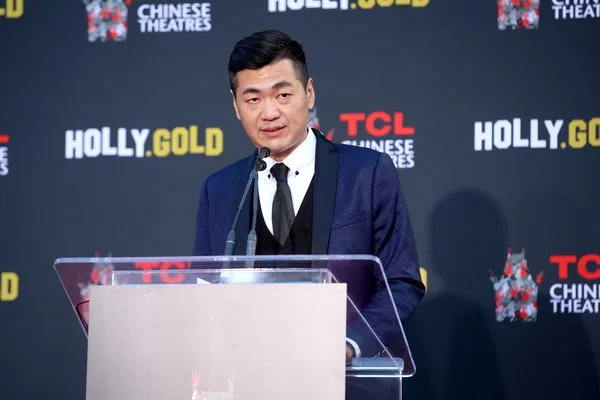 A close-up shot of CEO of HollyGold, Dior Wu at TCL Chinese Theatre
The HollyGold blockchain has its own native token - HGOLD - which is used to facilitate all transactions within the network. The chain has adopted a series of technologies such as hash locking, distributed private key control, etc to maintain security while retaining the transparency and overall integrity of the network. HollyGold will serve as a home for a variety of services such as celebrity interaction ceremonies, tours, VIP dining packages, and more. Anyone who wants to gain access to these services and also take part in the further development of the HollyGold ecosystem will need to purchase the HGOLD tokens.
The HollyGold token (HGOLD) was sold on DigiFinex exchange from the 9th to 13th of November 2020 via their Apollo launchpad. The event was very successful with the last round of token sale sold out in just 20 minutes. The token sale attracted 5,6k participants, and in total raised $4.9m. DigiFinex has opened trading for HGOLD/USDT on 16th November 2020 at 11:00 (GMT+8), with price shooting up by 300% within 24 hours of opening the trading pair.
DigiFinex is considered one of the leading cryptocurrency exchanges in the crypto space with 6 offices in different parts of the world. It is regularly ranked among the top 10 exchanges by trading volume and liquidity. It offers a wide range of financial services surrounding cryptocurrency, including crypto spot, margin, derivatives, P2P trading; as well as crypto asset management services including fund and loan. Further, DigiFinex also deploys a security mechanism that uses multiple safe layers to provide users with the same level of protection they would expect from a well established financial institution. The founders of the crypto exchange are also leaders of renowned tech companies from the United States, Hong Kong, and China with a proven track record of working on networking and financial technologies.
Blockchain-based entertainment platforms have existed before Hollygold and many more might be launched in the future. Regardless, HollyGold has been the only one to garner a substantial public interest within a very short time. This is mainly due to its partnership with renowned companies like Base FX and the fact that it is supported by many celebrities, entrepreneurs, and investors around the world. Check out more on HollyGold by visiting their website.
Marcus Henry is an American Journalist with over 12 years working in the tech industry. He has been actively involved in the crypto community for the past three years and currently works out of Austin, Texas. He covers breaking news, writes perspective pieces and reflections, and conducts interviews with industry professionals and community members. Follow Marcus Henry on Twitter- @MarcusHenryHODL
Disclaimer: The information above does not constitute investment, financial, trading or any other sort of advice and you should not treat any of my content as such. I do not recommend the purchase, sale, or holding of any cryptocurrency or other product and/or service. Nothing I write about should be deemed as an offer to purchase, sell, or hold a cryptocurrency or other product or service. Please do your own research and consult a certified financial professional before making any investment decision.