Last month, sources close to the popular online payment processor PayPal revealed that the money transfer behemoth has set its sights on the cryptocurrency industry.
According to a recent report by Coindesk, PayPal will soon allow its estimated 325 million users to buy and sell a variety of cryptocurrencies directly on the platform, and will source liquidity from a variety of exchange platforms to help keep slippage to a minimum.
If this plan comes to fruition, PayPal will become the largest traditional finance company to expand directly into the cryptocurrency space, marking a significant step towards bridging the gap between the traditional and digital economies. It will also shake up the cryptocurrency industry as we know it in several important ways.
Getting Cryptocurrency Will be Easier Than Ever
As it stands, anybody looking to get their hands on cryptocurrencies for the first time will usually need to purchase it from one of the myriad cryptocurrency brokerages out there.

These platforms typically allow customers to purchase digital assets with their debit or credit card, while adding a fee or markup onto the spot price as their main revenue model. Although simple, these platforms rarely accept alternative payment methods like PayPal, Google Pay, and Skrill. But if they do, they usually enforce stricter maximum purchase limits and often charge an additional fee.
With the addition to cryptocurrency purchases directly to PayPal, it will likely become even easier for retail investors and enthusiasts to get their hands on cryptocurrencies.
Millions will be Exposed to the Industry
Depending on how PayPal moves ahead with this implementation, it may also become one of the cheaper ways to purchase cryptocurrencies, since unlike most cryptocurrency brokers, PayPal doesn't need to pay a third-party payment processor to accept credit card and debit card payments.
In turn, this could lead to savings for investors, since PayPal will likely pass on these savings to the consumer to allow it to undercut already established players in the cryptocurrency brokerage space.

This is particularly promising when you also consider that PayPal essentially offers an escrow service with its buyer and seller protection programme. By providing both payment processing and escrow services, it may not be long before PayPal launches a service that can compete with peer-to-peer cryptocurrency marketplaces like Local Bitcoins and Paxful — both of which are known to be particularly expensive and potentially risky for PayPal buyers and sellers.
This greatly reduced barrier to entry could see the demand for cryptocurrencies surge following the launch of PayPal's cryptocurrency direct-sales feature. As with all things, any significant changes in the demand of cryptocurrencies can negatively affect the available supply, potentially driving up the value of digital assets as a side effect.
Entry-Level Platforms Will See a Surge in Interest
Like many major announcements in the cryptocurrency industry, there is a reasonable chance that PayPal's foray into the cryptocurrency wallet and brokerage space will positively affect the price action of cryptocurrency supported by the platform — and potentially the cryptocurrency market as a whole.
As a result, popular entry-level platforms that already accept PayPal as a payment method will probably be the first to see a surge in interest.
Among these, NewsCrypto stands out as one of the likely candidates for increased interest, since it provides a beginner friendly platform filled with trading tips, tools, and educational resources.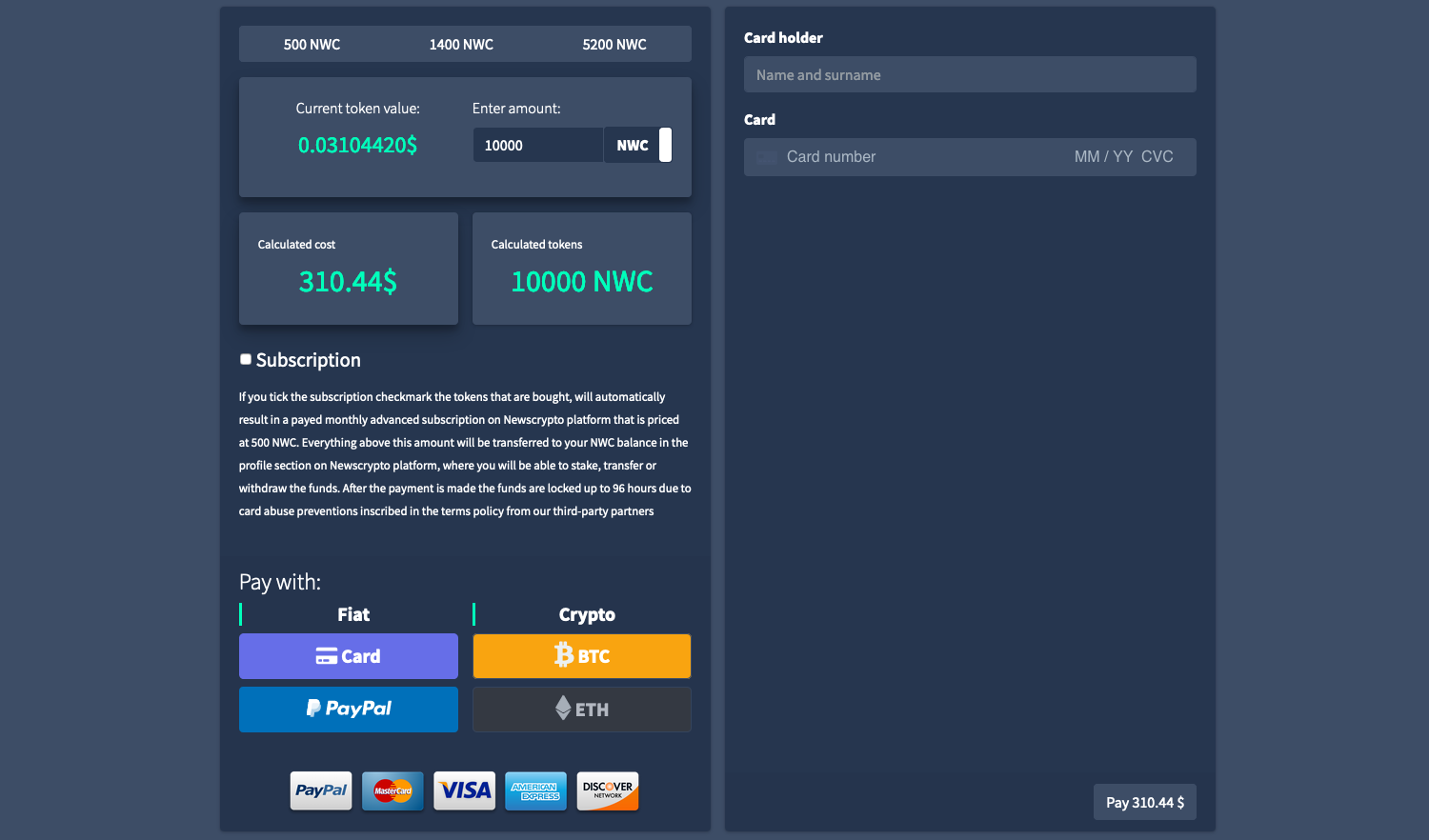 The platform acts as the first port of call for the thousands of cryptocurrency investors that want to either learn how to profitably trade cryptocurrencies, or brush up on their trading knowledge. It also recently announced the addition of PayPal as a payment option for its NewsCrypto Coin (NWC) utility token, which is used to purchase premium membership on the platform.
Beyond this, the popular cryptocurrency on-ramp Coinbase will likely see another dramatic surge in usage once PayPal begins handling cryptocurrency transactions. Coinbase remains one of the few cryptocurrency brokers to accept PayPal as a payment method, and has a long history of being the first major platform to offer PayPal withdrawals in many jurisdictions.
It remains to be seen how PayPal's largest competitors in the crypto space — including Cash App, Square and BitPay will respond to the advent of such heavy competition.
It will be interesting to see how this situation plays out. For more news on this and other crypto updates, keep it with CryptoDaily!