A major Bitcoin (BTC) breakout is just around the corner as we can see on 30 min chart for BTC/USD. This breakout is likely to push the price towards the top of the ascending triangle. If this weekend is as inconsequential as the last few weeks then we might see a subsequent decline down to the bottom of the ascending triangle over the weekend partly erasing a potential bullish move. The rationale behind this is that EUR/USD is currently the major driving force behind Bitcoin (BTC). Cryptocurrency trading is dominated by whales for the most part at this point in time and they care a lot more about what happens in traditional markets than what happens in the cryptocurrency market.

Most of the trading in this market continues to be fake and a result of wash trading. Bitcoin (BTC) might be a wonderful invention that could someday see mass adoption but we are still in the experimentation phase for now. The price could end up rallying towards $100,000 or it could end up falling below $3,000 and remain below that level for several years. These are all possibilities you need to be prepared for when you invest in Bitcoin (BTC). Mark Cuban has a very interesting view on this as he compares baseballs cards to cryptocurrencies. It is all a matter of what someone is willing to pay for one Bitcoin (BTC) and before you buy that coin, think about why someone sold it to you in the first place. If Bitcoin (BTC) is such a rare asset, why are so many of the big players selling their coins.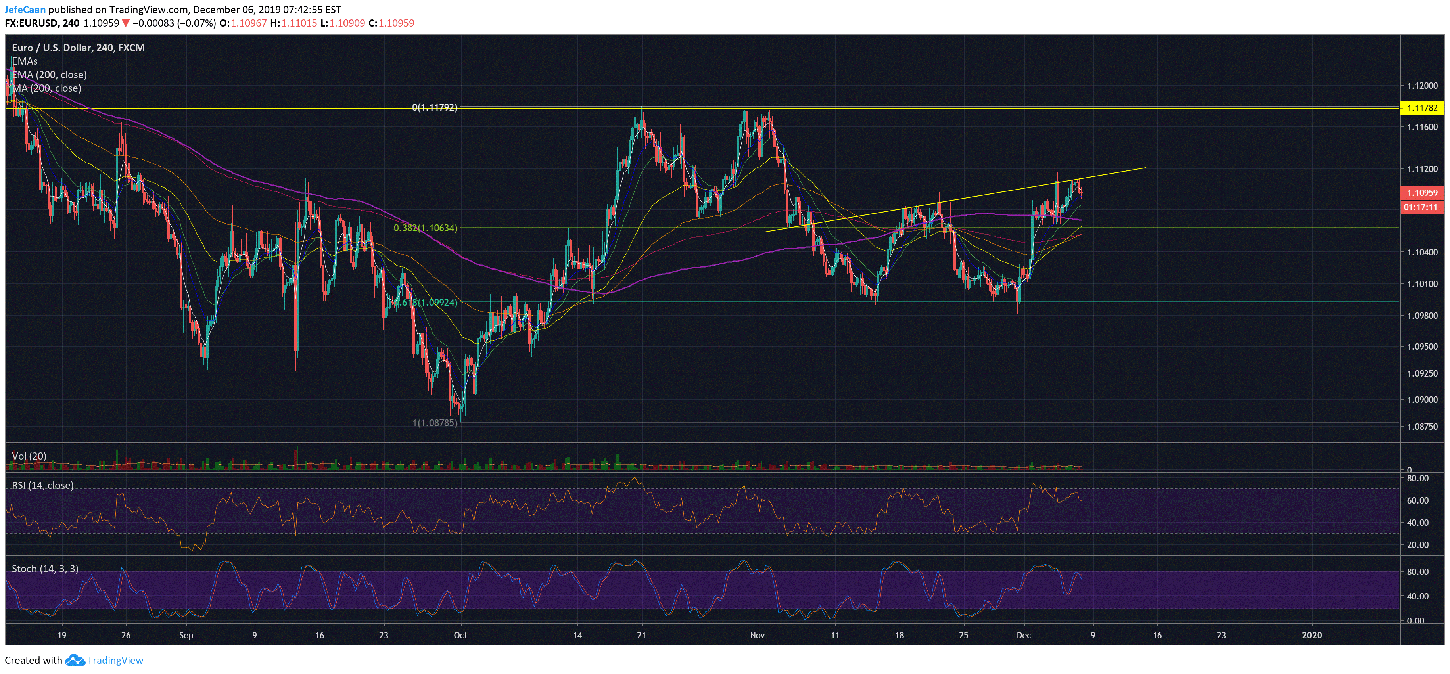 No one likes to hear about any of this when we are talking about a potential breakout near term and a major rally towards $8,000 or higher. However, someone has to keep sanity in this market and it is important not to get confused by all the overly optimistic whale sponsored content on most of these mainstream media networks. Don't get me wrong, there are people who sincerely want to make blockchain adoption possible without any financial incentive but they are a very small minority in this market.
The 4H chart for EUR/USD shows that Bitcoin (BTC) will dance to the tune of this forex pair once again depending on how it closes this week. If we see a close below the trend line resistance and above the 38.2%, we are likely to have an inconsequential weekend in Bitcoin (BTC). If it ends up closing above this trend line resistance, Bitcoin (BTC) can be expected to rally hard over the weekend. It is very important to realize that regardless of any potential bullishness near term, the general trend remains bearish and Bitcoin (BTC) is extremely likely to fall down to the 200 Week MA in the weeks ahead. If it fails to hold its ground there, we could see a decline below $3,000 before the end of this bear market.