Bitcoin (BTC) is trading within an ascending triangle have just broken out of a falling wedge. There is now a strong probability of the price eventually breaking out of this ascending triangle to test the 200 MA on the 4H chart for BTC/USD. This retest would be a healthy development for the market and we would finally have a definitive direction for the price after a retest of the 200 MA. If BTC/USD breaks past it, we can expect a rally higher to test the previously broken market structure. However, if it faces a rejection, we can expect it to begin another downtrend. In any case, it is important to realize that any such bullishness in the market would be short lived as BTC/USD still remains in a bear market.

If the price of Bitcoin (BTC) declines below the ascending triangle at this point, we cam expect it to decline back into the falling wedge. It is important to note that the recent weekly close in EUR/USD was bearish, not bullish. The pair ended up closing below the 38.2% fib extension level which is not a good sign for the forex pair and for the cryptocurrency market. The last time EUR/USD did that, we saw the price decline below the 38.2% down to the 61.8%. During that time, the price of Bitcoin (BTC) crashed hard. If the same were to happen again, we can expect the price of Bitcoin (BTC) to invalidate this ascending triangle and fall down to the bottom of the previously broken falling wedge to potentially form a double bottom before any reversal.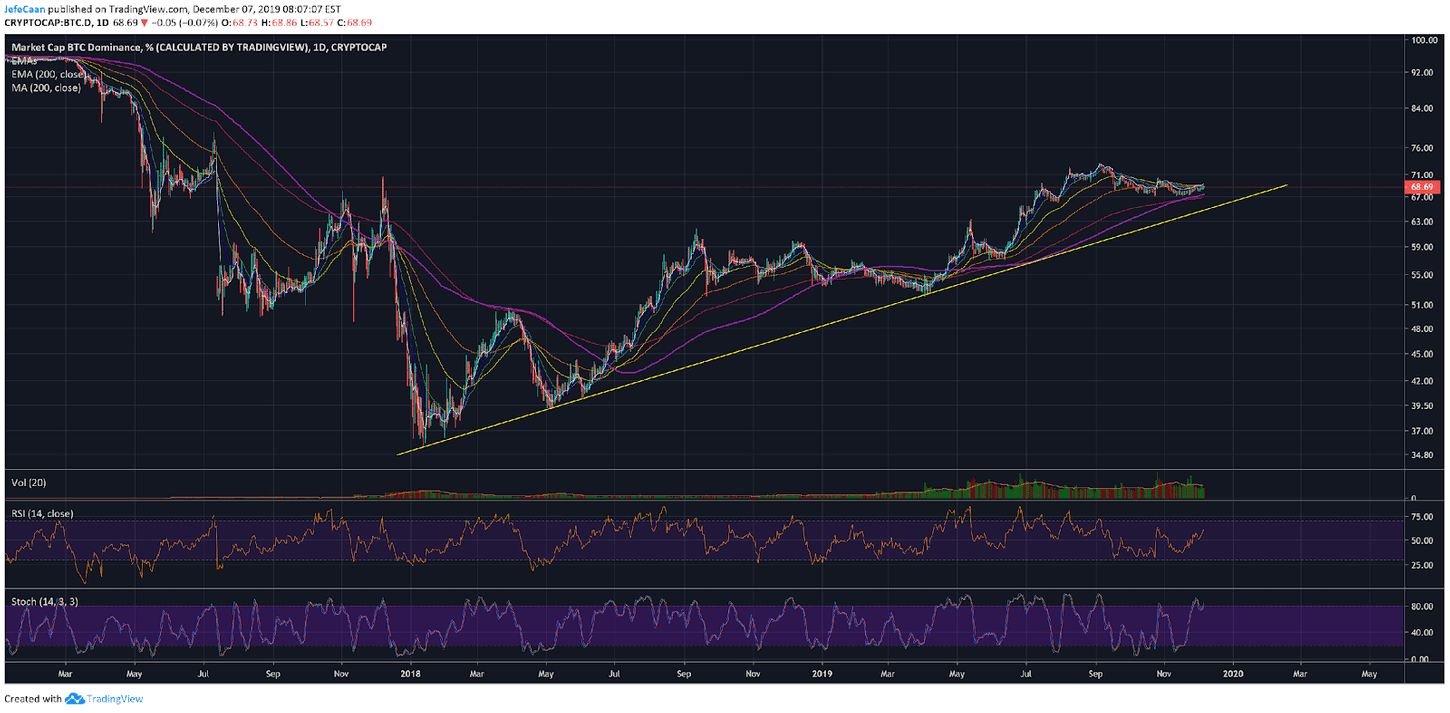 The reason we still think that short term bullishness is possible is because of the near term outlook of Bitcoin Dominance (BTC.D). We can see on the daily chart that the 200 day moving average has yet to be tested. Until and unless we have a retest of this level, Bitcoin dominance (BTC.D) is unlikely to rise significantly and therefore the next major decline might not come into effect until then.
If Bitcoin dominance (BTC.D) declines down to the 200 day moving average, we might have an altcoin rally at hand which is something that I think needs to happen before the next decline. The sentiment has to be overly optimistic with everyone expecting a rally to the moon before we see the next downtrend begin. It has happened numerous times before and there is no reason to think this time will be any different.