Ethereum (ETH) broke past $200 in an impressive run up yesterday as the price shot straight past the 50 EMA on the 4H time frame breaching the 38.2% fib retracement level from the local top. RSI on the 4H chart for ETH/USD shows that the price is now trading under overbought conditions but if circumstances were different, this may not have stopped it from rallying higher. However, the reality on ground is that Ethereum (ETH) remains in bear trend despite the recent bullish move. The descending triangle that ETH/USD is trading in could end in a lot of blood especially because the next crash is going to be a game changer. The decline below $180 will convince a lot of traders that they have been wrong about the bear market being over or altcoin season being around the corner.

The ICO space is full of scams that are just ready to unfold. When the proverbial hits the fan, we are going to see a lot of these 'projects' declare bankruptcy and all of that is going to terribly hurt the altcoin market and coins like Ethereum (ETH) that have been used for such scams are going to be under fire from regulators and investors alike. It is true that there are some very hardworking teams in this space that really want to see this space succeed and they are more interested in the tech than the money but the fact remains that unregulated markets like these attracts all kinds of people and in the absence of meaningful regulation, investors are not protected which means founders of these scam 'projects' can just get away with anything. Of course, the end result of all that is that it brings a bad name to the entire space.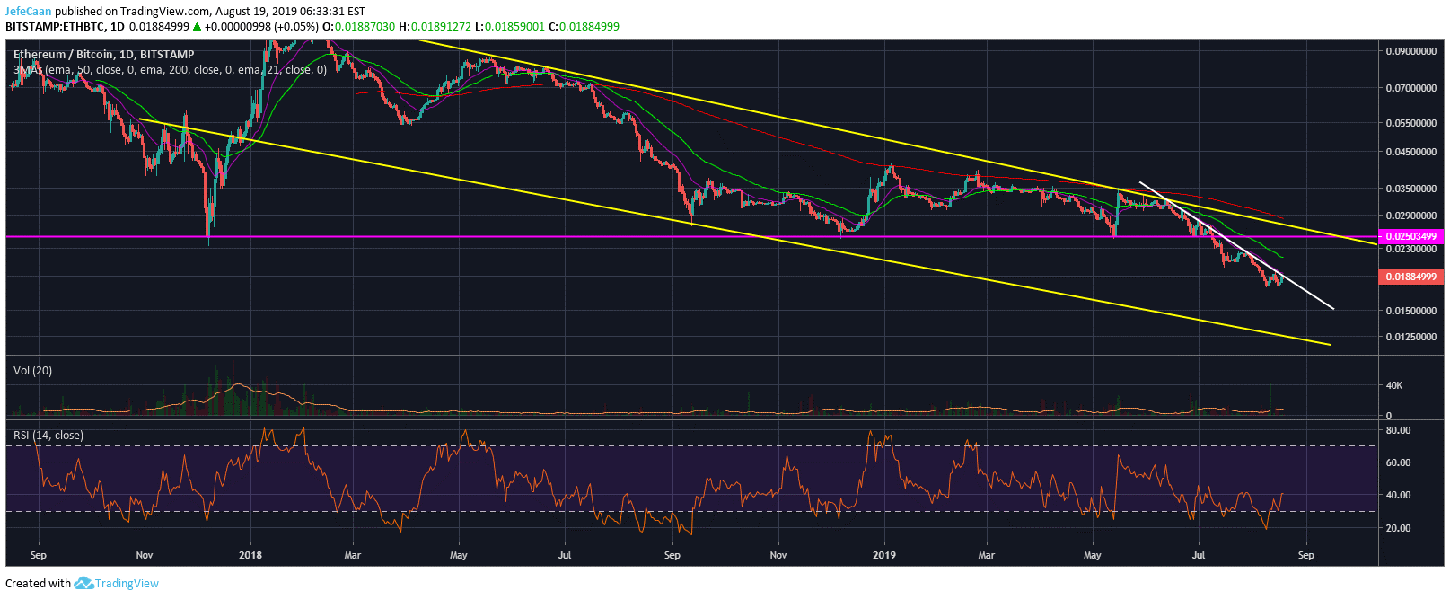 I'm a strong believer in the idea that news events or similar developments follow what is happening on the charts. So, if the price is poised for a decline, we will find a reason that supports the crash. Most of the times, it is either an exchange hack, regulatory crackdown or a ban. If we take a look at the daily chart for ETH/BTC, there is no way this looks bullish in any way. The price remains within a descending channel and it has yet to break past the trend line resistance.
Conditions are now ripe for Ethereum (ETH) to begin its next decline which I believe will have game changing consequences. Confidence in altcoins is going to decrease further and when that happens more of the scams in this space will get exposed which is going to induce more fear in the market that will in turn hasten the inevitable which is Ethereum (ETH) falling to a price of $60 or lower toward the end of this bear market. There are a lot of people that are even more bearish calling for Ethereum (ETH) to go to zero but I don't think that could happen. I wouldn't discount a move to a single digit price but I don't see ETH/USD going to zero despite all its flaws, shortcoming and unreasonable valuation.