We have seen Bitcoin (BTC)'s parabolic run up but that run up is nothing compared to what Litecoin (LTC) has pulled off in the last few months. For anyone who believes in buying the rumor and selling the news, Litecoin (LTC) was the best investment since the beginning of the year. LTC/USD shot up from $22 and is currently trading around $140. Investors, who bought around the temporary bottom in December, 2018 would have now made more than a six times return on their investment in just a few months! All of this sounds good in hindsight, but the truth of the matter is that nobody expected this rally. Those that were bullish long term believed that it might take a while for the price to rally again and those who were bearish expected a dead cat bounce followed by further downside.
Needless to say, this rally caught most traders by surprise, be it the bears or the bulls. The price is now half way there to its all-time high just as Bitcoin (BTC) is halfway near to its all-time high of $20,000. This comes at a time when Litecoin (LTC) is about to have its most anticipated halvening event in August, 2019. The way it works is that every time a cryptocurrency undergoes halvening, mining rewards are cut in half so it costs twice as much to mine that particular cryptocurrency. By simple supply and demand, the price of that cryptocurrency should go up. However, there is a catch this time. Since late 2018, a lot of people had their eyes fixated on Litecoin (LTC)'s upcoming halvening. The FOMO buying saw LTC/USD outpace Bitcoin (BTC) at times and it appeared as if Litecoin (LTC) and not Bitcoin (BTC) was calling the shots.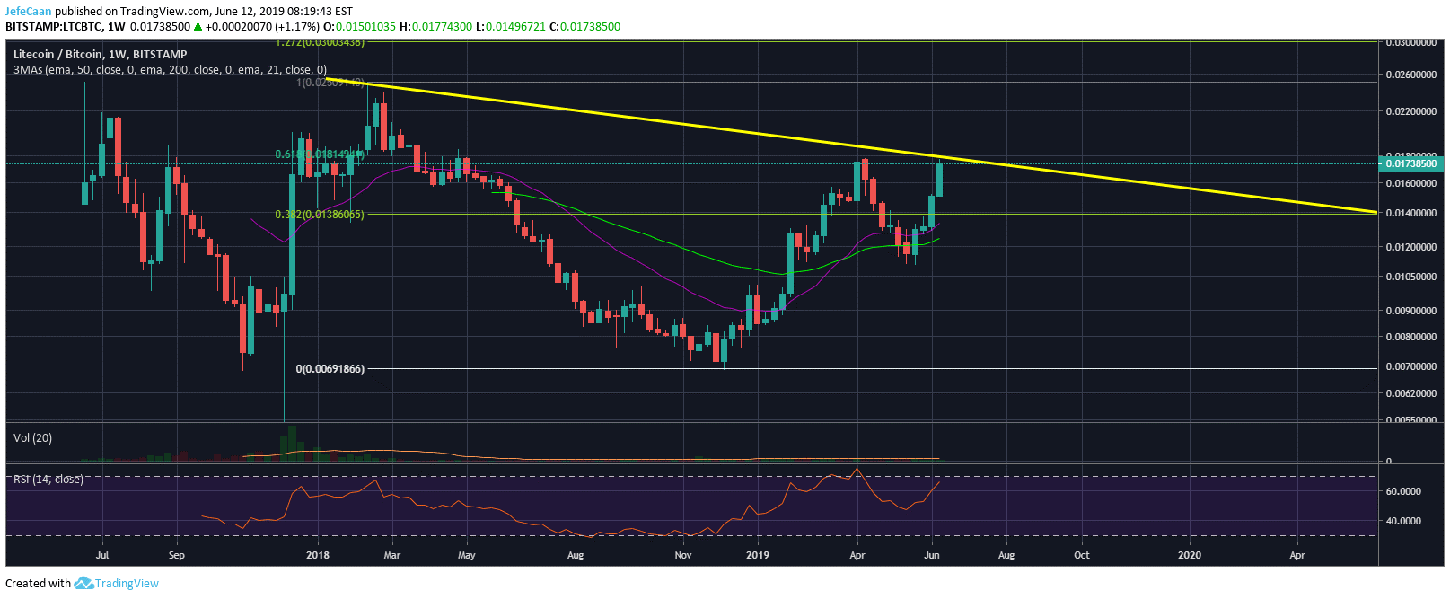 This FOMO has now reached such a level that we have not even seen a significant retracement as LTC/USD continues on its parabolic path. If Bitcoin (BTC) goes up, it is reasonable to expect Litecoin (LTC) to go up for now but let us talk about Litecoin (LTC)'s movement against Bitcoin (BTC) now. The weekly chart for LTC/BTC shows that Litecoin (LTC) has been on a steady rise against Bitcoin (BTC) since the beginning of the year. However, after April it declined for five weeks. Since then it has started to rally and has now been up for four weeks straight.

This might appear bullish on surface but if we examine the weekly chart closely, it is clear that LTC/BTC is not only about to form a double top but it is also going to test the 61.8% fib retracement level from its all-time high. This means that LTC/BTC has a very high probability of beginning its next downtrend in the next few weeks. So, in my opinion the halvening FOMO is already priced in and in the next few months leading to the halvening we are likely to see Litecoin (LTC) change hands as the whales dump on overly enthusiastic retail traders that are hoping for Litecoin (LTC) to rocket to the moon after halvening.