The S&P 500 Index (SPX) closed last week with a bullish candle, the likes of which we have not seen in the past two years. This is really good news for Bitcoin (BTC) and other cryptocurrencies as it means that the stock market now has room to rally which means BTC/USD has ample room to revisit $9,000 again and most likely rally towards $10,000. The weekly chart for the S&P 500 Index (SPX) shows that the index tested trend line resistance two times before and is now likely to test it once more. This retest will give BTC/USD room to rally because we have seen in the past that when the S&P 500 rises, BTC/USD has room to rise but when it starts to fall, BTC/USD is forced to decline. This is because Bitcoin (BTC) still remains a very high risk asset.
Both the S&P 500 Index (SPX) and Bitcoin (BTC) are due for major declines in the months ahead. However, we will continue to see uncertainty in both markets short term because when something becomes too obvious, market makers like to throw the average investor off with short term uncertainties. We just saw the same thing happen with BTC/USD. There was a head and shoulders on the 4H timeframe but it was unnecessary to even talk about it because it was too obvious and thus too insignificant. We saw some well-known traders post about it but we just saw how it turned out. The price started the week in green, invalidated that H&S formation and is now eyeing a break past $8,000. This is contrary to what most retail traders expected because the people who were calling for a rally to $10,000 were expecting a fall to $6,000 this time.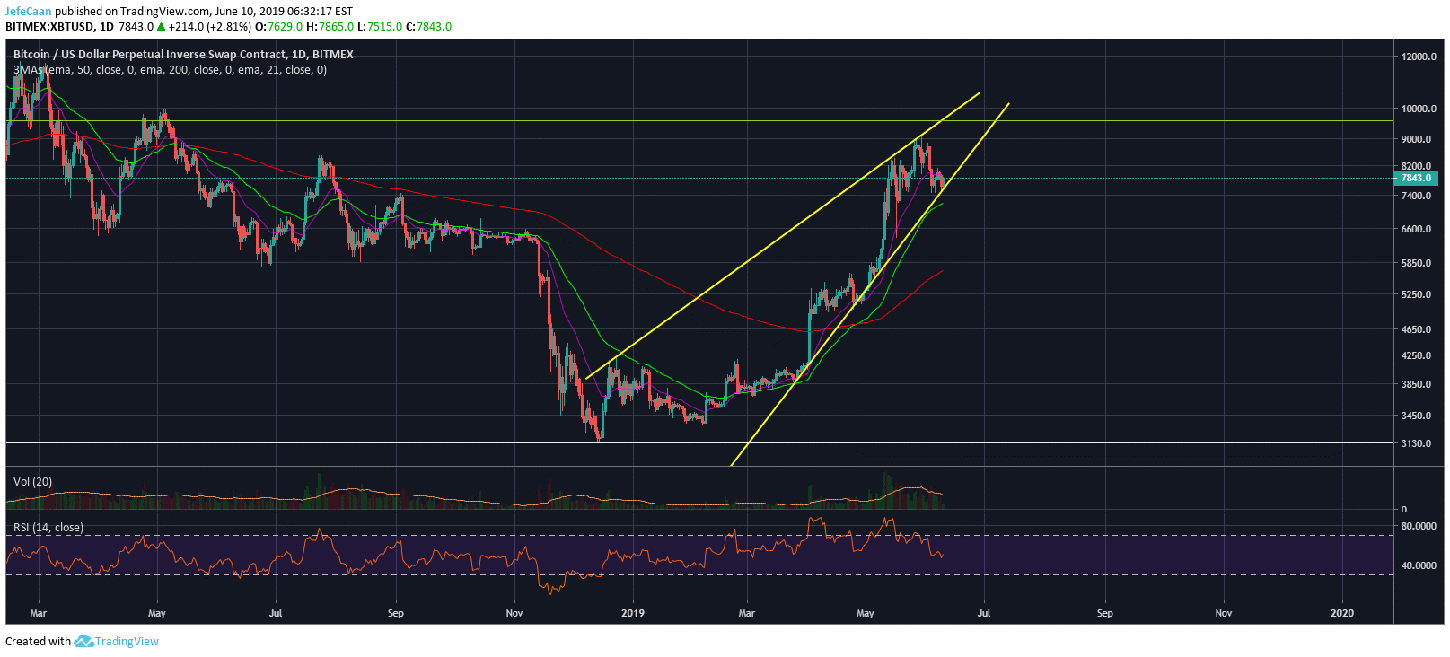 Financial markets work in very predictable ways but so do retail traders. Just as the market repeats the same patterns over and over again, retail traders tend to make the same mistakes over and over again. For instance, we have seen a dozen times just in the past few months that whenever the majority expects something to happen, the opposite usually happens. A lot of traders expected the price to face resistance near $6,000 but it ended up shooting past it even to the surprise of most bulls.

Similarly, a lot of traders expected BTC/USD to rally towards $10,000 but it declined and made them think it is going down further. Just when they started to believe that, the price started to rise again. It is important to realize that there is one thing that repeats over and over again and that is the market makers profiting off the naiveté of amateur traders. The way to be on the right side of a trade requires an understanding of the thinking behind every move. Chart analysis is important but the internet is full of charts on anything and everything. It is how you analyze those charts and what you make of them that make all the difference.