Table of Contents
Monaco, Monaco, September 14th, 2023, Chainwire
Emerging project Bitcoin BSC (BTCBSC) is proud to announce that it has raised over $1,700,000 surpassing 50% of the presale stage, leading up to its soft cap goal.
The project has gained traction for combining Bitcoin's branding with staking rewards and the speed of the Binance Smart Chain.
Bitcoin BSC Promises New Era of Crypto with High-Yield Staking
Bitcoin BSC has become one of the most talked-about new crypto projects in recent weeks, aiming to blend the nostalgia of Bitcoin with passive income opportunities.
As noted in Bitcoin BSC's whitepaper, the token includes a high-yield staking setup, with staking rewards of up to 320% per year.
At the time of writing, over 821,000 BTCBSC tokens have been staked, a noteworthy figure considering the project is still in its presale phase.
Early investors can purchase BTCBSC tokens for $0.99 during the presale stage, which is divided into two phases, with the initial phase already exceeding 50% of its $3.96 million soft cap.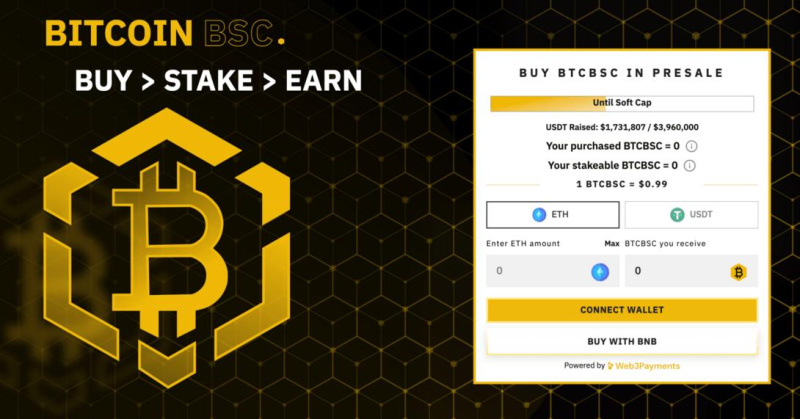 The project is backed by a stringent audit from Coinsult, and recently got featured by YouTube influencer Jacob Bury, who described it as a "new 10x potential crypto presale", since then the Bitcoin BSC's official Telegram channel has been growing steadily.
Bitcoin Clones & BTCBSC's Unique Path to Success
In the past few months, so-called "Bitcoin clones" that draw inspiration from Bitcoin's name and ethos have started to appear in he market.
With two notable ones being BTC20 (BTC20), a stake-to-earn cryptocurrency hosted on the Ethereum blockchain, and memecoin HarryPotterObamaSonic10Inu (BITCOIN), currently ranked eighth in CoinMarketCap's list of the biggest meme coins in the world (as measured by market cap).
The Bitcoin BSC team believes a combination of strong branding with their proprietary staking rewards coupled with a comprehensive roadmap will help the project grow and achieve traction from the crypto community.
There's no guarantee that Bitcoin BSC will follow in the footsteps of these projects. The Bitcoin BSC's future will depend on whether the development team can execute the roadmap and capture community momentum and interest.
About Bitcoin BSC
Bitcoin BSC is a Proof of Staked based, greener version of Bitcoin which was created on the BNB chain infrastructure.
To learn more, visit the Bitcoin BSC Presale
Contact
Bitcoin BSC
[email protected]