Bitcoin is showing some weakness and has been rejected from $28,000. Right now it is sitting atop support at $26,900. Will the move to $25,000 play out?
Those looking to get into bitcoin, and start moving out of the banking system may have their wish if bitcoin does indeed fall though current support and hit the very strong support at around $25,000.
A diamond top pattern is still in play, and bitcoin has broken to the downside. The price has broken back into a previous funnel pattern and has tested the underside of its top limit.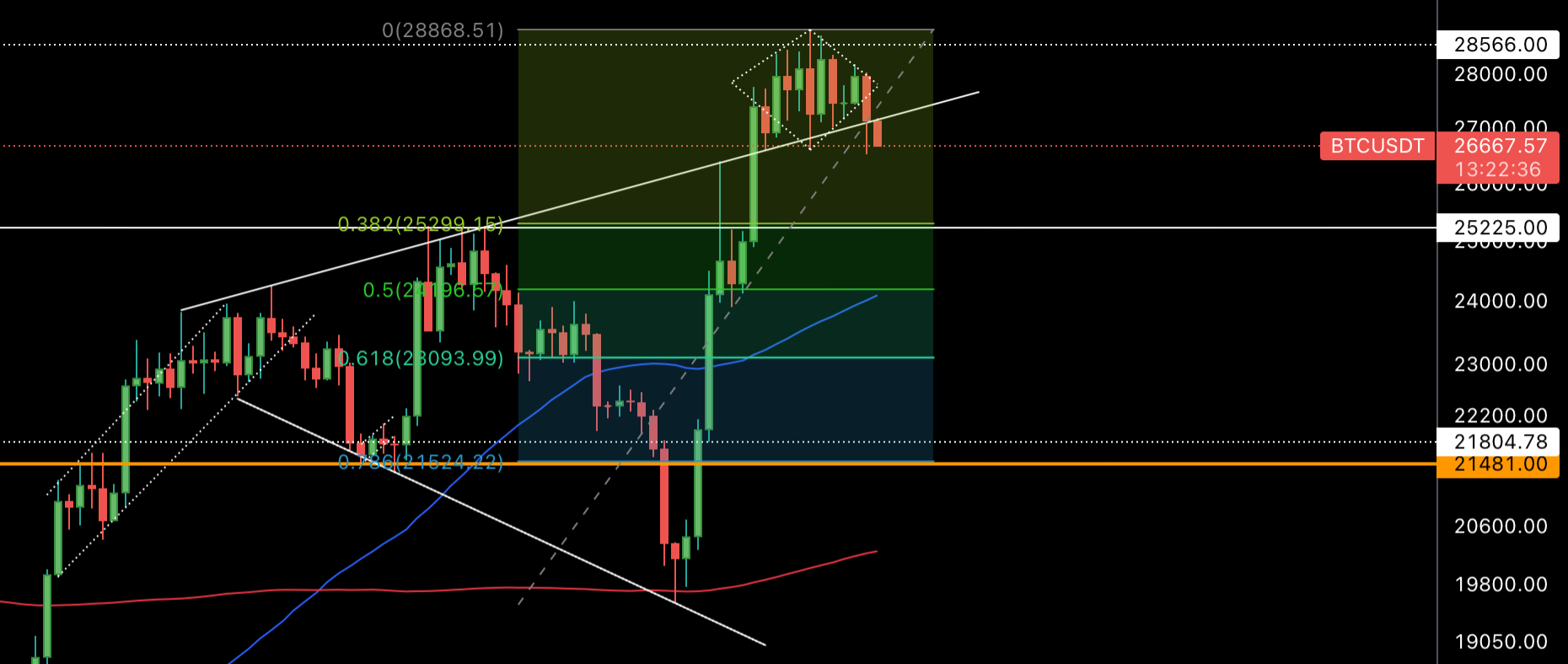 All would look ready for bitcoin to make this move, especially considering the FUDish backdrop of Binance's CZ being sued by the Commodity Futures Trading Commission, one of the main U.S. regulatory watchdogs.
This bitcoin top is rounded, the RSIs are dropping, and after such a strong and rapid move to the upside it could only be expected that the cryptocurrency king makes a decent correction to test the previous main resistance, which has now become support.
However, does the market do what everyone expects? Generally it doesn't, so investors may need to keep aware of exactly what the price is doing.
For those dollar cost averaging in (DCA), it probably is neither here nor there what is happening with the price. Perhaps just buying some bitcoin at these levels can be beneficial if the cryptocurrency bull market gets going in earnest.
A decent correction probably is on the cards at some point, and will help to lay down some more price structure so that when bitcoin makes its next move higher, it will do so from a much stronger base.
With the banking system in such dire straits, it surely can't be too long before yet another shoe drops, frightening depositors into moving at least some of their currency into what is becoming quite a decent hedge out of the monetary system.
Disclaimer: This article is provided for informational purposes only. It is not offered or intended to be used as legal, tax, investment, financial, or other advice.