Table of Contents
FOMC meeting done with, and future rate hike outlook relatively benign. What could be in store for Bitcoin and the altcoins over the next days and weeks?
Fed Powell follows market expectations
Jerome Powell, the chairman of the Federal Reserve, said what he had to say about the economy on Wednesday, which was pretty much totally what the markets had expected and had already priced in, and he has now left the field clear for a potential continuance of the crypto uptrend.
This particular 25 basis points rate rise was as nailed on as it was probably ever going to get. The markets knew it with absolute certainty because Powell had previously said that he didn't want to surprise them.
The Fed knew that things were starting to get a little bit on the frothy side again, so many analysts were expecting Powell to come out and take a particularly hawkish tone in order to dampen down hopes of the eventual pause and pivot.
However, Powell's speech didn't come across as more hawkish than usual, and perhaps the markets are seeing through what the Fed is doing and have more of an idea of the end game.
Altcoins on the brink of a breakout
Now that the FOMC meeting is over with and the dust has settled, it's like the calm before the storm. Something has to give. Either the crypto market gets rejected by the resistances it is now toying with, or they get broken and crypto heads higher en masse.
It's looking more likely that bitcoin might take a back seat if the crypto market does go higher, given that the BTC Dominance has met the 44% resistance and has been rejected, meaning that alts can now make the running.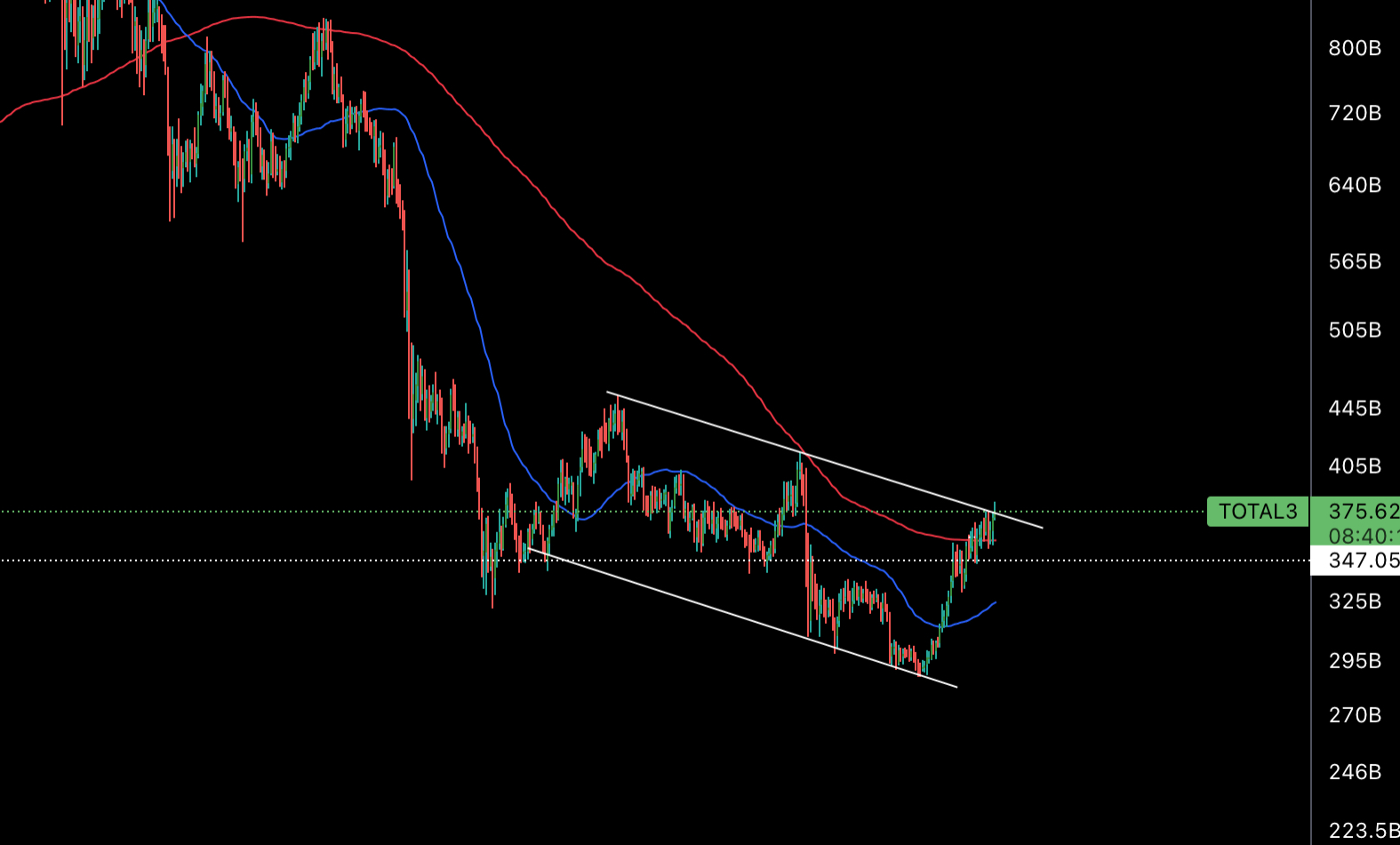 Source: TradingView (Total 3 Crypto Cap - Daily time frame)
Nevertheless, the market will always look to go the opposite way to the herd, and should the Total 3 market cap, which is the value of all the altcoins minus BTC and ETH, not break through and consolidate above the channel, then a leg downwards might be the price to pay.
Disclaimer: This article is provided for informational purposes only. It is not offered or intended to be used as legal, tax, investment, financial, or other advice.