Right off the heels of the launch of its latest gas payment options with users now able to pay using $WALLET and xWALLET tokens, Ambire Wallet has launched an exclusive promotion that will run for three weeks, offering discounted prices on fees.

Ambire Wallet, the first non-custodial wallet for decentralized finance (DeFi) built with security features such as email authentication, is expanding on gas payment options and promoting the use of its native $WALLET and xWALLET (staked WALLET) tokens for gas fees. The gas fee promotion will give users with special discounts of up to 30% off on gas costs. The promotion is tiered, and will follow a leveling scheme over three weeks, detailed as follows:
April 1 — April 10: 30% discount on all fees paid with $WALLET and xWALLET tokens

April 11 — April 17: 20% discount on all fees paid with $WALLET and xWALLET tokens

April 18 — April 24: 10% discount on all fees paid with $WALLET and xWALLET tokens
Ambire Wallet currently supports multiple networks including Ethereum, Polygon, BNB Chain, Avalanche, and Fantom. The platform has also recently launched its integration for Moonbeam, the Ethereum-compatible parachain of the Polkadot network. With this integration, users may now connect their Ambire Wallet with Moonbeam/Moonriver implementations for a slew of DeFi protocols building on the Polkadot parachain.

The Ambire Wallet token ($WALLET) is available for purchase on major exchanges such as Huobi Global and decentralized exchange SushiSwap. Users who wish to receive the discounts would need to select WALLET or xWALLET as options from their wallet's "Fee Currency" dropdown menu as they confirm their transactions. Once selected, the fee discount will be automatically applied to the transaction fee.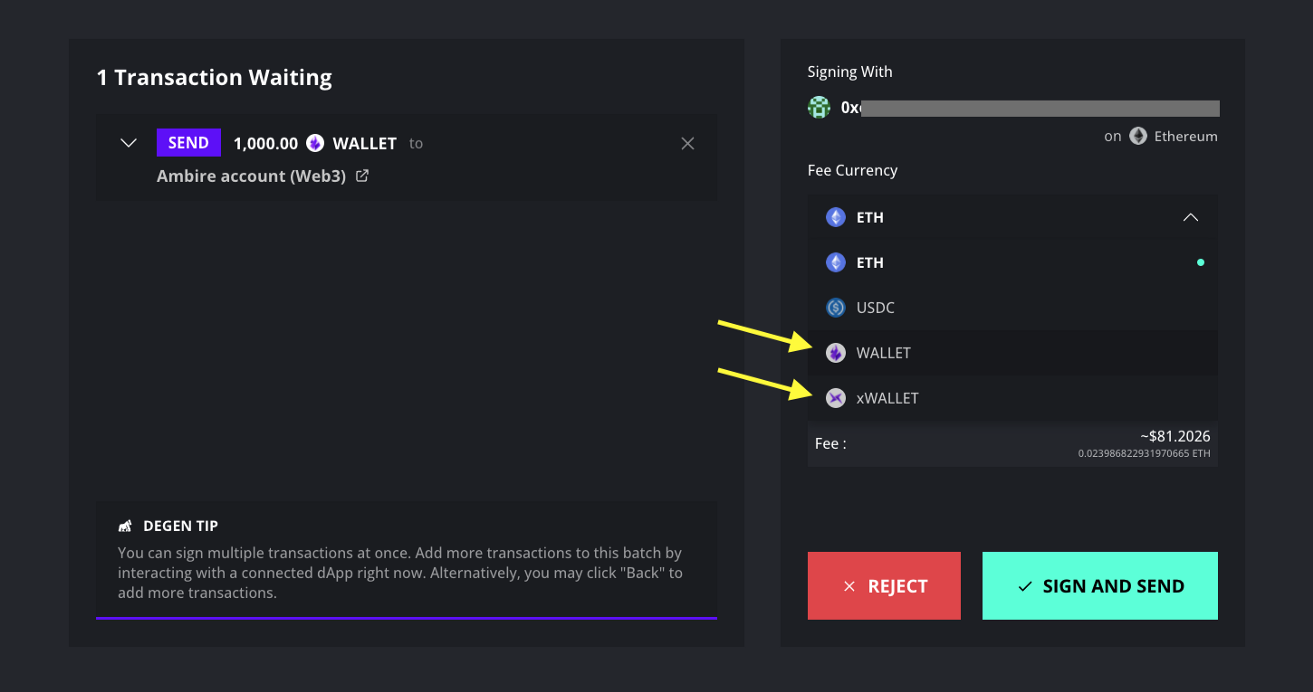 There is no limit to the number of transactions with discounted fees during the promotional period, however, users may not be able to get discounts with other cryptocurrency options such as stablecoins. If users do not wish to purchase $WALLET on Huobi or SushiSwap, they could also directly swap for the token through Ambire Wallet's Swap functionality.

The $WALLET and xWALLET tokens are currently only available on the Ethereum network, while payments in xWALLET would result in a user's stakes to be reduced based on the amount of xWALLET used. $WALLET was also recently listed at Gate.io and has been available for trading since yesterday.

Disclaimer: This article is provided for informational purposes only. It is not offered or intended to be used as legal, tax, investment, financial, or other advice.