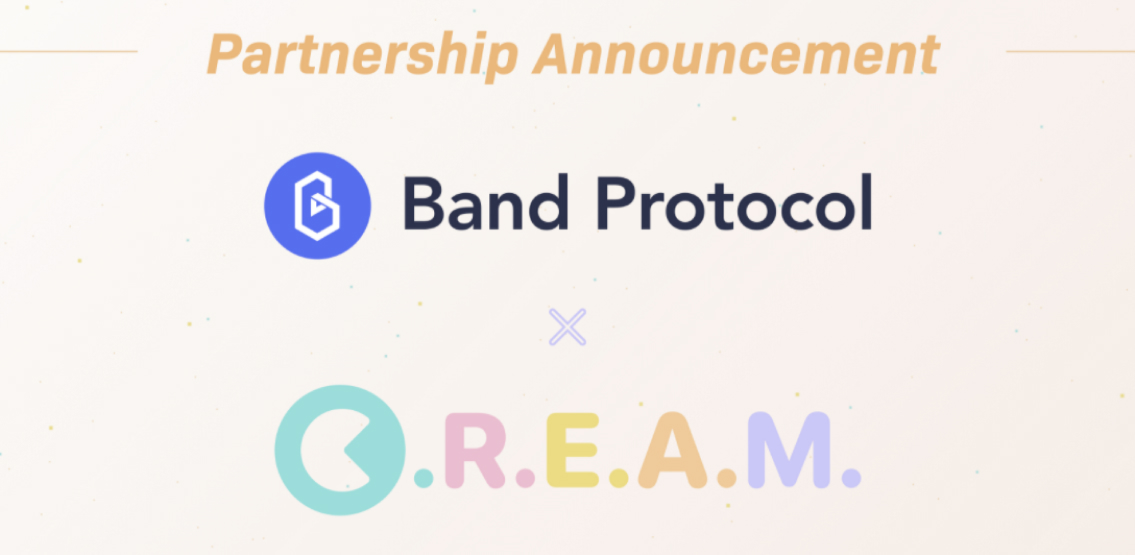 C.R.E.A.M Finance has just announced full integration with Band price oracles on Binance Smart Chain and Fantom, which will upgrade all its lending markets. Band Protocol will now provide all oracle information for collateralization, liquidation, borrowing and exchange rates.
The integration will increase security and secure the more than $622 million locked up in the C.R.E.A.M ecosystem. The Band decentralised oracles now give C.R.E.A.M users accurate price feeds across all their offerings.
Leo Cheng, Project Lead & Co-Founder of C.R.E.A.M. Finance said of the partnership:
"Timely and decentralized price feeds are critical to the security of DeFi. Using Band Protocol's battle-tested solution across multiple networks enables all users to leverage highly accurate and rapidly updating price feeds when interacting with the C.R.E.A.M. money markets and flash loans."
C.R.E.A.M Finance is a permissionless, transparent, and non-custodial protocol that is currently based on Ethereum, Binance Smart Chain, and Fantom blockchains. The company collaborates closely with Yearn Finance to offer innovative products such as Iron Bank and Flash Loans.
The Band integration will give C.R.E.A.M price oracle feeds for 196+ digital assets, foreign exchange, and commodities on the aforementioned blockchains.
According to Band Protocol:
"Both teams have completed integration for existing markets and recent additions such as SUSHI, IOTX, SXP with many more in progress. We will continue to work closely together as both projects grow to support DeFi in a stage of rapid growth."
About C.R.E.A.M Finance
C.R.E.A.M is part of the Yearn Finance ecosystem and provides a permissionless, open source and blockchain agnostic protocol serving users on Ethereum, Binance Smart Chain and Fantom. Users wishing to earn yield on their Bitcoin or Ethereum can deposit it to C.R.E.A.M, rather like a traditional savings account.
About Band Protocol
Band Protocol is a cross-chain data oracle platform that supplies real-world data and APIs accurately to smart contracts. Band supplies decentralised feeds to enable DeFi applications, prediction markets, and games to be built on-chain and avoid the danger of single points of failure faced by centralised oracles.
Disclaimer: This article is provided for informational purposes only. It is not offered or intended to be used as legal, tax, investment, financial, or other advice.