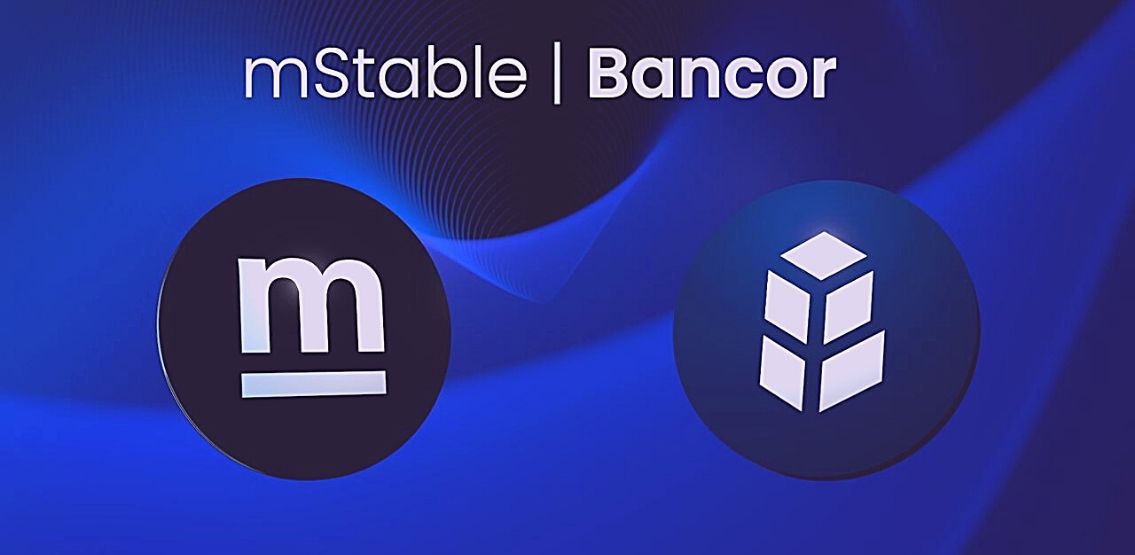 mStable, the autonomous and non-custodial infrastructure provider, and Bancor, the blockchain protocol, are entering a collaboration with a proposal to increase their co-investment limit in the mStable token (MTA) pool. The voting for the proposal went live today at 12 pm UTC.
mStable is a permissionless protocol for unifying, securing, and governing tokenized assets. It is also an SDK for DApps and exchanges to simplify and expand the stablecoin user experience.
Bancor is a blockchain protocol that allows users to convert currency tokens directly and instantly instead of exchanging them on cryptocurrency exchanges.
mStable And Bancor collaboration Has Immense Potential
mStable DAO recently proposed to deploy US$5 million into a 50/50 Uniswap MTA/DAI pool. This gained consent from the Meta governors in a vote. mStable wants to continue on its goal to make its native token MTA as liquid as possible.
The Uniswap MTA/WETH pool has $7.4 million in liquidity (938,588 MTA + 1480 ETH), with a 24-hour trading volume of $3.7 million. The MTA/BNT pool currently has a liquidity depth of $62000. This pool offers single-sided liquidity on Bancor and has impermanent loss protection.
Bancor's growth, along with the launch of single-sided liquidity pools with impermanent loss protection, has gained immense interest and trust of the mStable community. It also offers a great value proposition through the HODL + LP strategy.
By increasing the co-investment limit to 1 million BNT, the single-sided capacity in the MTA will also increase. The mStable DAO wants to seed $1 million in initial liquidity in MTA.
Bancor's Growth Beyond Promising
Bancor currently has approximately two billion in total volume locked, and along with providing impermanent loss protection and AMM limit orders, their growth and innovation are scaling high. With the co-investment, Bancor would gain a market twice as deeper than the current largest mStable market, which is Uniswap.
Uniswap has total liquidity of ~$7 million. The co-investment proposal will see Bancor hosting liquidity of ~$16 million, making it the major trading venue for MTA. The mStable community is more than keen to provide the required liquidity.
mStable and Bancor are backed by major investors such as Defi Finance, one of Asia's largest DeFi focused crypto funds. The collaboration brings together two DeFi builders with definite possibilities of deeper cooperation in the future, a promising future for MTA and $BNT holders.
mStable To Bring in More Fees
Bancor's governance will help mstable to create space for MTA liquidity providers (LPs) to provide single-sided liquidity with impermanent loss. There will be higher LPs for MTA holders, increasing the depth of the pool, and MTA will gain a deep liquid market with the benefits Bancor V2.1 brings to it. A large MTA pool will attract aggregators and professional market makers, bringing in more fees for the platform.
Disclaimer: This article is provided for informational purposes only. It is not offered or intended to be used as legal, tax, investment, financial, or other advice.