Table of Contents
A Twitter user going by "ChainLinkGod.eth" recently discovered a document that hinted at crypto asset management Grayscale launching a Chainlink trust.
"Grayscale Chainlink Trust (LINK) Filed on December 18th, 2020 as a Delaware Domestic Statutory Trust Is it real or just an elaborate larp? Only time will tell"
Along with the tweet, the user also shared the following image: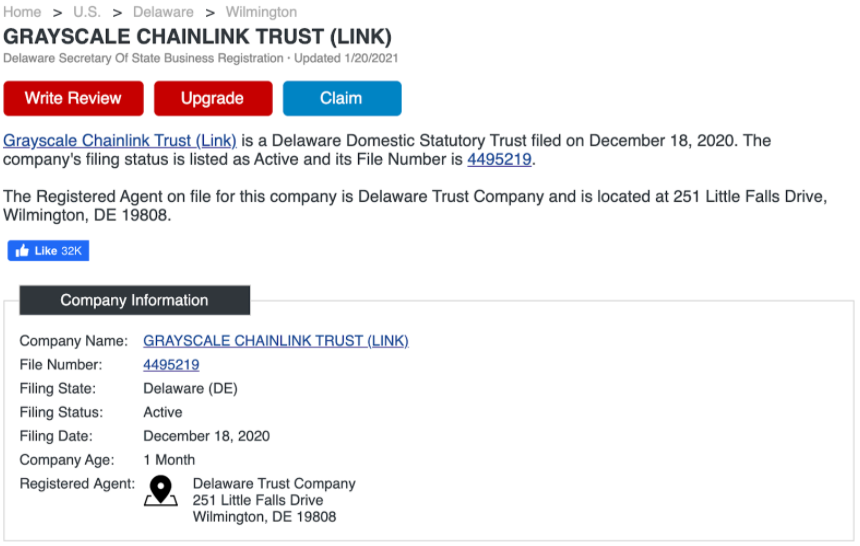 Neither Grayscale nor Chainlink commented, but a 'Grayscale Chainlink Trust' product doesn't really sound that far-fetched either.
Along with Chainlink, a quick search on Delaware's Division of Corporations website also shows the "Grayscale Decentraland Trust (MANA)" and the "Grayscale Basic Attention Token Trust (BAT)." As of now, we don't know the validity of these companies.
What Is Chainlink?
Chainlink is a decentralized oracle service with a market cap of $9.8 billion and is the 7th largest coin in the market. Oracles are third-party tools that fetch data from outside a blockchain to within it. As a result, this allows blockchains to gain better interoperability with the outside world, plus all the data it is working with can be kept up-to-date.
How Can Chainlink and Grayscale Work With Each Other?
Grayscale products are some of the only regulated crypto-offerings to trade on public markets in the US. They have partnered up with different custodians (like Coinbase) to hold a certain amount of cryptocurrency tied to a "trust" share. Investors can either subscribe or purchase those shares on the open market. The subscription has a six-month lock-in. As the value of the tied up crypto rises, the value of the trust share rises as well.
More on Grayscale
Grayscale manages $25.5 billion in crypto, and its official line of products offers clients exposure to Bitcoin, Ethereum (ETH), Bitcoin Cash (BCH), Ethereum Classic (ETC), Horizen (ZEN), Litecoin (LTC), Stellar Lumens (XLM), and Zcash. Clients can also use the Grayscale Digital Large Cap Fund to gain exposure to a basket of cryptocurrencies. Unsurprisingly, the Bitcoin Trust is their most popular product with $21 billion AUM, while Ethereum comes in a distant runner-up at $3.6 billion.
Disclaimer: This article is provided for informational purposes only. It is not offered or intended to be used as legal, tax, investment, financial, or other advice.