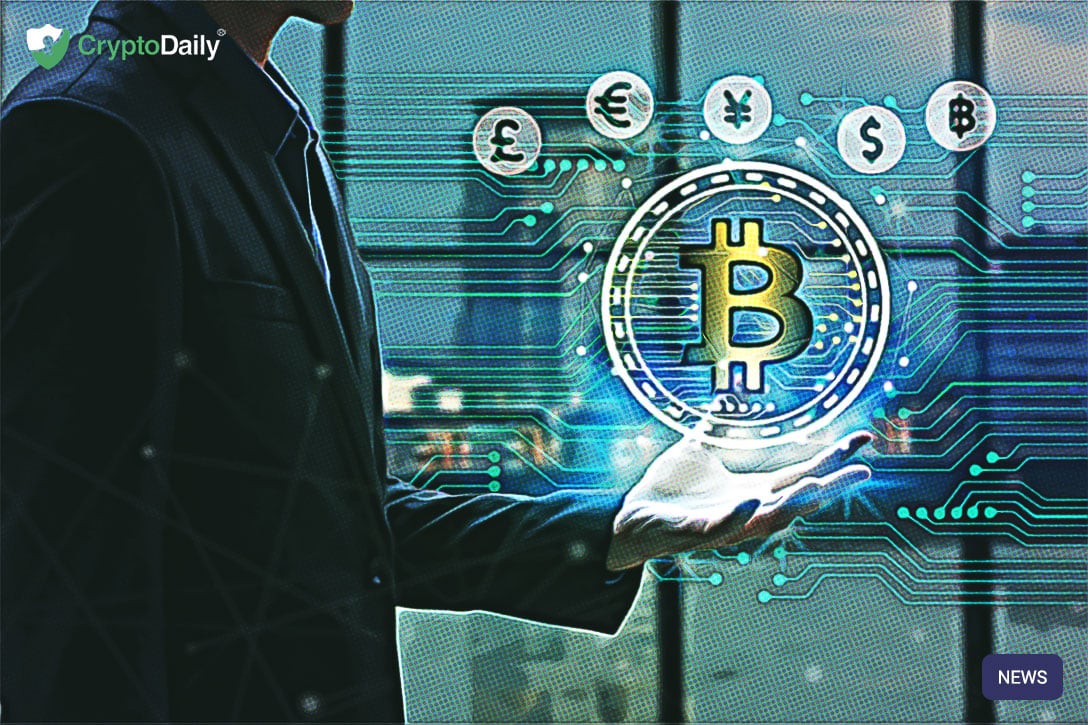 Quick take
2 minute read
Starting in 2017, it became clear that the cryptocurrency world will change, and interest would only grow every year.
The stars of cinema, sports, and music are creating the tokens that will help bring them closer to their fans and draw the world's attention to cryptocurrency.
A couple of months ago, I was puzzled by such a question from one of my friends. Remembering my first purchase of the crypto (in 2016), I spent 3 hours completing the operation. I breathed a sigh of relief only when it became possible to buy with debit cards linked to the wallet. The market does not stop searching for more comfortable conditions for users, and now the purchase of cryptocurrency can take not 3 hours, nor 10 minutes, but 15 seconds.
Starting in 2017, it became clear that the cryptocurrency world will change, and interest would only grow every year. Back then, not everyone guessed how popular the cryptocurrency would become in 2020. The cryptocurrency peak showed that Bitcoin has a great future, and those who did not have time to buy it earlier dreamed of doing so later, but at a lower price.
A lot has changed in three years. The number of cryptocurrencies offered has increased several times; bitcoin broke all records and is already very close to breaking its historical maximum. Defi is gaining massive popularity in the cryptocurrency market, and large corporations are eagerly fighting for the introduction of blockchain technologies into their business. The government and banks did not stand aside, and several large banks have already chosen to issue their own stablecoins, cryptocurrency exchanges, or tokenized assets. And that's not all.

The stars of cinema, sports, and music are creating the tokens that will help bring them closer to their fans and draw the world's attention to cryptocurrency. The government is still taking a wait-and-see position. Not all state heads are ready for such drastic changes, but even under such conditions, the European Union is considering issuing its own stablecoin.
But let's move away from the growth and potential. How can you buy cryptocurrency quickly and safely today?
Via Apple Pay in Lumi Wallet crypto wallet. On December 11, the company announced the integration of Apple Pay into the app, and now every Lumi user can purchase cryptocurrency in a couple of clicks. Lumi became the first multi-currency wallet to introduce a new payment method to its iOS app on the entire cryptocurrency market.

If you haven't started googling what Lumi Wallet is yet, we'll tell you. But a little later.
If you remember, Apple previously considered cryptocurrency a "risky asset" and banned its use on its platform. However, by 2019, it became clear that Apple did not have enough updates, and the company was thinking about expanding its functionality. Many companies began to implement blockchain technologies in applications, and cryptocurrency gradually gained popularity among users. Apple had no chance but to change its mind about cryptocurrency. And in 2020, Apple co-founder Steve Wozniak has his own WOZX token, and Bitcoin can be bought via Apple Pay, and this is a fact.
So we've come to perhaps the most exciting part of this article: how to buy and where to buy.

Lumi Wallet has been on the market since 2017, just when there was a cryptocurrency boom. The company positions itself as a non-custodial crypto wallet for Bitcoin, Ethereum, Bitcoin Cash, Tether, 1200+ tokens, coins, and stable coins. This means that the company does not store your data, your assets and mnemonics are available only to you, and no one can perform operations with your assets without your permission. In three years, the company has gone through a lot and created a lot for the convenience of users. According to surveys, Lumi has a straightforward interface. It is intuitive and easy, which will suit both a beginner in cryptocurrencies and an avid user. For more security, the company uses an open-source code, which you can look at on GitHub. Lumi has transaction limits, pin codes with a limited number of inputs, and of course, Touch ID and Face ID.
The company cares about its users and tries to help them not only in their application. Outside of it, Lumi creates video lessons about cryptocurrency, highlighting cryptocurrency's leading trends on social networks, and continually communicates with their users, trying to find out what they still lack for complete comfort.
How to buy Bitcoin with Apple Pay in Lumi Wallet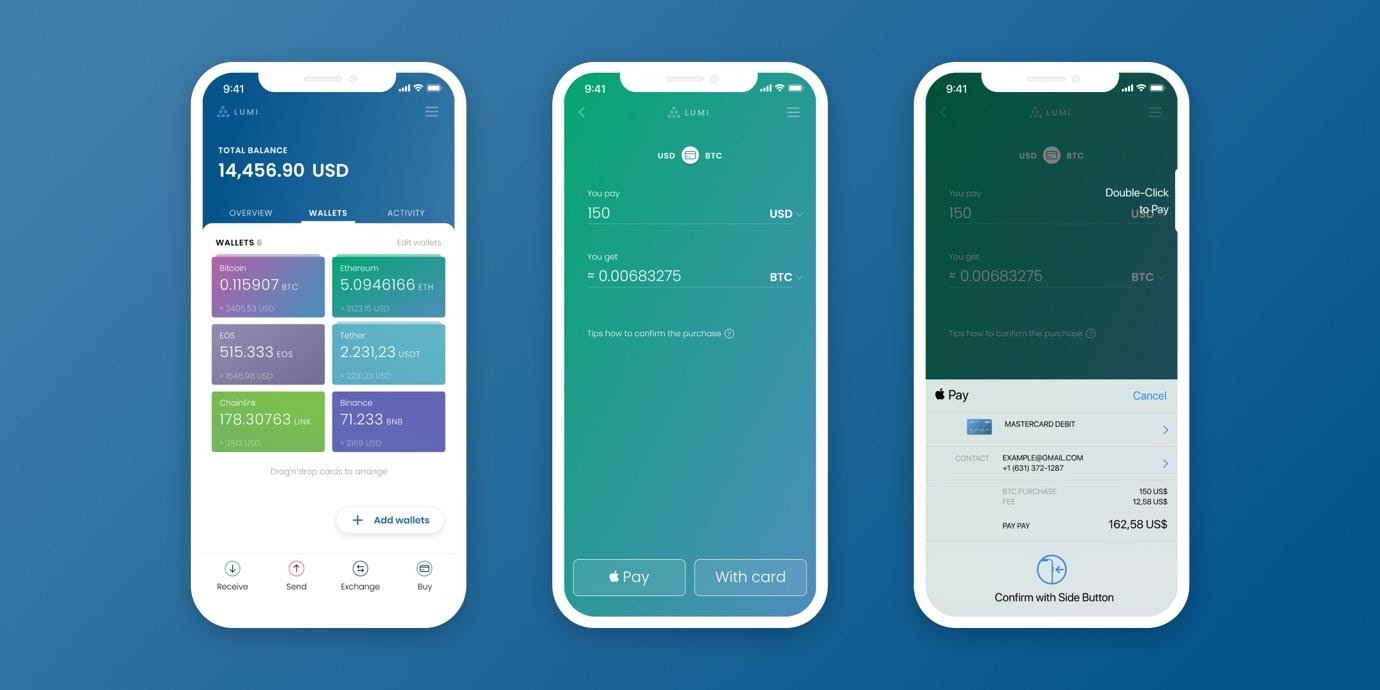 Download the app Lumi Wallet. Create a new wallet or import an existing wallet into the app (yes, this is also available). And we can begin to perform operations.
After registration, you will be taken to the main screen of the app. At the bottom of the screen, click "buy," then select the currency in which you will make the purchase and choose the cryptocurrency you want to buy. After that, the calculation will take place, and you will see the amount you will receive after the transaction is completed.
To make a purchase, click Apple Pay in the lower-left corner. Well done! Now you are the owner of the cryptocurrency.
Have you noticed how quickly and easily you were able to purchase cryptocurrency? I don't think they saw. Because with Apple Pay, it is so convenient and fast to buy new assets.
So why trust Lumi Wallet and their new Apple Pay purchase feature?
More than 750,000 users already consider Lumi to be a high-level secure app that allows both new and advanced users to keep their crypto securely. Lumi is an open-source software that never has access to users funds and private data. Private keys are created and kept solely on users devices in encrypted storage.
A new feature in the app shouldn't worry users about the security of their assets. Since the purchase process is done only through the phone's user interface and every transaction with Apple Pay is tokenized elsewhere, it will be difficult for attackers to steal your money or gain access to your data. Apple pay does not store the original numbers of the added credit and debit cards and does not access them. Any card in Apple Pay is encrypted and sent to Apple servers in this video to prevent fraudulent transactions. When making a payment, the company does not collect information about the transaction in its original form.

Thus, adding a new payment method to Lumi wallet saves users from nervous experiences, fears of owning cryptocurrency, and transferring personal information. The icing on the cake? Getting rid of the KYC procedure for users. In Lumi Wallet, you will be able to make purchases from all countries where Apple Pay works, except these countries:
Vatican City, Ukraine, Montenegro, Monaco, Malta, Man of Isles, Jersey, Liechtenstein, Romania, Russia, Serbia, China, Taiwan, Macao, Kazakhstan.
In conclusion, I want to say that such innovations allow you to expand the capabilities of individual users and the entire crypto community as a whole. In the future, we expect even more exciting updates from Lumi Wallet!
For more news on this and other crypto updates, keep it with CryptoDaily!
© 2020 CryptoDaily All Rights Reserved. This article is provided for informational purposes only. It is not offered or intended to be used as legal, tax, investment, financial, or other advice