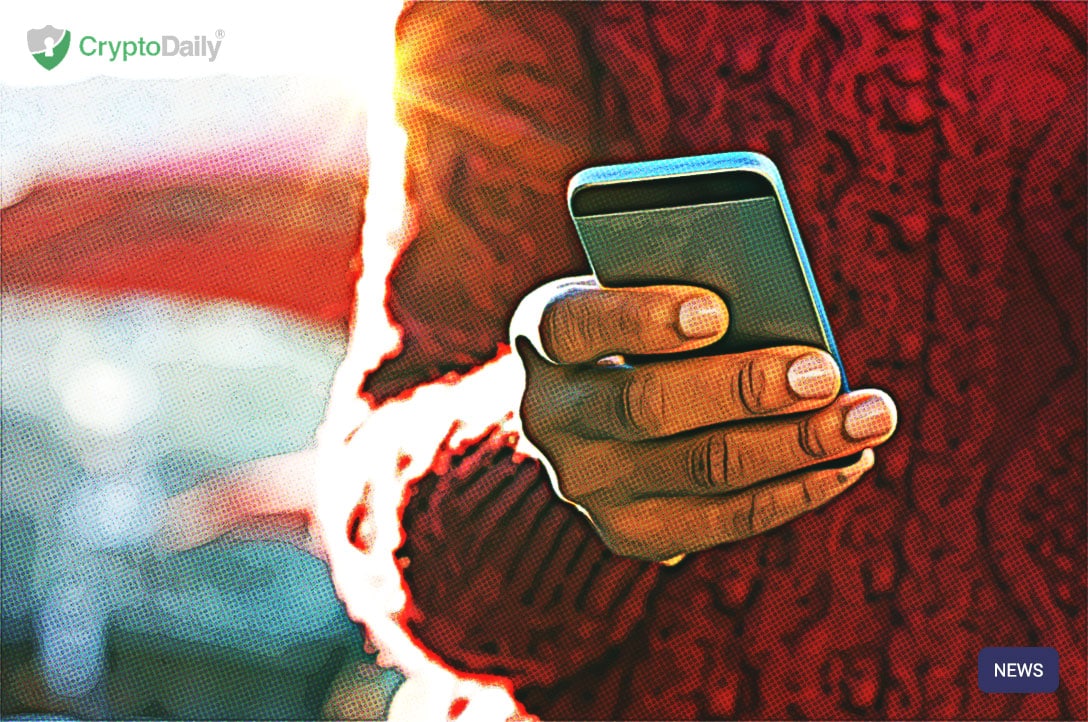 Instagram is one of the most popular social media websites in the world and is quickly becoming a place for growing cryptocurrency community. Here we want to take a look at the most interesting, inspiring, and entertaining cryptocurrency Instagram accounts to get some inspiration.
Exploring Instagram and looking at some of the best cryptocurrency accounts can help you become aware of the news, best hacks, and tips. That's why we are going to introduce the top 7 cryptocurrency Instagram accounts and try to find what makes them stand out.
If you are the type of person who prefers to stick to a social media website and get all the news from there, this might help! ShareCrypto gives you all the crypto news on Instagram and here, you can see the latest crypto updates in an easy-to-read style.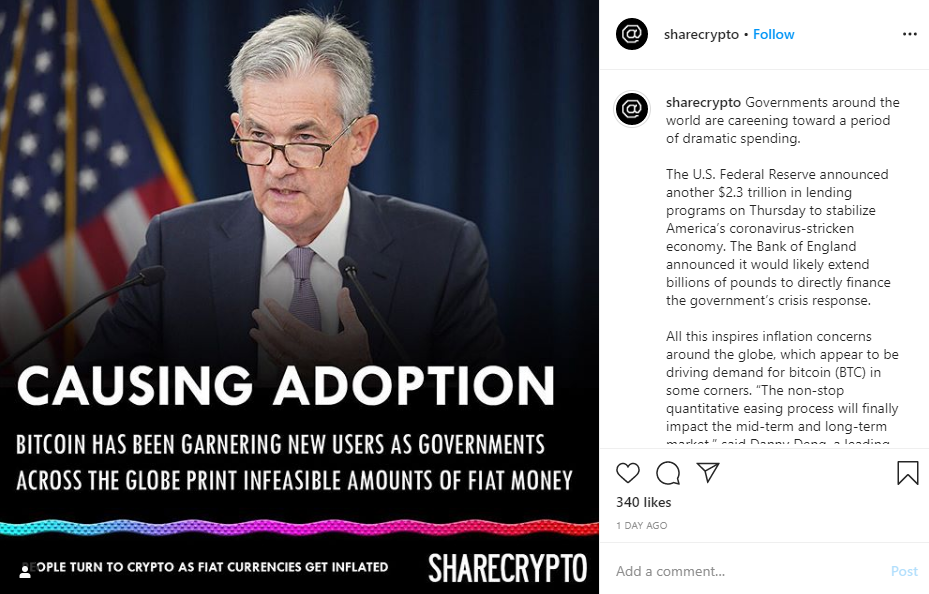 https://www.instagram.com/p/B-9Xf6JgPxP/?utm_source=ig_web_copy_link
Following them, you can get the news in brief by looking at the pictures, and for more details, you can look at the captions and get more completed data to grow your knowledge in crypto.
Another cryptocurrency account that is good to follow on Instagram is Be[ɪɴ]Crypto. Here, you can find some of the best and most amazing articles about crypto hacks and news and get informed about the updates.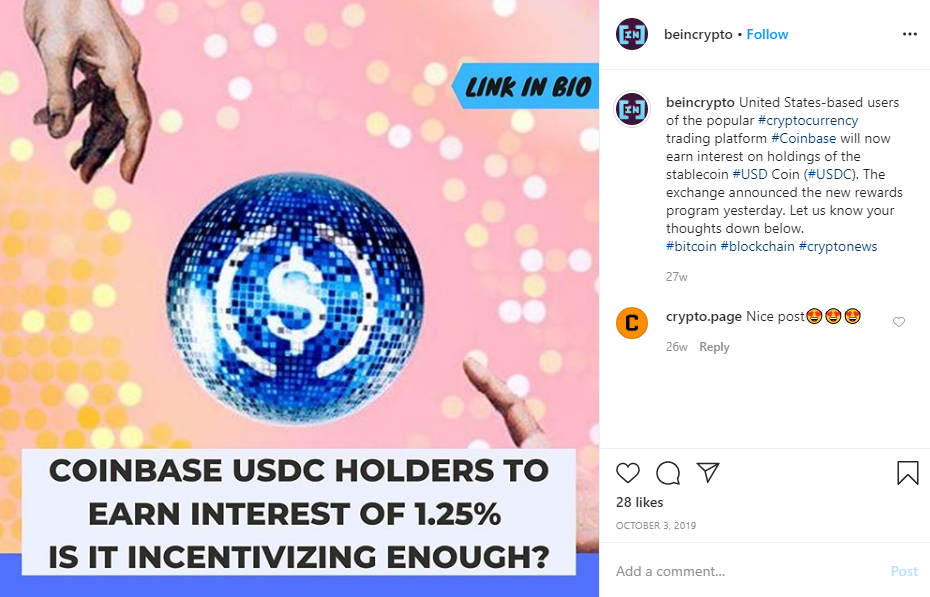 https://www.instagram.com/p/B3J0NKPgTWE/?utm_source=ig_web_copy_link
In fact, this account is for one of the fastest-growing cryptocurrency news platforms (BeInCrypto) and they try to provide some much-needed transparency and cut through the hype. Seems like they have only started recently, so they don't have many followers and hence, it can be a good account to follow and track to get some inspirations.
Actually, since it's not possible to add links to Instagram stories without being verified, as you can see below, this Instagram account is referring people to its bio to check for the news and articles: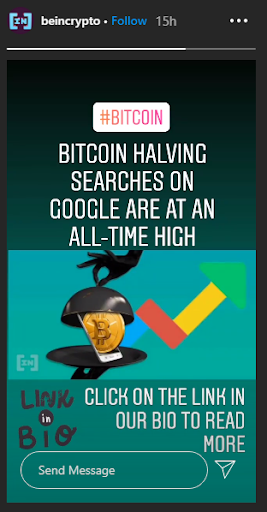 So, this can be a great inspiration to start your own crypto account on Instagram.
Another cryptocurrency account to follow on Instagram is CoinBound. This one is a crypto growth agency trusted by so many agencies like eToro, ShapeShift, OKEx, & more. Actually, they help blockchain brands & creators boost growth and have some podcasts that can help you get ideas to start your own business in this field.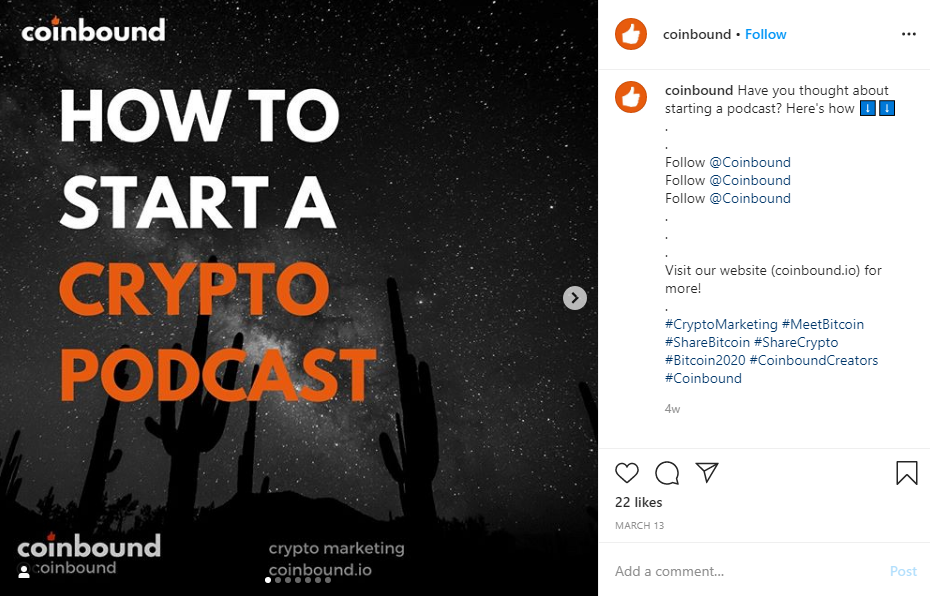 https://www.instagram.com/p/B9rugt6D_Of/?utm_source=ig_web_copy_link
The dynamic duo of crypto, YoungDumbCrypto, shares some entertaining crypto content every day on Instagram and using some fun captions and images, lets you know more about some fruitful tips and hacks. The group is well-entrenched in the cryptocurrency space and also share their behind-the-scenes stuff to be more unique and creative.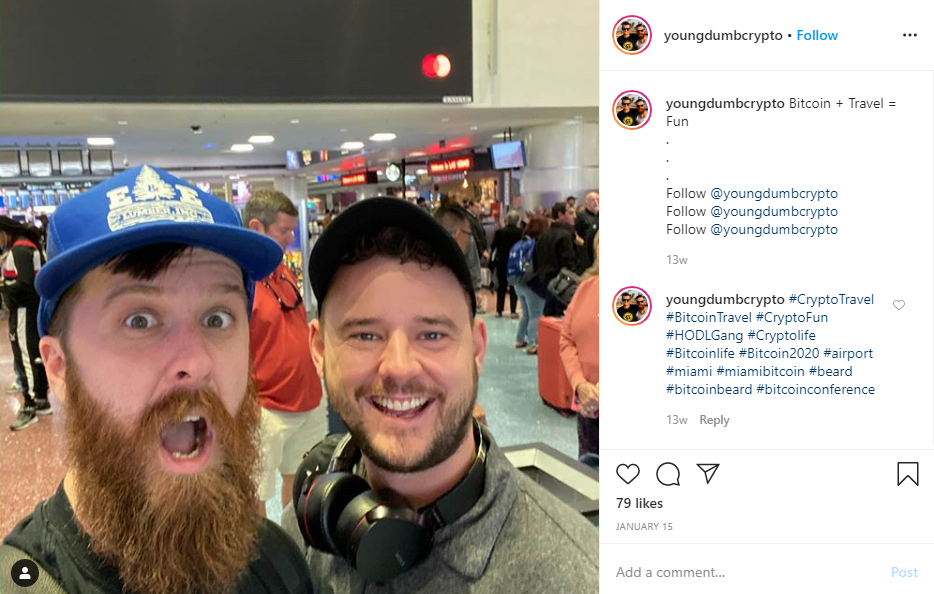 https://www.instagram.com/p/B7UgEd-ggly/?utm_source=ig_web_copy_link
CryptoExplorer is a self-proclaimed fastest-growing cryptocurrency community on Instagram and it's not hard to believe that if you go and look at their tremendous work ethic. Actually, this is a team of two and has been posting every day from two years ago.
One of the things that makes the to be known as a creative crypto Instagram account is that they have created most of their content, something about 90 percent of that and they are doing a great job there. Following their account and posts, you can understand most of the cryptocurrencies and avoid losing money.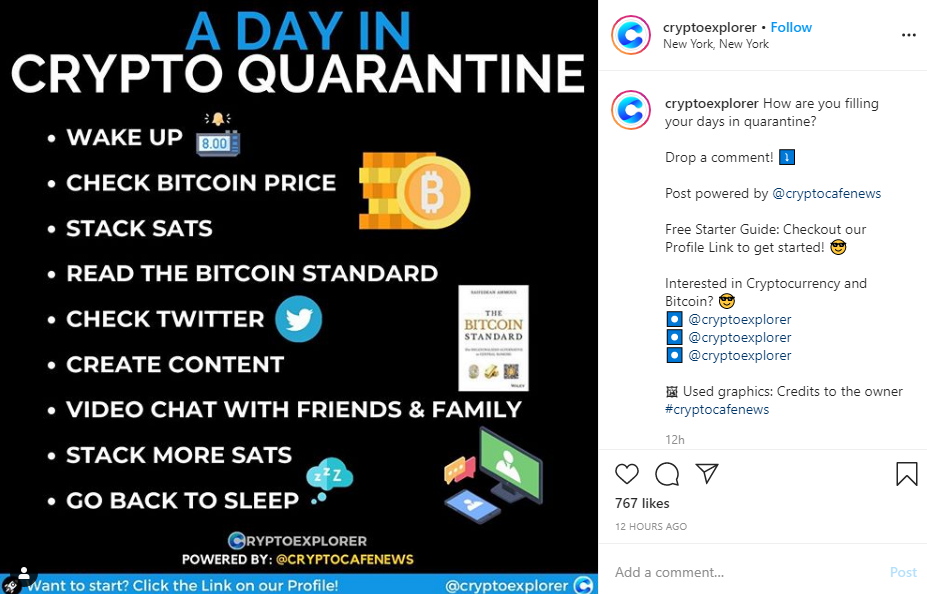 https://www.instagram.com/p/B--wmskgpem/?utm_source=ig_web_copy_link
Actually, this account is mainly focusing on education. So, if you are looking forward to learning some rules, tips, and hacks through stylish infographics and statistics, this is the one you must follow.
Also, following them, you can find some amazing entertainment, eBooks, courses, and etc and achieve your crypto goals.
BVBTC, also known as Brekkie von Bitcoin, is a sculpture artist who creates artwork and sculptures based on bitcoin. This LA-based artist offers a refreshing look at his personal life, his art, and also his knowledge about crypto, bitcoin, and etc.
Actually, Brekkie entered the community and made some progress by making videos, memes, and culminating in his "Blockchain and Morty" series. If you just take a look at his account, you will find it a delicate mix of memes, artworks, sculptures, inspirational bitcoin posts, and some fruitful information about his own experience in crypto and bitcoin knowledge.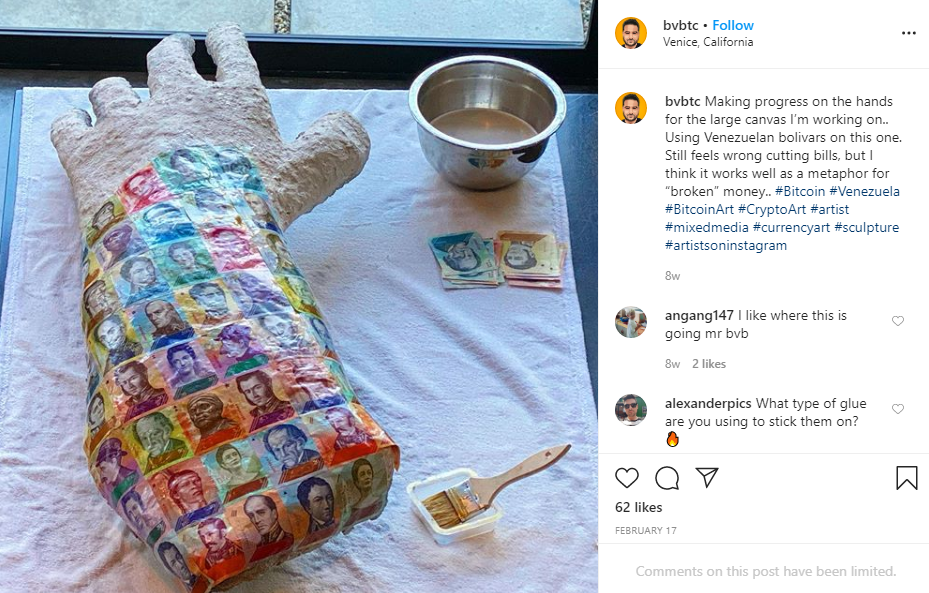 https://www.instagram.com/p/B8rZB9XA6di/?utm_source=ig_web_copy_link
Another cryptocurrency Instagram account you must be following is Krypticrooks. Although they still need some growth, maybe from an Instagram followers app to grow their popularity on the platform, that doesn't mean the account's content isn't incredible.
Actually, they share original crypto comics and this makes them a good one to learn some crypto tips and facts from. So, if you don't like to follow crypto in a serious way, this one could be the one you are looking for.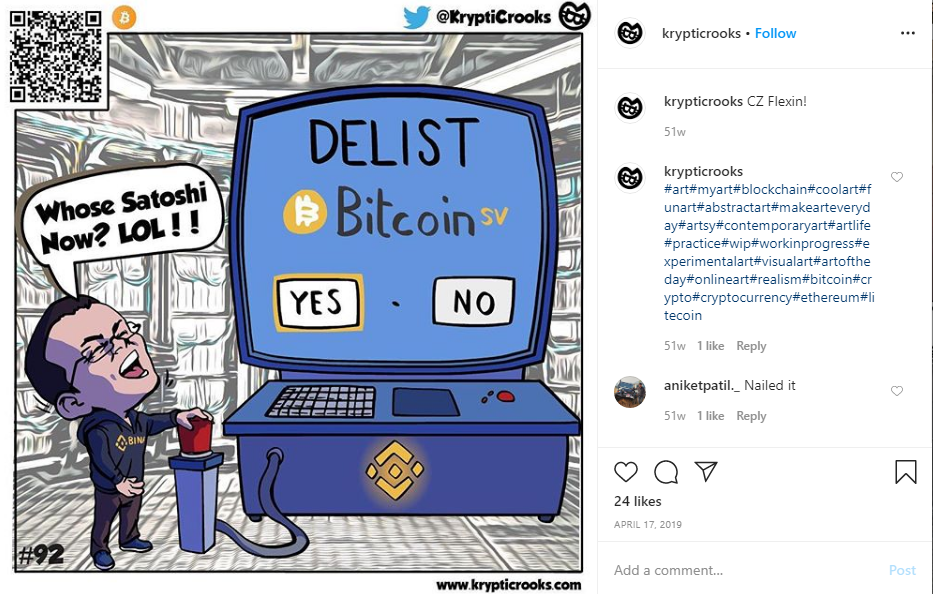 https://www.instagram.com/p/BwXc_HoA6mS/?utm_source=ig_web_copy_link
Final Words
Following cryptocurrency Instagram accounts could be really inspirational and lets you learn from others' experience to find your own way in the great world of crypto. So, check out the mentioned accounts and get some ideas to start, or to keep going on!
Author's Bio
Tala is a writer and content creator at socialpros.co. She has dedicated her free time to explore and learn about different aspects of the digital world and digital marketing trends. She's always been helping readers with her deep insights about pro marketing tips and tricks.