Bitcoin (BTC) has seen many ups and downs lately but it has yet to see a decisive move that would set it on its course for the weeks and months ahead. This time, that move is going to be the most important move BTC/USD makes since 2015. We can see on the monthly chart that this is going to be an extraordinary development. When the price breaks out of the symmetrical triangle, it will have to either shoot up to begin a new bullish cycle or it will have to crash to prolong the ongoing bear market. In case of the latter, we are likely to see the price decline first to the $3,529 level at the 61.8% fib level and then potentially down to the $1,220 level which corresponds to the 38.2% fib level in order to find its true bottom.

If the price breaks out of the symmetrical triangle and shoots upwards, we would want to wait for confirmation of the new trend. If we see higher highs and higher lows on a larger time frame, we can expect the price to rise as high as $67,000 which would correspond to the 1.272 fib level. Now, the reason I'm talking about both cases is to keep it unbiased. However, trading is a game of probabilities and the probability that BTC/USD will end up making a new all-time high any time soon is extremely low. This has to do with global market developments as well as that of the cryptocurrency market. That being said, there is no reason at all to rush into any trades. All we need to do is wait for confirmation and see which way the price breaks out.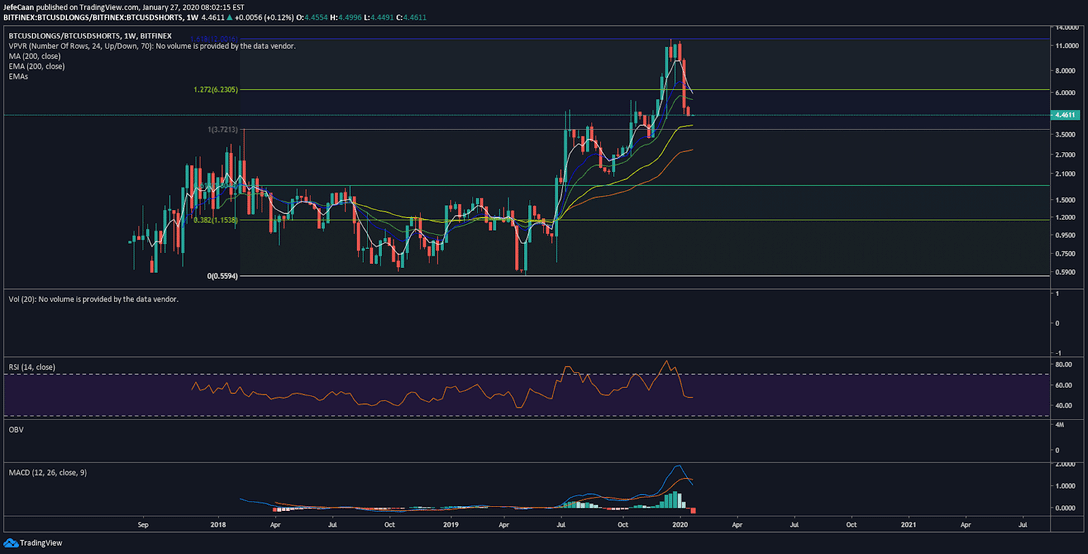 The weekly chart for BTCUSDLongs/BTCUSDShorts shows that the number of longs ahs declined significantly the past few weeks which means that we might see the move towards $10k a lot sooner than anticipated. It will be surprising to see the price rally towards $10k without retracing to $8k first but it is still possible. As global economic and political events come to a decision point, the market makers and the whales are running out of time to make their moves.
On February 3, 2020 the Democratic presidential primaries will begin. This is expected to have a big impact on the stock market and therefore on the cryptocurrency market. Based on current response from Wall Street, it is expected that a Sanders win will hurt the stock market and a Biden will win help the stock market. It is also pertinent to note that a Sanders win could be the beginning of something extraordinary the likes of which we have not seen in a long time. This reminds me of Theodore Roosevelt and John D. Rockefeller. Something similar could be in the making here which is why it is important to not chase the market and wait for a decisive move.