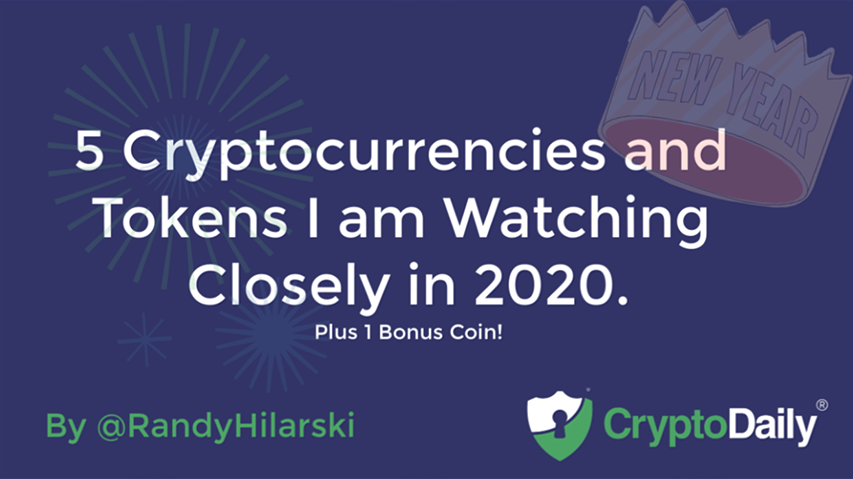 As 2019 comes to a close I look to the possibilities in the 2020 crypto market.
2019 admittedly was a rough year for our crypto holdings. I know many of you suffered throughout the year and if you are someone who likes the world of altcoins, like me, then you had an even tougher time. Bitcoin Maximalists ended up in the positive but they also were talking about a new ATH by the end of 2019 and that did not pan out. If it wasn't for the Plus Token Ponzi in China pushing up the price. I have to wonder what the Bitcoin numbers would have looked like in 2019.
My Criteria for the Five Coins I Have Chosen to Watch Closely in 2020.
I am looking for crypto projects that I believe have the most potential for a 5X-100X return.

The crypto projects must be actively traded.

The projects must be actively marketing.

I must know someone on the team or follow them on social media.

I must own some.
My Top 5 Cryptocurrencies and Tokens I am Watching in 2020.

Bonus Project to Watch in 2020!
Pi Network- This one has me intrigued. I did not add it to my core list of 5 because it is not able to be traded yet. The team is adding features consistently but I still think this could be a giant ploy by a few Stanford Grad students.
I do recommend digging into the project and learning how this team built such a viral machine. The coin that could be born out of this will be in so many hands globally that it could quickly be one of the most used in crypto. In 2020 I expect the first exchange listing for PI as well as the network beginning decentralization.