Ethereum (ETH) remains in a large descending channel. It resisted to decline towards the bottom of this channel after it tested the top recently and has now run into the top again. The price is now at a point where some traders would expect it to break a long term descending channel while others would expect it to decline towards the bottom of this descending channel. The 4H chart shows that ETH/USD may trade sideways for a while but sooner or later it will make that decision. After the recent pump, I expect the price to begin its downtrend. However, I would not discount another pump short term. That being said, I do not expect it to have any follow through. I do not think ETH/USD is ready to break the descending channel at this point.

The market has now reversed most of the moves made on the weekend and it is back where it was on Friday ready to make a decisive move. Retail traders are getting bullish once again after the recent moves that saw the price rally once again. However, I would be very cautious here because being bullish at this point means expecting the price to break the descending channel. If that is the case, then you might want to at least wait for that to happen because that is not something that happens all the time. The odds of it not happening are much higher than the odds of it happening. Therefore, it is not worth the risk/reward to be bullish at this point just to catch that potential break out of the descending channel if we actually see one. If we do see such a move, it will be followed by some downside so in any case, there is no reason to be impatient.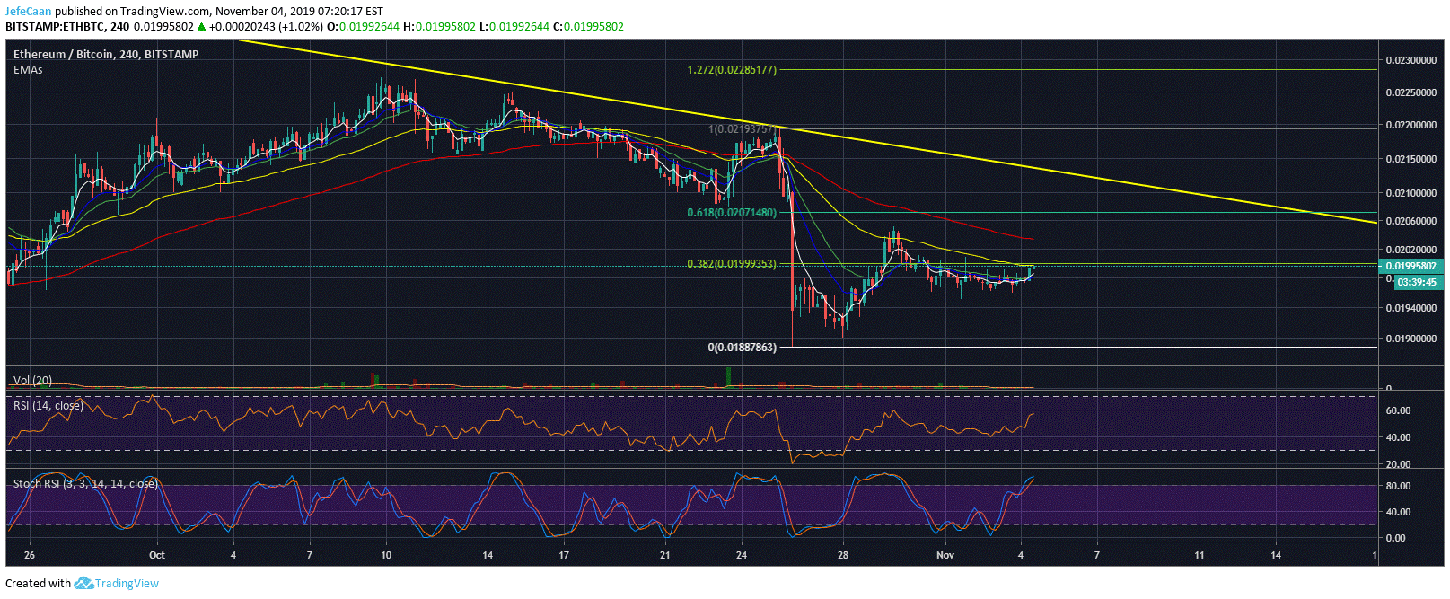 The 4H chart for ETH/BTC shows us that the pair has now run into the 38.2% fib retracement level. If it starts to decline from here, we would be looking at a major downtrend in ETH/BTC for the weeks to come. On the other hand, if it ends up breaking out, we would want to see a close above the 200 EMA. Again, the odds of it breaking to the upside are much lower than the odds of it continuing downwards. If something like that was going to happen, ETH/BTC had better opportunities to do that.
We are close to the beginning of a major downtrend in the cryptocurrency market. Some analysts argue that this is not the time to be bearish on this market because the S&P 500 (SPX) "is making a new all-time high". Well, it made a new all-time high which means it is now at a risk of a correction as well. So, if anything this should be a reason to be careful not be long at a potential top. I think this market is ready to begin its downtrend soon and when it begins, altcoins are going to be declining harder than Bitcoin (BTC) which is why it may not be a good idea to be long on them at this point.