Ethereum has seen some sharp downtrends against Bitcoin (BTC) in the past. The daily chart for ETH/BTC shows one such downtrend between June and August this year. While that was a brutal downtrend, we have reasons to believe the next downtrend could be a lot more brutal. ETH/BTC is currently trading within a descending broadening wedge. Now that it has tested the top of this wedge, there is a lot of room for it to decline to the bottom of the wedge. RSI on the daily time frame shows a strong rejection at a trend line support turned resistance. The Stochastic RSI is also a lot more overbought than it was during June.

The altcoin market has not seen any real pain just yet. We have seen some ICO scams for some 'blockchain projects' go belly up but we have yet to see a thorough cleansing of this market. The next decline would create optimum conditions for such a cleansing in the market as not just Ethereum (ETH) but a lot of other cryptocurrencies would be in a downtrend against Bitcoin (BTC) for a long time. We would still want to see a retest of the 200 day moving average on pairs like ETH/BTC before the major downtrend but at this point we could certainly see the pair decline first towards the 38.2% fib extension level and then the 61.8% if that doesn't hold.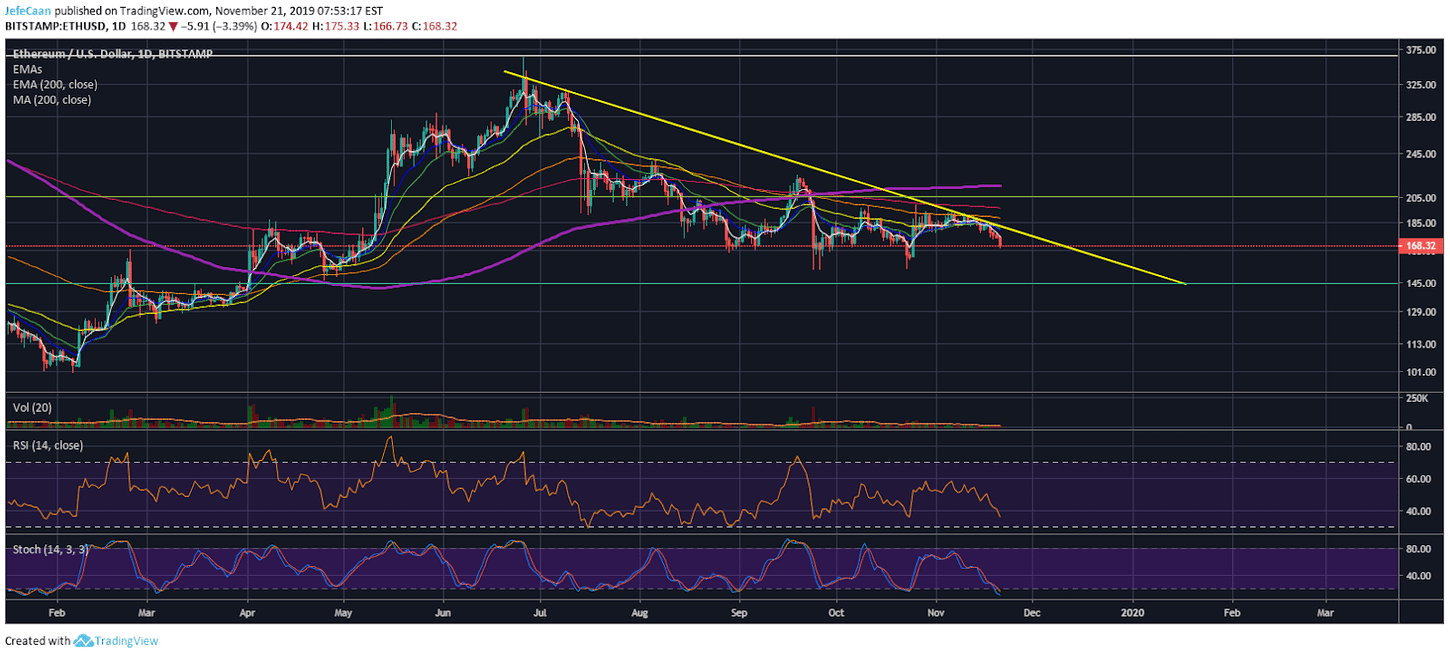 The daily chart for ETH/USD shows that the price has faced multiple rejections at a key trend line resistance. Until and unless we have a break past this trend line resistance, there is not much to be bullish about. The most painful scenario for ETH/USD would be if the price declines down to the 61.8%, finds temporary support there and then forms a descending triangle there. This descending triangle would then be expected to break lower which could pull the price towards the December, 2018 lows or much lower.
The cryptocurrency market remains in a strong downtrend and coins like Ethereum (ETH) stand to lose a lot more compared to Bitcoin (BTC) during the next crash. This is even worse for small cap coins because we have seen many of them close shop during tough times. One such example is Ethereum Classic (ETC) which to the surprise of everyone saw its core development team close shop during the previous downtrend. If this could happen to a cryptocurrency like Ethereum Classic (ETC) which is still the 23rd largest coin by market cap, it could surely happen to a lot of small cap coins. It is therefore best to steer clear off altcoins for now until things normalize because the next downtrend could inflict unprecedented pain on the altcoin market.