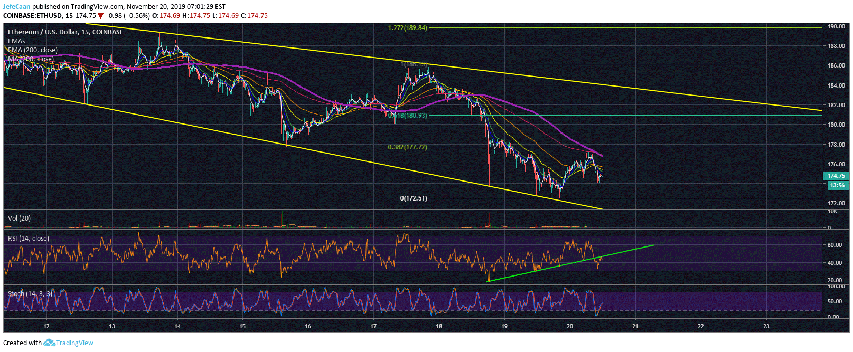 Ethereum (ETH) risks further decline within the broadening wedge as the bulls fail to come to rescue. We have seen some bullish attempts but they have failed miserably and traders do not seem eager to buy the dip mostly because most of them are already deep into bullish positions from much higher levels. The recent crash inflicted some pain on the bulls but it is far from over just yet. If the market continues to decline and ETH/USD crashes down to $170, it could trigger a major stop hunt that could pull the price down to $144 or lower in a matter of hours.

If we take a look at the 15 min chart for ETH/USD, we cannot see any bullishness even after massive declines. It seems like nobody is buying the dips anymore maybe because they have bought the dips much higher. Before the recent decline, whenever the price crashed down to the trend line support on the descending broadening wedge, we saw a quick bounce followed by a relief rally. This time, that has not happened and it is beginning to look like it is not going to happen. Even if it were to happen, the price does not seem to be in a position to break out of the broadening wedge and will thus have to decline lower into the wedge. This time, there is not enough bullish momentum for the price to rise even towards the top of the broadening wedge.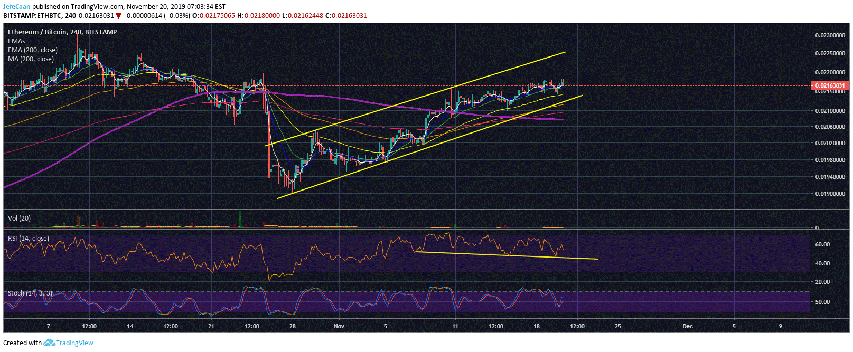 The 4H chart for ETH/BTC shows Ethereum (ETH) rising against Bitcoin (BTC) but we now have reasons to believe that this ascending channel could be part of a bear flag. RSI on the 4H chart for ETH/BTC shows a bearish divergence that should serve as a red flag for anyone eyeing further upside in this pair. Ethereum (ETH) could still rally higher after the next crash to complete its uptrend against Bitcoin (BTC) but it is long overdue for a short term correction at this point.
Ethereum (ETH) has yet to reach the 200 day moving average against Bitcoin (BTC) which means that it might have room to rally further against Bitcoin (BTC) after the upcoming decline. However, there do not seem to be any plausible bullish possibilities that point to ETH/BTC testing the 200 day moving average at the moment. Until and unless we have a break below the ascending channel on ETH/BTC this trend is likely to remain intact and there would be no reason to trade against it. However, the trend is likely to reverse soon and traders might want to keep an eye out for further downside in Ethereum (ETH) not just against the US Dollar (USD) but also against Bitcoin (BTC) in the days and weeks ahead.