Ethereum (ETH) until recently looked all set to decline towards the 200 MA on the 4H time frame and then eventually down to the bottom of the large descending channel that it is trading in. However, we now seem to have a change of plans as the price has entered a symmetrical triangle and is now waiting for a break out. It is premature to say which way the price may break out but if we zoom out and look at the medium term picture, it is a scary one for retail bears. Now that ETH/USD has found support on the 38.2% fib extension level, the probability of another fake out has increased. This fake out could be more aggressive than the one before because the market makers and the whales have their eyes on $200.

More than 41% traders on Bitmex are short on Ethereum (ETH) at this point. Unfortunately, many of them have their stops just around the $200-$210 area. During the recent manipulated pump, we saw the market inflict some serious pain on the bears and many of them were liquidated but I was surprised that the stop hunt did not extend past the $200 area. Maybe, the big players did not want to spook the bears at once and wanted to let them open more shorts. After the recent attempt to decline towards the bottom of the descending channel which failed, we have seen a new wave of bullish interest in the market. I would still be very cautious trying to be bullish here because any potential big move to the upside is most likely going to be fueled by a short squeeze and therefore might not last for long.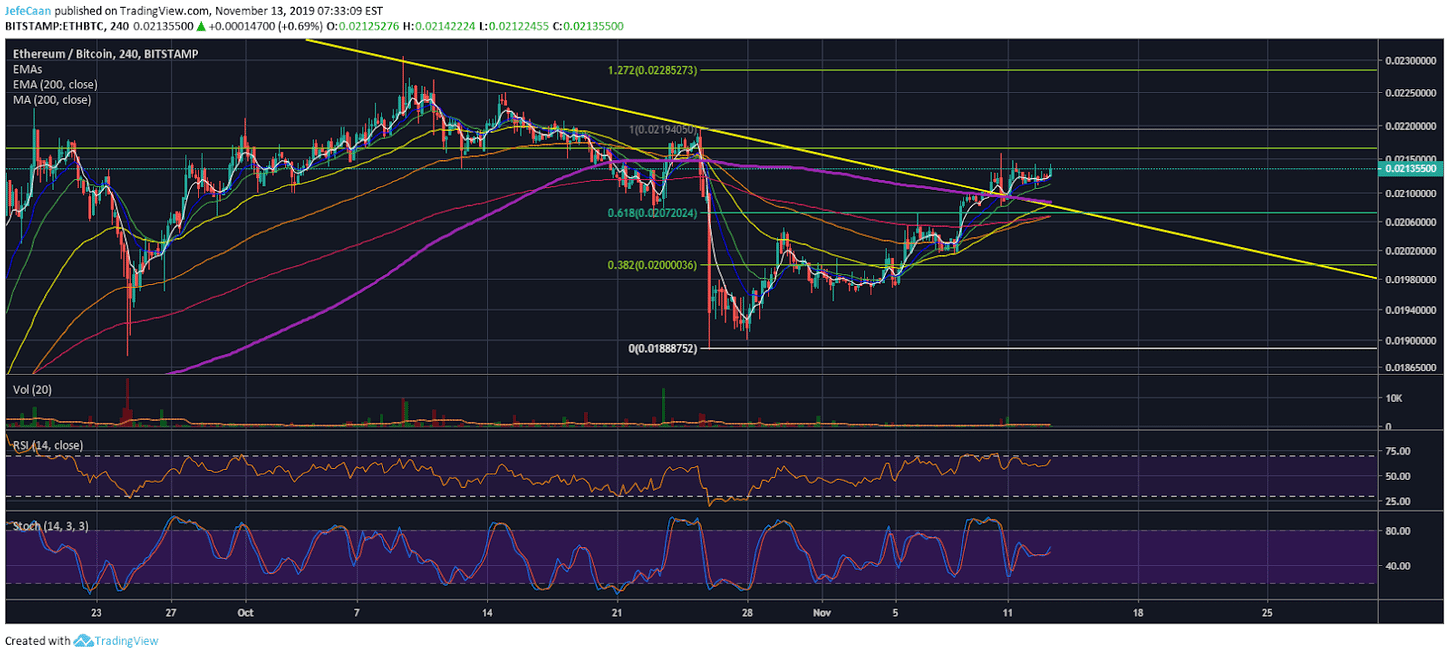 At this point, the big players are doing all they can to keep the sentiment positive as they cash out. We have seen signs of weakness in the market and the strong probability of a decline towards the bottom of the descending channel long term but the outlook is changing short term and we cannot ignore it. The 4H chart for ETH/BTC shows us how Ethereum (ETH) has now broken past a key trend line resistance against Bitcoin (BTC). Please note that Ethereum (ETH) is not the only coin to have done this.
Many other altcoins are breaking out against Bitcoin (BTC) at this point which is why there is a strong probability that we might see altcoins rally further while Bitcoin dominance (BTC.D) keeps on declining. If this continues to happen, it would be a good alibi for the market makers and whales to trigger another stop hunt to shake out more retail bears. This is why it is very important to remain patient here. We must not lose sight of the big picture but we also should take the changing short term outlook into account. Now that Ethereum (ETH) has broken out against Bitcoin (BTC), I expect altcoins to continue to rally until Bitcoin dominance (BTC.D) begins to rise again.