The recent decline in BTC/USD below the 200 MA on the 4H time frame proved to be a false signal. The price is now well above that level having closed above it and is struggling to break past the 38.2% fib retracement level. So far, it has failed to do that but considering that BTC/USD is trading within a large falling wedge, it is reasonable to assume that it might succeed at some point. When that happens, most of the traders that entered bearish positions around the 200 MA when the price was declining will experience a lot of pain. This is why it is important to distinguish between long term and short term outlook of the market.

There have been times when we have been short term bullish on BTC/USD even as the price has traded within the descending channel and was likely to decline further within the channel. This would be one of those times in case we see a successful break out of the falling wedge to higher levels potentially past the 61.8% fib retracement level. If that does not happen, then we would expect the price to decline back below the 200 MA. If it declines again below this level then it is likely to fail and fall further. However, before that happens we are expecting a break out from this falling wedge and thus we are no longer short term bearish on Bitcoin (BTC) at this point. That being said, we are not bullish either short term but remain long term bearish.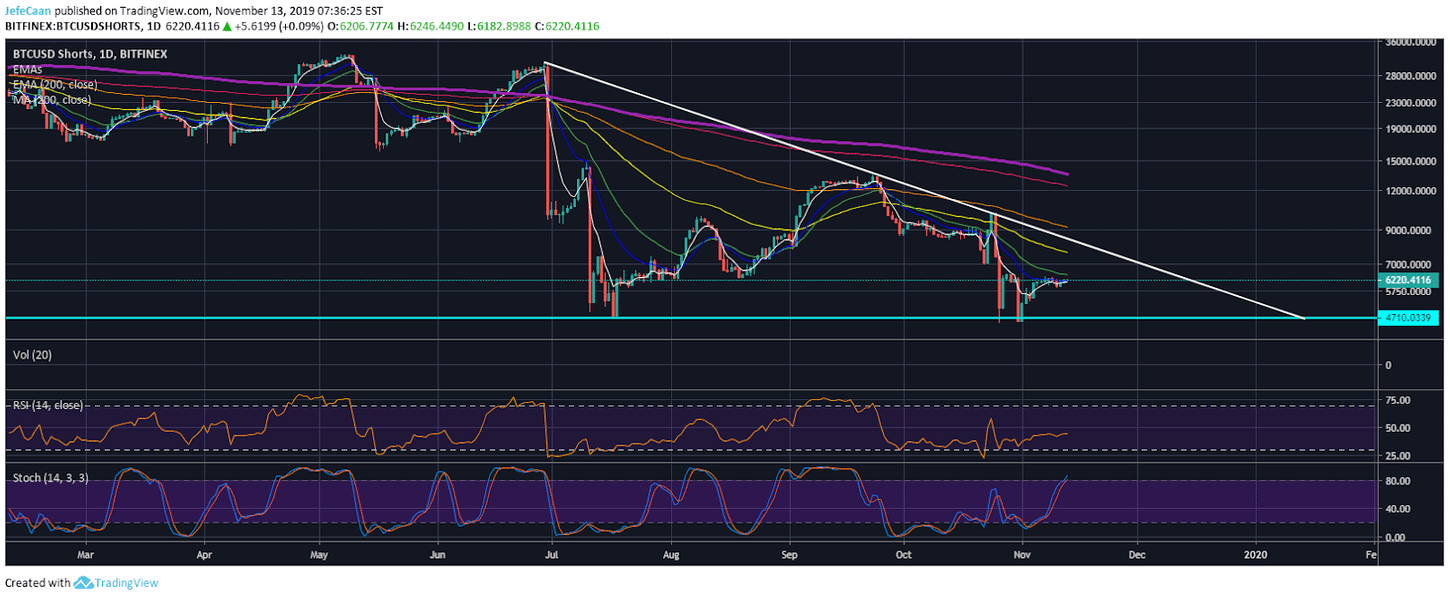 Bitcoin (BTC) bears have been expecting the price to decline for quite some time now. Considering that it keeps stalling that decline, we are seeing shorts stack up. The daily chart for BTCUSDShorts shows us how the number of shorts has been increasing since the beginning of the month. If BTC/USD continues to move up, this number will increase further. In that case, these stacked shorts would once again become an opportunity for the market makers and whales to liquidate impatient bears and take their money.
Timing, patience and discipline is everything in this market. There are many people who do not know have a number of fancy indicators on their charts but they have these attributes and they know how to cut their losses and how to let winners run. Remember, you do not have to win every trade but if you win more than you lose then that's good business. If you do it for a long enough time, you would know how to improve it. This is how most successful traders do it rather than looking for that one fancy indicator that is going to improve their game or that one shortcut to success in trading. In this market, there is more need to keep it simple because you do not want to trade against the people who literally make this market move by move.