Bitcoin (BTC) has been a steady decline for the past few weeks but retail bulls have been constantly calling for a trend reversal. It started at the 38.2% fib extension level and then when BTC/USD declined to the 61.8%, retail traders still kept on hoping that the price would begin a rally towards $9,000. However, now that Bitcoin (BTC) has declined below the 61.8% fib extension level and keeps on printing lower highs and lower lows, most who are not trapped in bullish positions at this point would agree that it can go down at least to test the 38.2% fib extension level from the December low to the yearly high. Things do not look good for Bitcoin (BTC) at all. The RSI has declined below a key support which has now been tested as resistance.

It is still hard to accept that BTC/USD would just crash below the 38.2% fib extension level at $7,880 but looking at the overall signs and indicators, it is hard to consider any other possibility. The bulls have failed to come to the rescue and now things are looking bad for Bitcoin (BTC). I still think it would be too easy for the market to just decline straightaway but it is very hard to think about any bullish possibilities at the moment unless we have confirmation of a trend reversal. The EUR/USD forex pair and the S&P 500 (SPX) also support a decline in cryptocurrencies. It is quite clear that the price will eventually have to decline down to the 200 Week EMA but before that happens a lot could happen short term. Recent manipulation in the market should serve as a warning to all those blindly shorting the market at this point.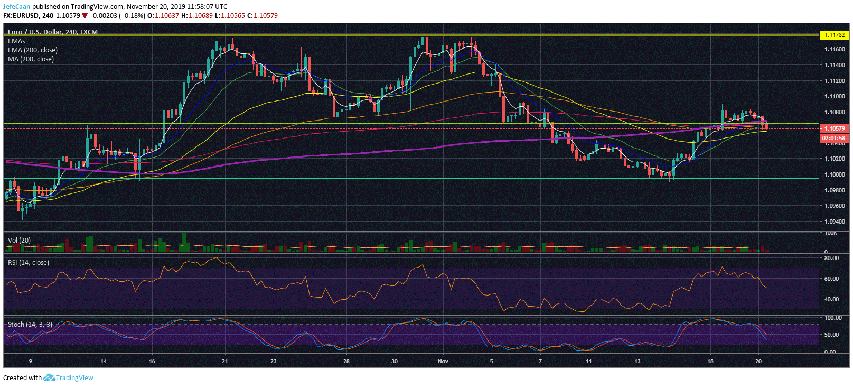 The 4H chart for the EUR/USD forex pair has shown signs of extreme weakness now. We saw some hope of a bullish reversal in the pair yesterday but now that it has declined and closed below the 38.2% fib extension level as well as the 200 MA on the 4H time frame, it is very hard to be bullish on this pair. In fact, if it keeps declining, we can expect a sharp decline not just down to the 61.8% but eventually lower than that to complete the correction.
This does not bode well for Bitcoin (BTC) and the rest of the cryptocurrency market. The EUR/USD forex pair has a strong influence on the cryptocurrency market because most cryptocurrencies are paired to the US Dollar on exchanges and a rise or fall in this pair affects them directly. The next decline in this pair is expected to be quite brutal as there is plenty of room for further downside. This would not only directly affect the price of Bitcoin (BTC) as the US Dollar goes up in strength but it will also serve as a catalyst for the next potential market crash.