Photo by Marta Branco from Pexels
This Is On Top Of It's $25 Bitcoin Sign-Up Offer
There is a major push by crypto exchanges in these early days to get you to join and keep your crypto with them as the market begins to mature. It seems like every day there is a story of exchanges dreaming up new value-added incentives to get you to sign up with their platform. Voyager recently went live with their Bitcoin 3% interest program (on top of their $25 sign-up). Crypto.com announced their $50 sign-up when you stake $50 with their cash-back crypto credit card. Coinbase still offers their $10 bonus for $100 purchase, plus over $100 in various cryptos through their Coinbase Earn platform. Now Abra is putting heat on much of the competition by announcing one of the largest coin listings of any US exchange; over 200 top crypto coins available for trade (on top of their $25 upon registration and nominal trade of $5).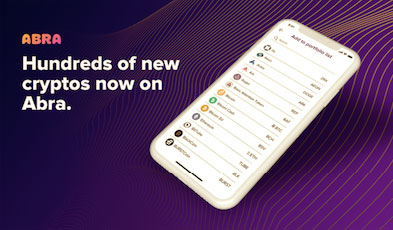 Over 60 new cryptocurrencies (90 total) are available right now for US users to deposit, withdraw, send, and trade. Abra's global users will have access to over 200 new cryptocurrencies in the coming weeks. So why is Abra's listing of 200 coins so significant? For starters, since Binance shut down service to their several million US customers and then reopened under the BinanceUS brand several weeks later with a limited offering, customers were at a loss as they were only given a handful of altcoin options to trade versus the previous Binance offering providing overall several hundred. Abra's international offering of 200 coins will position them as one of the top places for US and international customers to trade altcoins following the void left by Binance closing its doors to some international customers.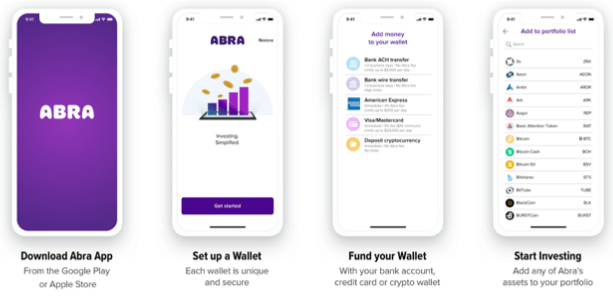 Getting started with Abra is quick and simple (and secure). Just download the app from the Apple Store or Google Play Store then set up an Abra wallet. Next, users can conveniently fund the app using bank/wire transfers, credit cards, or even other cryptocurrencies to get started. Once your funds are added, users can start investing in any of Abra's supported assets.

In an effort to help consumers to understand this new crypto economy, Abra has partnered with various coin communities and foundations throughout the crypto space through a series of educational initiatives in an effort to raise awareness . Further, Abra has published an eBook titled " The Ultimate Cryptocurrency Guide " which peers deep into cryptocurrencies and looks at individual use cases which are driving some of the most popular cryptocurrencies in the market. This complimentary eBook is available on Apple Books and Amazon.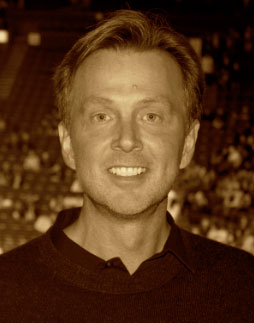 Abra was founded in 2014 by serial entrepreneur Bill Barhydt. Bill has over 20 years of experience in the payment industry. The company's global headquarters is in San Francisco. Abra is available in more than 150 countries which likely includes yours. Investors include American Express Ventures, First Round Capital, Foxconn Technology Group, Arbor Ventures, Lerer Hippeau, RRE Ventures, and many others. For more information, visit https://www.abra.com/
Marcus Henry is an American Journalist with over 11 years working in the tech industry. He has been actively involved in the crypto community for the past three years and currently works out of Austin, Texas. He covers breaking news, writes perspective pieces and reflections, and conducts interviews with industry professionals and community members. Follow Marcus Henry on Twitter- @MarcusHenryHODL
Disclaimer: The information above does not constitute investment, financial, trading or any other sort of advice and you should not treat any of my content as such. I do not recommend the purchase, sale, or holding of any cryptocurrency or other product and nothing I write about should be deemed as an offer to purchase, sell, or hold a cryptocurrency or other product or service. Please do your own research and consult a certified financial professional before making any investment decision. There may be referral links contained in the content above.