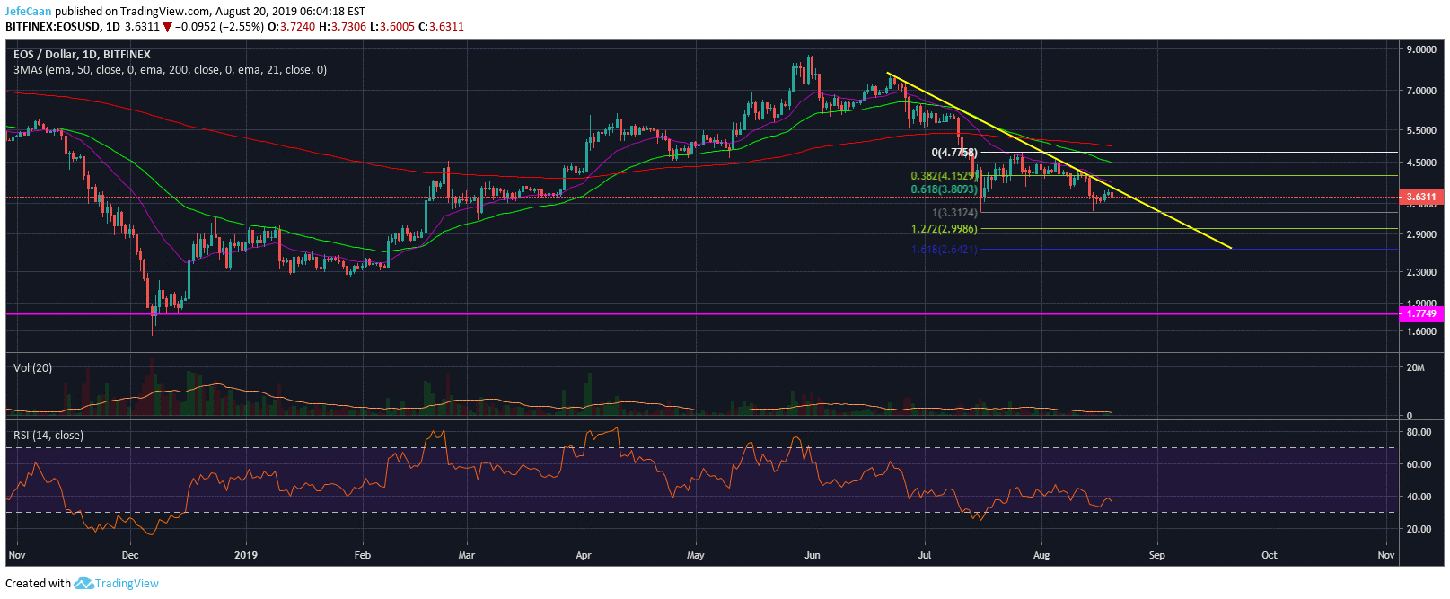 Bitcoin (BTC) is primed for a massive decline from current levels but that does not even come close to what coins like Eos (EOS) might experience during their next downtrend. The altcoin market as a whole has been under fire not only from investors but also from regulators and media networks. Eos (EOS) has its own fair share of controversies but in this analysis we are more interested in the technicals rather than the fundamentals. If we take a look at the daily chart for EOS/USD, we can see that the price ran into a strong resistance at the 61.8% fib extension level and is now eyeing further downside. A decline from here would pave the way for a 30% crash in the weeks ahead that would see EOS/USD decline to a price of $2.6 before it finds a temporary bottom.
It is very important to realize that for all we know it could go to zero. Let us make no mistake, there have been some very organized scams in this market and for all we know this could be one of them. Investing in coins like Eos (EOS) at this point is no different than buying overbought penny stocks. In other words you are buying something with poor fundamentals at an insanely high valuation. Just because something is a "blockchain project" does not make it a good investment. Recently, we have seen this trend of hard forks that keep on getting cryptocurrencies all hyped up. Eos (EOS) has its hard fork scheduled for September 23, 2019. Unfortunately for the people that are going to be victims of this hype at one of the worst times in the bear market, it is not likely to end well.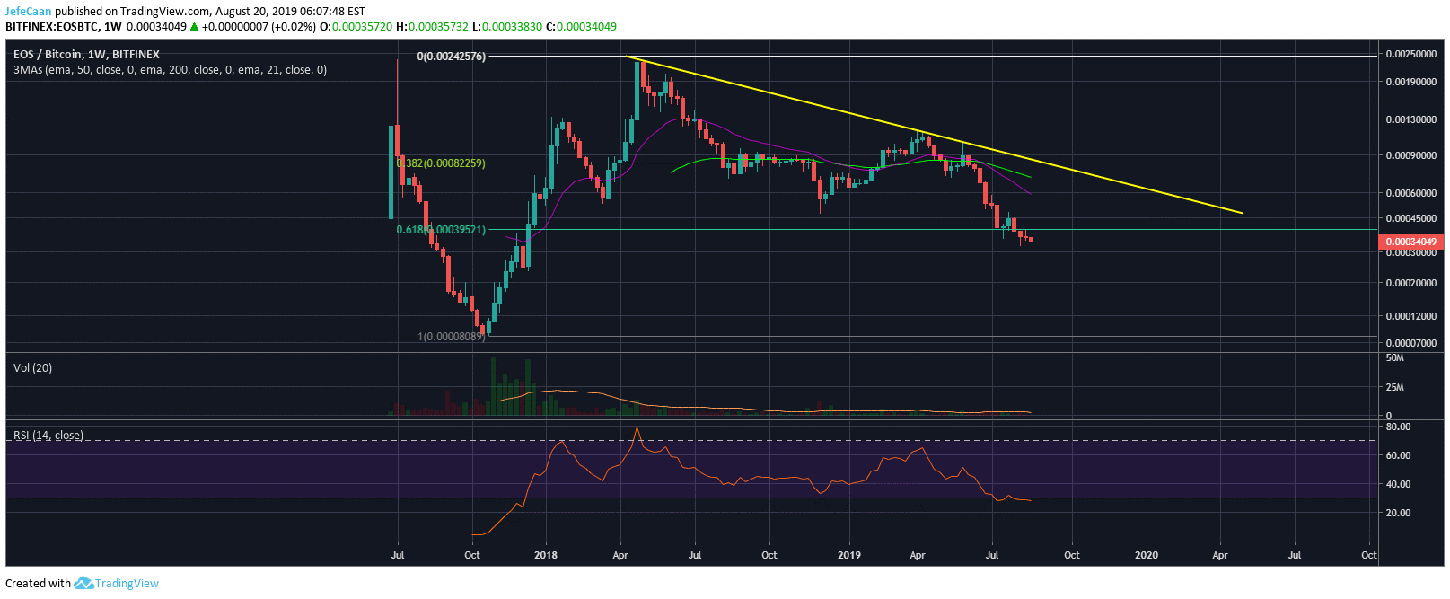 The weekly chart for EOS/BTC shows that Eos (EOS) broke below the 61.8% fib extension level against Bitcoin (BTC). It went up to test that level again and faced a strong rejection and is now trading well below it. In the week and months ahead, EOS/BTC is expected to decline even further and I for one would not be surprised if it falls below its October, 2017 lows. Abra, a popular cryptocurrency platform has recently restricted its American users from holding Eos (EOS). The parent company of Eos (EOS), Block.one has too much influence and control.
Recently, Plus Token, a Chinese blockchain company scammed investors for $3.1 billion. That is just $300 million shy of the market cap of Eos (EOS). The timing of this hard fork on Eos (EOS) is very suspicious because the market is very likely to be in strong bear trend by then (Sep 23, 2019). Needless to say, the people who fall for it would do so out of desperation because everything else would be declining and they would think that maybe Eos (EOS) can still rally and it will for a while until the retail bulls are trapped in so the whales and market makers can dump on them.