It has never been worse to show up fashionably late to a party. Specifically, the one that makes the first arrivals richer than they could ever imagine. I am talking, of course, about Bitcoin and the massive price explosion over the course of the past several years. If you fear you have missed out on this opportunity, you're wrong. If you think you can't afford to own Bitcoin, you are also wrong. Although the price of an entire Bitcoin is rather prohibitive, you can still own a piece of the action for little to no money. I will walk you through some great opportunities that will net you free Bitcoin with little time and effort.
Abra Mobile Crypto Exchange App Gives You $25 in Bitcoin for Signing Up And Depositing Your First $5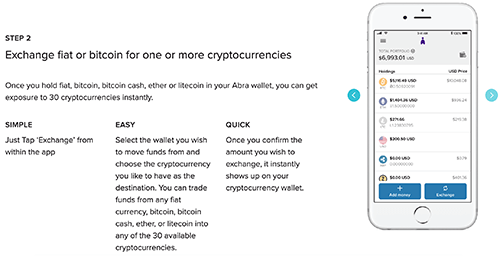 Abra is a secure mobile cryptocurrency exchange app that allows customers to easily invest in over 25 of the most popular cryptocurrencies (including Bitcoin). Additionally, Abra has enabled for customers to invest in BIT10; an index of the top cryptos. When you sign up to use Abra with this link, you will receive $25 in free bitcoin after your first $5+ Bank and/or Amex deposit. Yes, you can use a credit card to purchase cryptos on this app!
Voyager's Commission-Free Crypto Trading App Gives You $25 in Bitcoin For Signing Up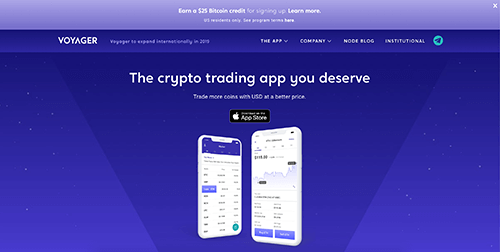 Voyager is a crypto trading app that enables users to trade 19 of the most popular cryptocurrencies without paying a commission. It does this by connecting to over a dozen of the most trusted and secured crypto exchanges with the "Voyager Smart Order Router" to provide you with access to the largest crypto trading market. The app is safe, secure, and easy to use. I have used this app for months now and really enjoy it. It also has a news ticker for the cryptos you follow, and their support team is extremely responsive. Sign up using this link to get $25 in free Bitcoin. If you're not in a territory that has Voyager yet, be sure to sign up anyway as they are expanding globally in 2019.
Coinback Browser Extension For Google Chrome Gives You $5 For Signing Up After Spending $25 On Your Everyday Online Shopping
Coinback is a browser extension for Google Chrome that gives you a percentage in Bitcoin for purchases made online at one of their thousands of partner retailers like Target, Walmart, Macy's, and GameStop. Once you sign up with Coinback and make a $25 purchase at an online store, they will give you $5 in Bitcoin. Not bad for doing your normal online shopping. Further, you will get $5 for every friend you refer who does the same.
CryptoTab Browser Is A Chrome-based Web Browser That Mines Bitcoin While You Browse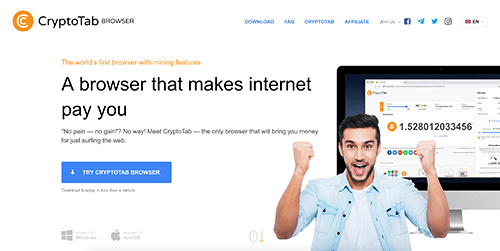 CryptoTab Browser is a chrome-based web browser that enables you to mine Bitcoin while you browse the web. Although you won't become rich from mining Bitcoin with this method, you will quickly see the earning add up shortly after using the browser and turning on the built-in miner. Further, the more friends you get to sign up for CryptoTab, the more Bitcoin you will get. In the long term, this might make you a nice chunk of change. Be mindful of the fact that this browser will mine using your computer's CPU, thus, using up some electricity in the process, so please mine at your own risk.
CoinBits Is A Website That Rounds Up Your Debit/Credit Card Purchases Into Bitcoin And Is Giving $5 For Signing Up And Rounding Up Your First Purchase
Coinbits is a web-based app that allows you to round up your spare change to Bitcoin micro investments from your linked banking and credit card accounts. You can set up to have a minimum of 10 cents taken up per roundup or set up for multipliers to enable for faster Bitcoin earnings. Further, you can make one-time purchases of Bitcoin from their app if you decide to buy in larger increments when possible. Coinbits is also giving away $5 when you sign up with this link and start rounding up your spare change.
So now that you have some hope that you can still hop aboard this Bitcoin train before it goes to the moon, do what you will with the information above. Do your own research and come to your own conclusions. Did any of the tactics above work for you? Be sure to share with me on Twitter @MarcusHenryHODL. Good luck and HODL to the moon!
Marcus Henry is an American Journalist with over 11 years working in the tech industry. He has been actively involved in the crypto community for the past three years and currently works out of Austin, Texas. He covers breaking news, writes perspective pieces and reflections, and conducts interviews with industry professionals and community members. Follow Marcus Henry on Twitter- @MarcusHenryHODL
Disclaimer: The information above does not constitute investment, financial, trading or any other sort of advice and you should not treat any of my content as such. I do not recommend the purchase, sale, or holding of any cryptocurrency or other product and nothing I write about should be deemed as an offer to purchase, sell, or hold a cryptocurrency or other product or service. Please do your own research and consult a certified financial professional before making any investment decision.