So far this year, the leading cryptocurrency Bitcoin has but touched the $9k key resistance level, which is a price range we haven't seen since July last year. The crossing of the psychological level of $10k is still a price mark we have yet to reach in order to make a convincing reversal in the bearish trend. Even so, the flagship currency has sustained the gains for the past couple of months which is a bullish sign for long-term recovery.
Before we go any further though, it's worth saying that we aren't financial investors and this isn't financial advice. Please do your own research before putting your money in a cryptocurrency and always remember to trade safe!
According to a recent report by Diar, Bitcoin supply holdings have moved since reaching the bottom. The most significant pattern that emerged is that of institutions making an investment in crypto in swooping up massive amounts of digital assets at these discounted prices.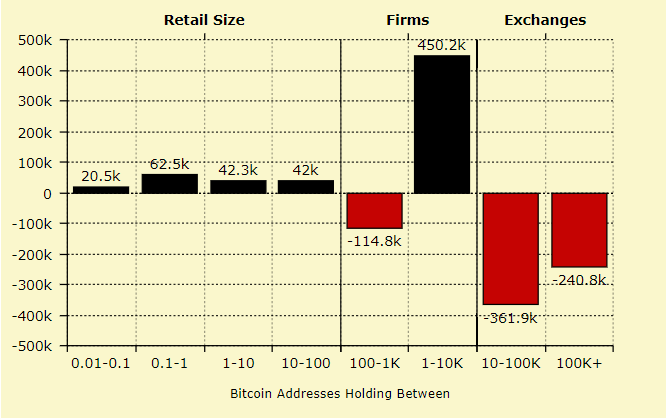 Source - Data Driven Investor
As you can see from the chart above, retail size investors have increased steadily in all four categories with the biggest increase in 0.1-1 BTC category.
As written by Faisal Khan for DDI:
"The report states that over 26% of circulating supply or $36 billion worth of Bitcoin now resides in addresses having a balance of 1-10K BTC. These 'Firm size' addresses which held under 20% of circulating supply saw a spike of 7% in less than a year. Ever since the bitcoin bottom of $3200 in December 2018, this bracket has seen 1.2 million BTC added."
The analysis hasn't taken into mind the one-time movement of 856,000 BTCs by Coinbase at the end of last year but even without this information, more than 450k increase in this bracket makes it the biggest of all categories.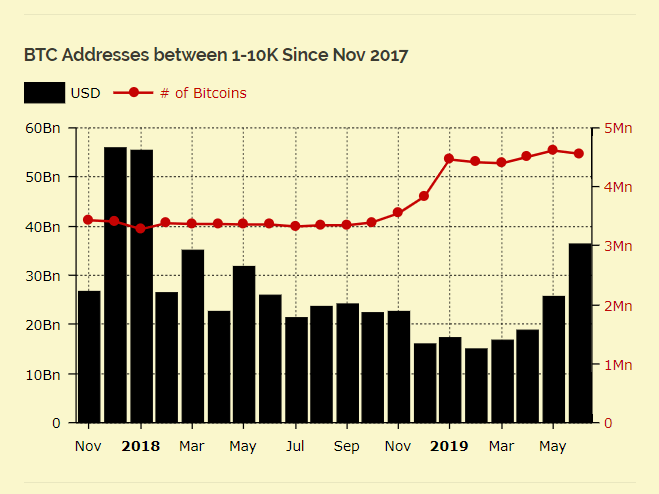 Source - Data Driven Investor
This second chart shows us the relationship between the amount of US dollar invested and the number of Bitcoins that were held in the BTC addresses since November of 2017.
"The $40 billion amount invested remained steady for almost a year before beginning to see an uptick starting in Nov. 2018. The increase preceded the BTC address gains which began to show up in February of this year. Since the start of 2019, 100K bitcoins have been added to this bracket & the amount in these addresses now stands at $6 billion (excluding Coinbase coins) more than the last time BTC was at $8000."
Bitcoin is definitely the leader of the pack when it comes to cryptocurrency but big financial institutions are the ones who are driving it in the (hopefully) the right direction.