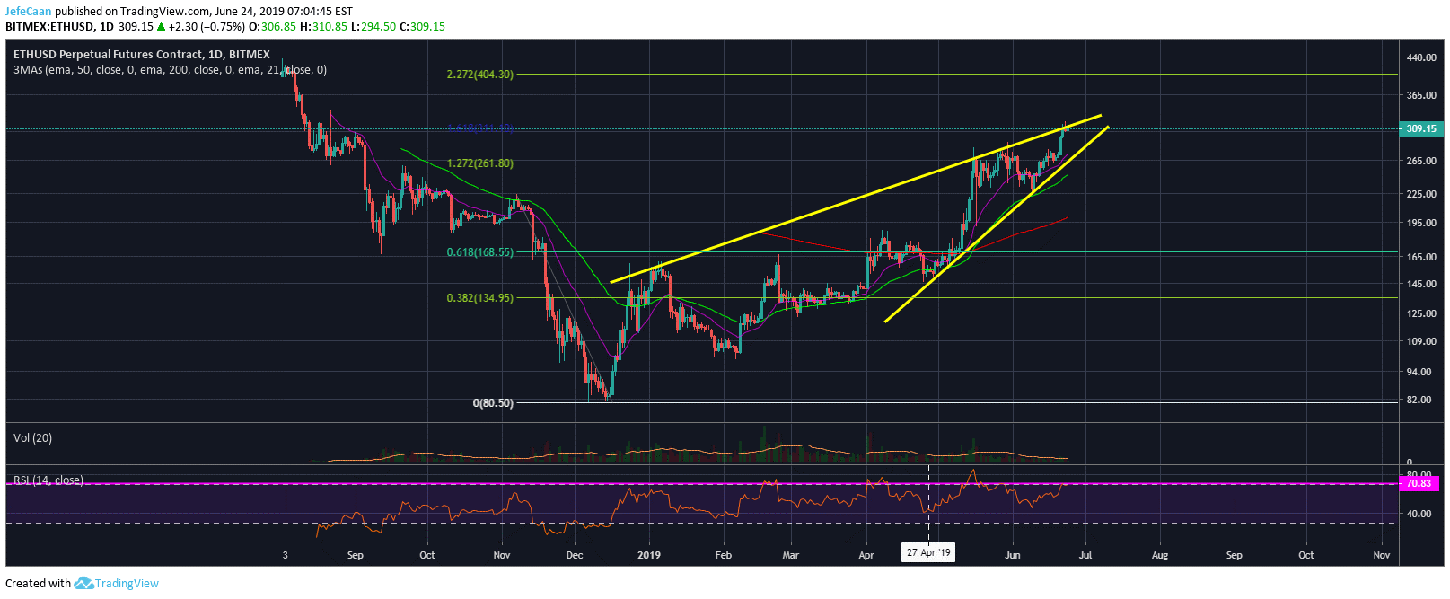 Ethereum (ETH) has run into trend line resistance at the top of a large rising wedge. The price has faced a strong rejection at the 161.8% fib retracement level and is now expected to begin its downtrend. If Bitcoin (BTC) ends up falling towards $8,500 we can expect Ethereum (ETH) to break below this rising wedge and fall towards the 61.8% fib retracement level at $168.55. This could be followed by a rally to the upside but the trend line support once broken will then become trend line resistance and the price will have a very hard time rising above it. Now, we have mentioned for a long time in our previous analyses that ETH/USD is likely to fall to a double digit price. However, now we have reason to believe that the price is actually going to fall further and end up forming a new yearly low.
First of all, let us take a look at the daily chart for ETH/USD once more and focus on the RSI. Some professional traders don't like to lay too much emphasis on the RSI because it is a consequence of the price and they think the price action is more important to watch. However, for most retail traders, it is difficult to gather much insight from the price action so indicators are useful. If we look at the RSI, we can see that the fractal to the right of April 27 is beginning to replicate the fractal to the left of this mark. This means that the price could decline in the same manner that it rose up but doing that it will end up falling below $80 and therefore likely form a new yearly low. This Bitfinex/Tether fueled rally will end in a lot of blood. According to some surveys, the vast majority of cryptocurrency traders do not use control like a stop loss or take profit. So, if the price ends up crashing down, they either panic sell or hold the bags.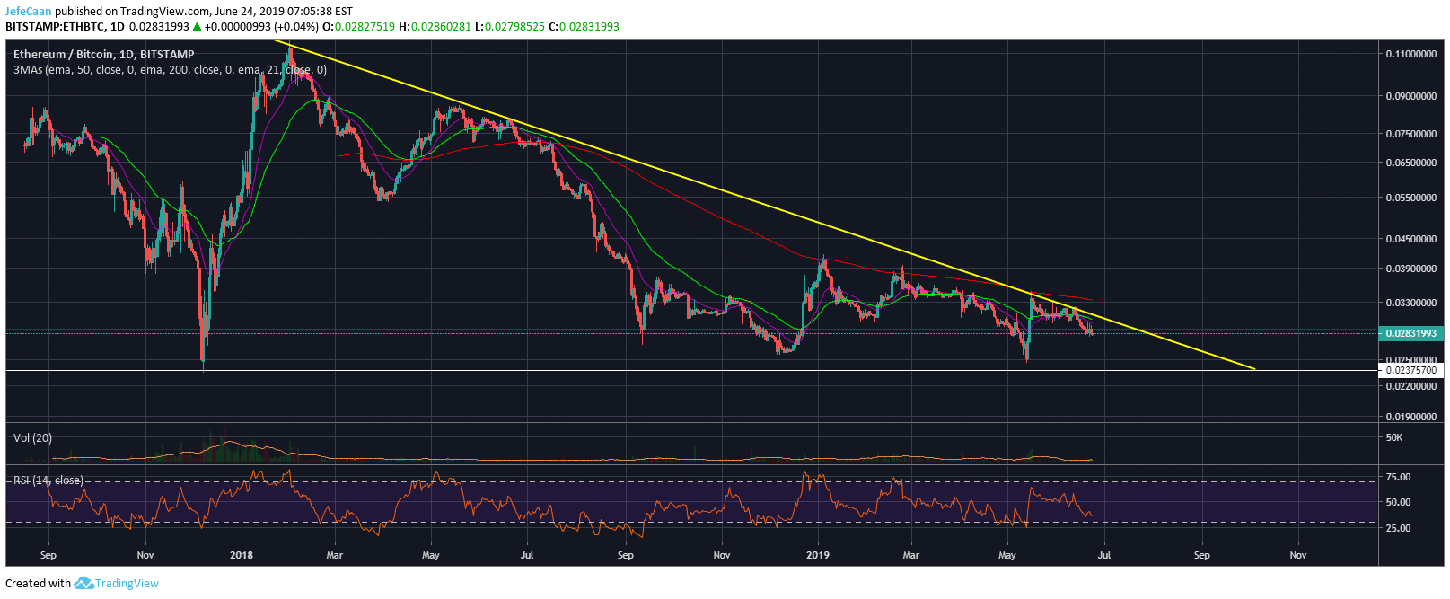 If we look at the daily chart for ETH/BTC, we can see that a big move is in the offing. The price will soon run out of room to trade within this descending triangle and will have to breakout. Descending triangles usually break to the downside and that coupled with the bleak outlook of altcoins might lead to ETH/BTC breaking a key support in the months ahead. This will then force Ethereum (ETH) to fall to a new yearly low against Bitcoin (BTC) as well.

Ethereum (ETH) is a promising blockchain project that had a good run from an investment standpoint but it is important not to confuse the tech with the price. The Ethereum (ETH) blockchain has experienced growth even during the bear market and it will continue to even as the price declines in the months ahead. However, it will see a decline in its market dominance as other competitors catch up. While Ethereum (ETH) saw splendid growth in the last bull run and is still up more than 54,519% since its ICO, it is unlikely to continue to grow at a similar pace.