Ethereum (ETH) has started to decline sharply towards the bottom of a descending triangle as we can see on the weekly chart for ETH/BTC. This is a very bearish development but it could get even more bearish if the price ends up breaking below this triangle. Investors are quickly losing their faith in altcoins as Bitcoin (BTC) continues to outperform the rest of the market. This might be accelerated by investors trading their altcoins for Bitcoin (BTC) to cash out before the next downtrend. With Bitcoin (BTC), they can sell their stash on an over the counter (OTC) market but with altcoins, they have to use exchanges like Binance or Bitfinex. Moreover, millions of printed Tether (USDT) keeps on being converted to Bitcoin (BTC). The past few weeks has shown the bulls that Bitcoin (BTC) is the coin to be holding not Ethereum (ETH) or other altcoins.
It is unfortunate but true that most of the people in this market are in it for the money. They don't care if Ethereum (ETH) is centralized, decentralized, scalable or not scalable. All they care about is what kind of returns they can get on their investment. So, if Bitcoin (BTC) continues to outperform the market, they have reason to move into Bitcoin (BTC). The way we see it is that a lot of whales got into altcoins around the end of December, 2018 when BTC/USD found a temporary bottom. Since then coins like Litecoin (LTC) have had impressive growth. However, now they need to reduce their exposure and slowly cash out. There's no better way to do that than moving to Bitcoin (BTC) because moving directly to Tether (USDT) could mean they might miss out on some gains.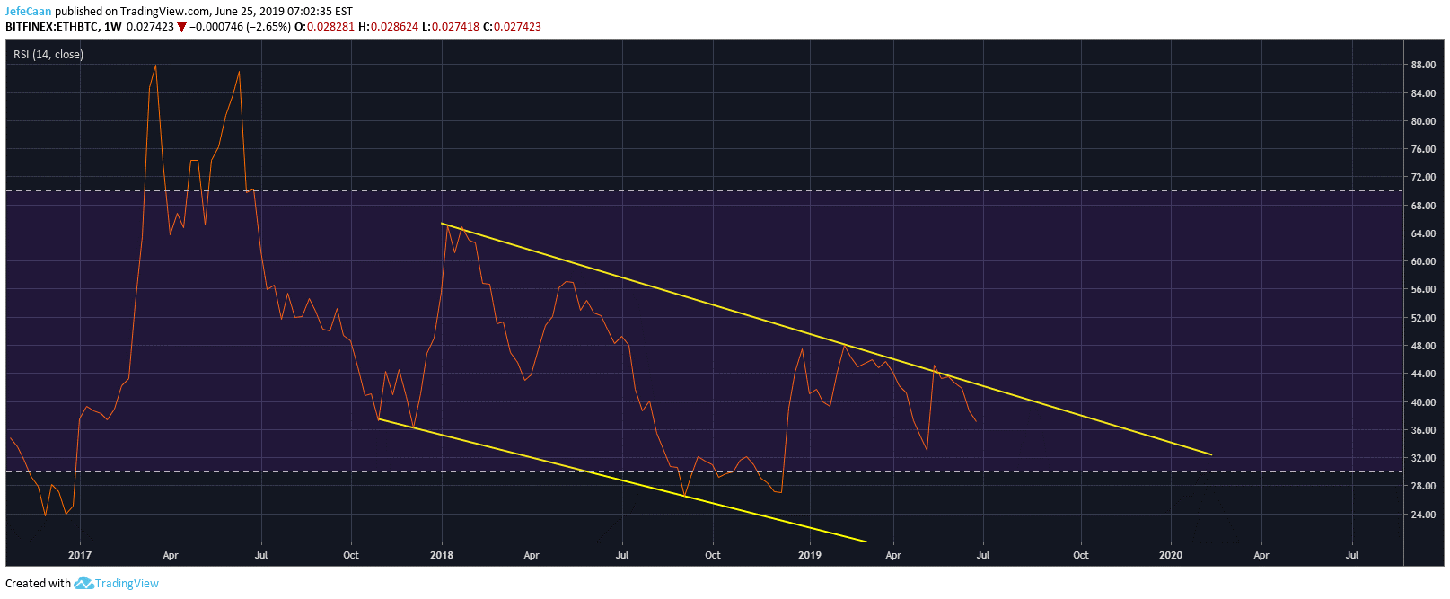 If we look at the RSI for ETH/BTC on the weekly time frame, we can see that it is in a clear downtrend and it could fall further in the months ahead. This means that when Bitcoin (BTC) starts its downtrend in the months ahead, we will see altcoins fall a lot more aggressively and coins like Ethereum (ETH) might end up forming new yearly lows against Bitcoin (BTC). Even those that refuse to accept that the market is due for further downside might be better off trading altcoins for Bitcoin (BTC) for now. There is trouble brewing up on the political and economic landscape. Some people might see Bitcoin (BTC) as digital gold but Ethereum (ETH) or any other altcoins are not considered safe haven assets even by cryptocurrency enthusiast.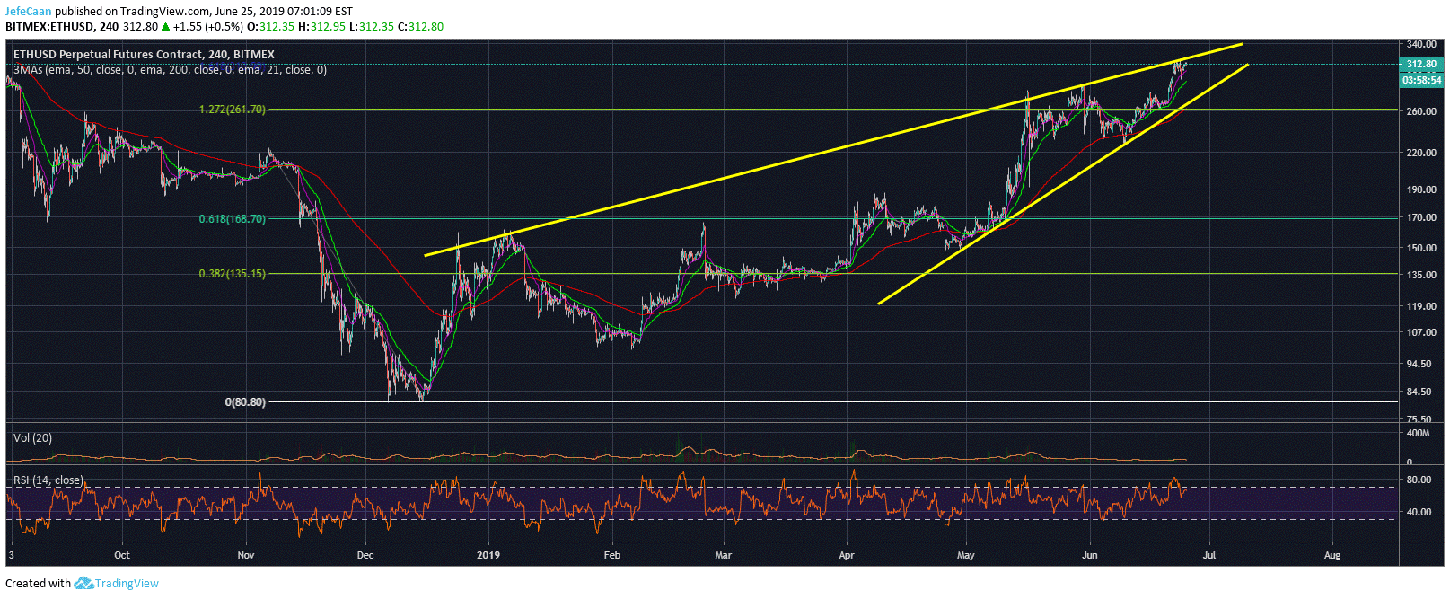 The 4H chart for ETH/USD shows that Ethereum (ETH) could fall drastically if it ends up breaking below the rising wedge. Bitcoin (BTC) has baffled investors by breaking some of these rising wedges to the upside but Ethereum (ETH) seems to be respecting the current ascending wedge. If it starts to decline below it around the beginning of next month, we might see the formal beginning of the next downtrend that we have long anticipated. When that happens, Ethereum (ETH) just like other altcoins will decline a lot harder and a lot faster compared to Bitcoin (BTC) and it might end up forming new yearly lows against Bitcoin (BTC) before it bottoms out.