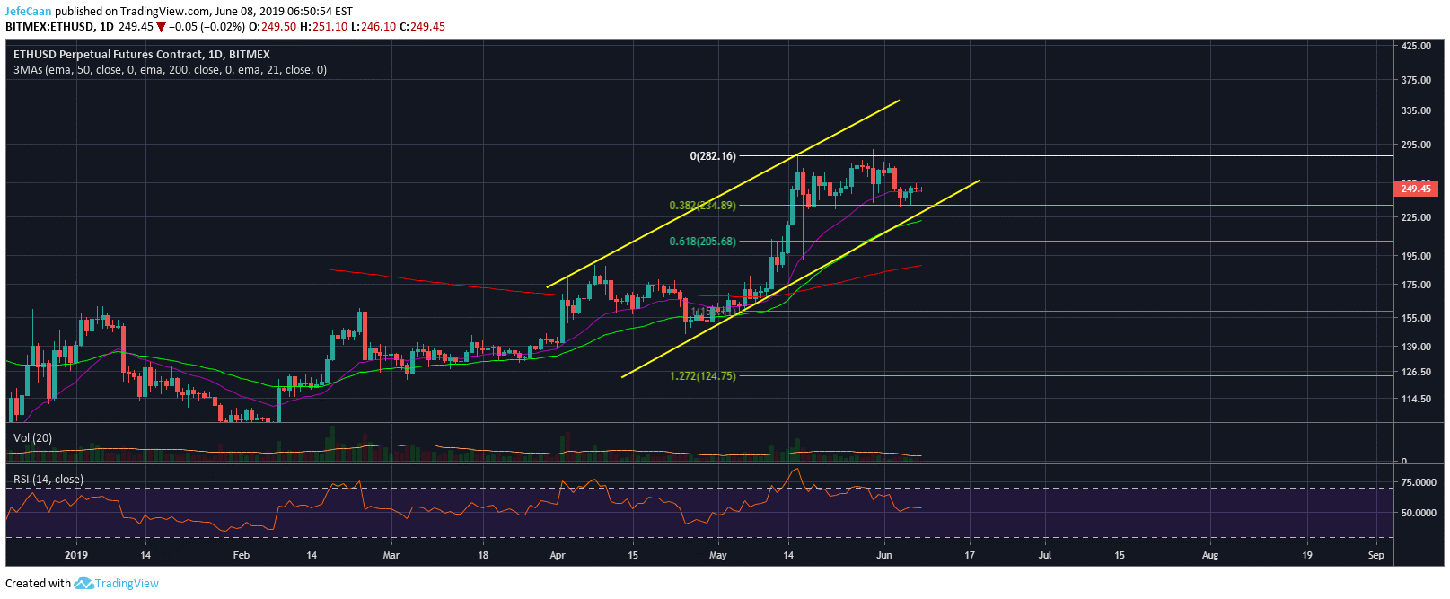 Ethereum (ETH) has been trading sideways for the past few days and we expect it to continue to do that till it reaches the bottom of the ascending channel. That is when we can expect it to begin its next bullish rally towards $300. It is pertinent to note that $300 is a strong psychological level which means a lot of sellers would be ready to dump their coins at that level especially as ETH/USD still remains overbought on larger time frames and we are yet to see the price find its true bottom. The price could rally towards the top of the ascending channel short term but it is unlikely to touch it. We are likely to see a sharp pullback near $300 that will eventually see ETH/USD fall below the ascending channel to begin its next downtrend. However, for now, most technical indicators point to higher probability of a bullish breakout compared to a bearish one.
Short term, Ethereum (ETH) could also decline to the 50 day exponential moving average to find support before the next rally. This could mean forming a wick down to the 50 Day EMA as the price rallies from there. The 38.2% fib extension level remains a strong support level and the price could trade sideways while remaining above it. That being said, we might see one red candle replace the sideways movement and pave the way for a bullish reversal. The cryptocurrency market still has plenty of room for further upside before the next big downtrend kicks in. It is important to keep the big picture in mind regardless of whether you are bullish or bearish on the price short term. Being bullish on Ethereum (ETH) short term must not make us forget about the bigger threats that are still looming over on larger time frames.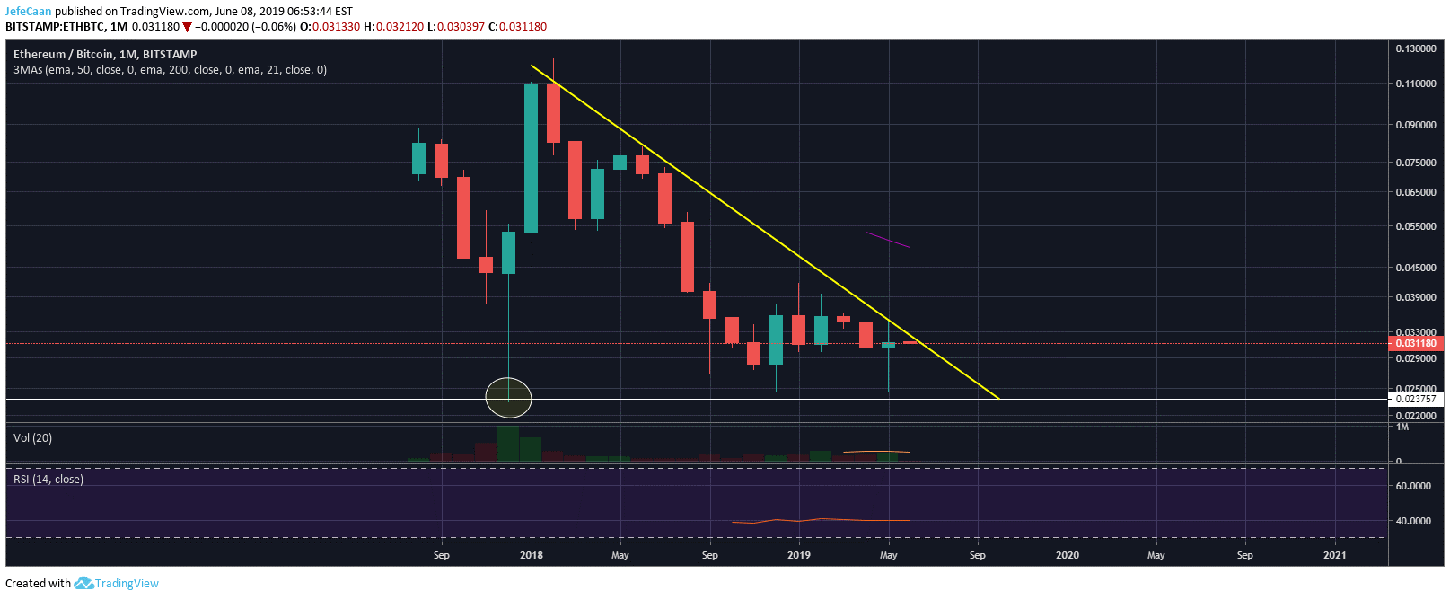 The monthly chart for ETH/BTC shows exactly why there is no reason to be bullish on Ethereum (ETH) long term just yet. Ethereum (ETH) remains in a strong downtrend against Bitcoin (BTC) within a descending triangle. Throughout the bear market, we have seen Ethereum (ETH) break such descending triangles to the downside. There is no reason to believe that it will not happen again until we see a strong break and close above this trend line resistance.

As long as that does not happen, we have more reason to be bearish than bullish on Ethereum (ETH) and all altcoins long term. Not only is Ethereum (ETH) primed for a big correction against the US Dollar (USD) but it is also primed for a major correction against Bitcoin (BTC). This means that even if you are bullish on cryptocurrencies and think that the bear market is over, it would be a good idea to stay in Bitcoin (BTC) and not trade your BTC for Ethereum (ETH) or other altcoins till they break their downtrend against Bitcoin (BTC). That being said, as investors we need to hedge our bets and stay prepared for all possible outcomes.