Bitcoin is now trading just below $10,000 as I am writing this article. Once again, the crypto community is buzzing like it does when prices soar. Newcomers are now wondering why they didn't buy Bitcoin when it was priced much lower. It is so difficult to predict the price of this beast of a currency, but don't worry, you're still early to the party and you can still buy or earn fractions of a Bitcoin. You do not need to buy an entire Bitcoin to own a stake in Bitcoin. Coinback for the Chrome browser makes it easy to earn Bitcoin just for doing your everyday shopping on your favorite online stores.

Coinback was created by founders Eyal Yechezkell and Itai Kathein with the idea of making it fun and exciting for people to accumulate Bitcoin without the risk of losing money in the process. It is the first bitcoin-back browser extension, although competition has since entered the market. Their model is similar to the various cashback browser extensions that give users a percentage of fiat cash back for online shopping. Instead, you receive a percentage of your purchase back in Bitcoin when you shop at one of Coinback's thousands of partner retailers which include sites like Target, Macy's, Gamestop, and Overstock.com.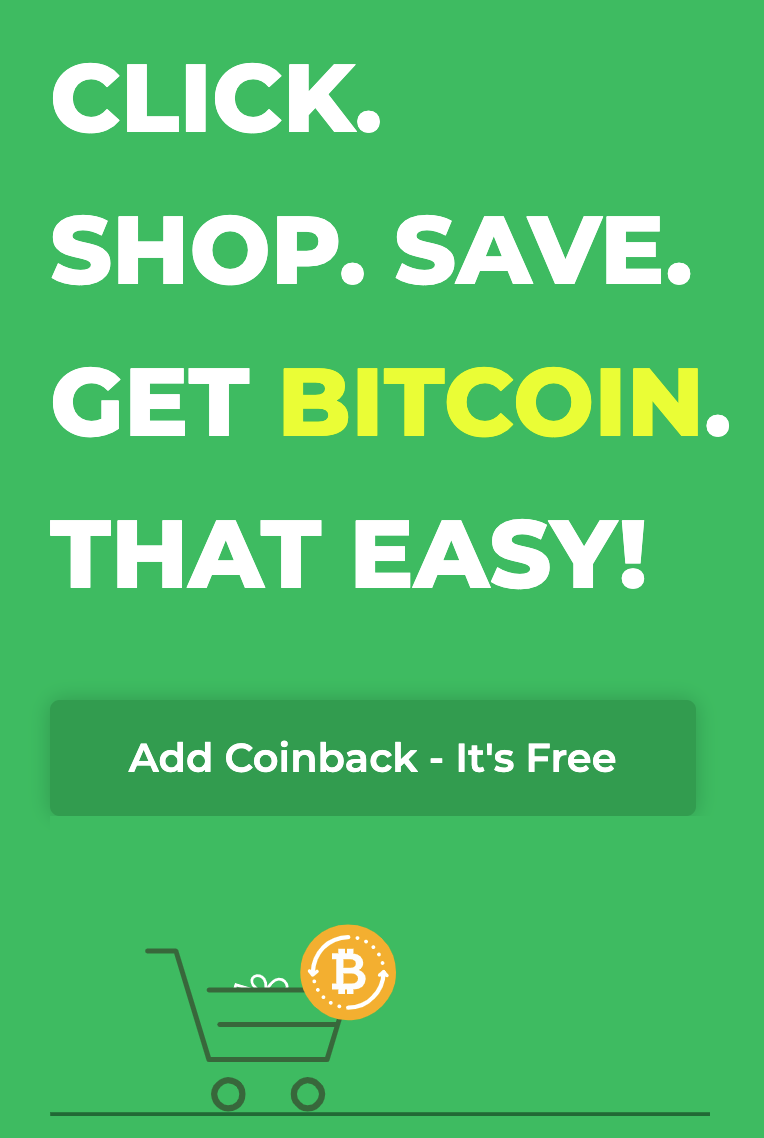 To get started using Coinback, download their browser extension from the Chrome Web Store. Once the extension is installed, you just need to sign up with an email in order to tie in your purchases to your Coinback Bitcoin wallet. Once your account has been set up, you can begin doing your online shopping to getting Bitcoin for your online shopping. It really is that easy.

As a sign-on bonus, Coinback is offering new US customers who start shopping with their extension $5 in Bitcoin for free when they make their first qualifying purchase of at least $25 within the first 30 days of becoming a member. This is a fairly easy task to achieve when you are doing your everyday shopping through their huge network of popular retail partners. Coinback is great for the everyday person who wants to earn bitcoin without all the risk. If you decide to give it a try, please let me know what you think on Twitter @MarcusHenryHODL. If you are looking for even more ways to easily earn Bitcoin and other cryptocurrencies for little to no money, be sure to check out my recent article here.
Marcus Henry is an American Journalist with over 11 years working in tech. He has been actively involved in the crypto community for the past three years and currently works out of Austin, Texas. He covers breaking news, writes perspective pieces and reflections, and conducts interviews with industry professionals and community members. Follow Marcus Henry on Twitter- @MarcusHenryHODL
Disclaimer: The information above does not constitute investment, financial, trading or any other sort of advice and you should not treat any of my content as such. I do not recommend the purchase, sale, or holding of any cryptocurrency or other product and nothing I write about should be deemed as an offer to purchase, sell, or hold a cryptocurrency or other product or service. Please do your own research and consult a certified financial professional before making any investment decision.