The last few months of parabolic run up has made Bitcoin (BTC) bulls too complacent. In fact, a lot of them have started to become quite comfortable holding on to their positions even under such overbought conditions in anticipation of a rally towards $100,000. Even those that got lucky with the recent Tether (USDT) pumps are reluctant to sell some of their holdings as FOMO remains near all-time high. Crypto Twitter and other social media platforms for cryptocurrency enthusiasts are full of bullish posts. This right here is strong evidence that the vast majority of 'investors' never learn from their mistakes. This is why you'll find statements like "80% lose money" on some broker websites. While the break above $10,000 was really significant, we did mention in our previous analysis that the market makers might make it happen to lure in more amateur investors.
The vast majority of BTC/USD investors and traders do not have a stop loss. So, if you buy near $11,000 and the price crashes to $8,000 you have already lost around 30% of your money. Now, this would be a very conservative target for a correction. We still hold that BTC/USD has not bottomed and will eventually have to decline below $3,000 to find its true bottom. It could be somewhere between $1,800 and $3,000. At this point, even those investors who bought at levels like $10,000 during the bear market in 2018 thinking the correction might be over have an opportunity to break even. However, it is not likely that the majority of them are going to take it. There are some traders who have been sitting on the sidelines waiting for the price to drop to $3,000 in days or weeks. Now, that this has not happened so far and the price has rallied above $10,000 some of them are likely to FOMO into the market as well.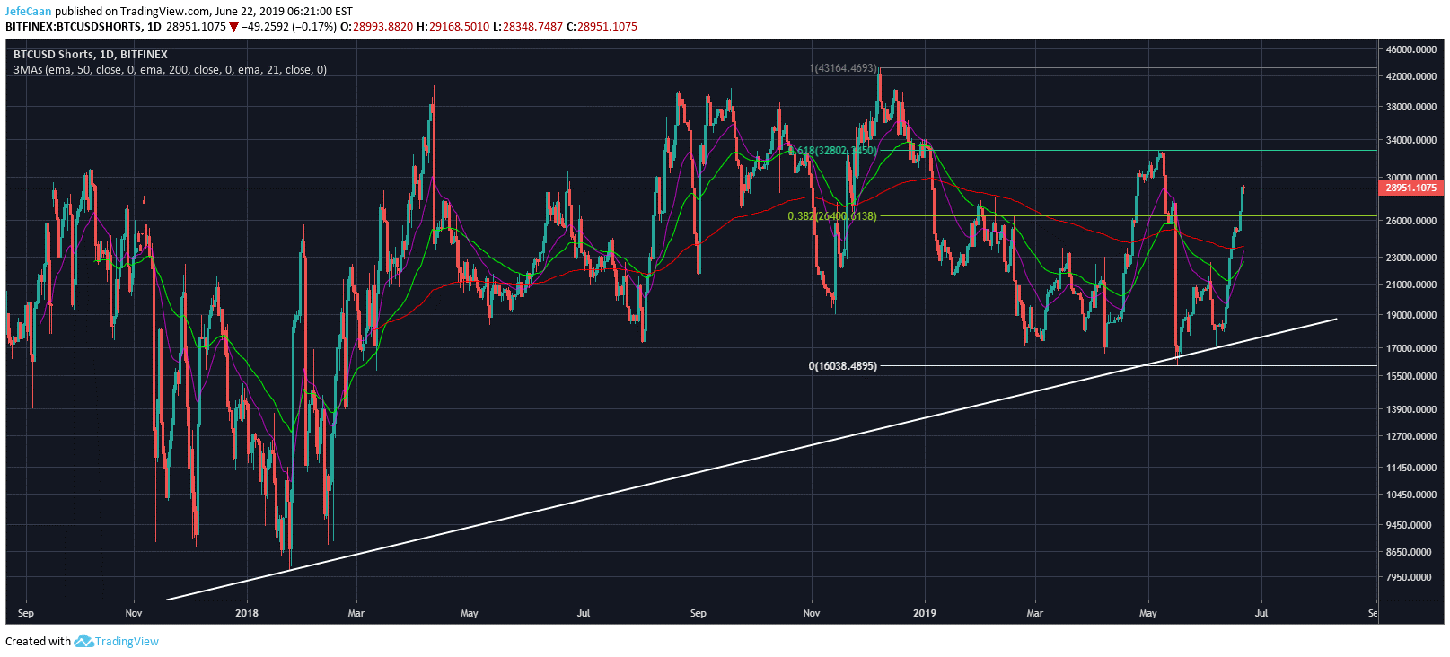 If we look at the daily chart for BTCUSDShorts, we can see that the number of margined shorts is already above the 200 day EMA. It also succeeded in breaking past the 38.2% fib retracement level. Now, it is possible that the whales are going to pull the plugs before most of these shorts can stack up. Most of what we have seen so far is artificial pumps and short squeezes. The Tether/Bifinex situation could push the price higher as well short term.

Bitcoin (BTC) appears to be flying to the moon near term but it is deep in trouble as there are a lot of major catalysts that could bring the price down in the same way that it went up. Some analysts are expecting that to happen around the end of the year. I expect it to take a bit longer than that but it is possibly that we might see the price of Bitcoin (BTC) bottom towards the beginning of the next halvening. In any case, this is the time to be selling and not buying. For those that must buy, Bitcoin (BTC) might continue to be the better bet as a lot of people are uncomfortable investing in altcoins at the moment because they know full well that this is party is going to end soon, so they want to hold the coin that they can easily exchange for fiat.