Ripple (XRP) has once again demonstrated extreme weakness as the price repeatedly fails to break past a critical trend line resistance. This time, XRP/USD has faced a strong rejection at the 61.8% fib retracement level and could fall harder in the next few weeks as Bitcoin (BTC) goes down. This could mean that XRP/USD might finally drop to $0.15, a price level that is being eyed by smart money as the sweet spot for accumulation. Ripple (XRP) might have seen some negative sentiment short term but it remains the third largest cryptocurrency by market cap. This means that it will be the go to cryptocurrency for most investors during the next hype cycle and it could see more capital flow into it to potentially surpass its previous all-time high again.
Most of Ripple (XRP) hodlers are still sitting on heavy losses as they bought at the top of the previous bull run. Ripple (XRP) investors are one of the most enthusiastic and optimistic in the crypto market. They are also one of the most loyal and come to Ripple (XRP)'s defense on social media forums frequently. Recently, we have seen a decline in buying interest in Ripple (XRP) but that could return once the weak hands are shaken out and strong hands accumulate XRP at lower levels. A lot of retail bulls bought into the recent hype but smart money is still sitting on the sidelines waiting for the price to come to it rather than chasing the price. Ripple (XRP) has been breaking one descending triangle after the other during its downtrend. It is still trading in a large descending triangle and if it breaks below it, things could go south a lot quickly.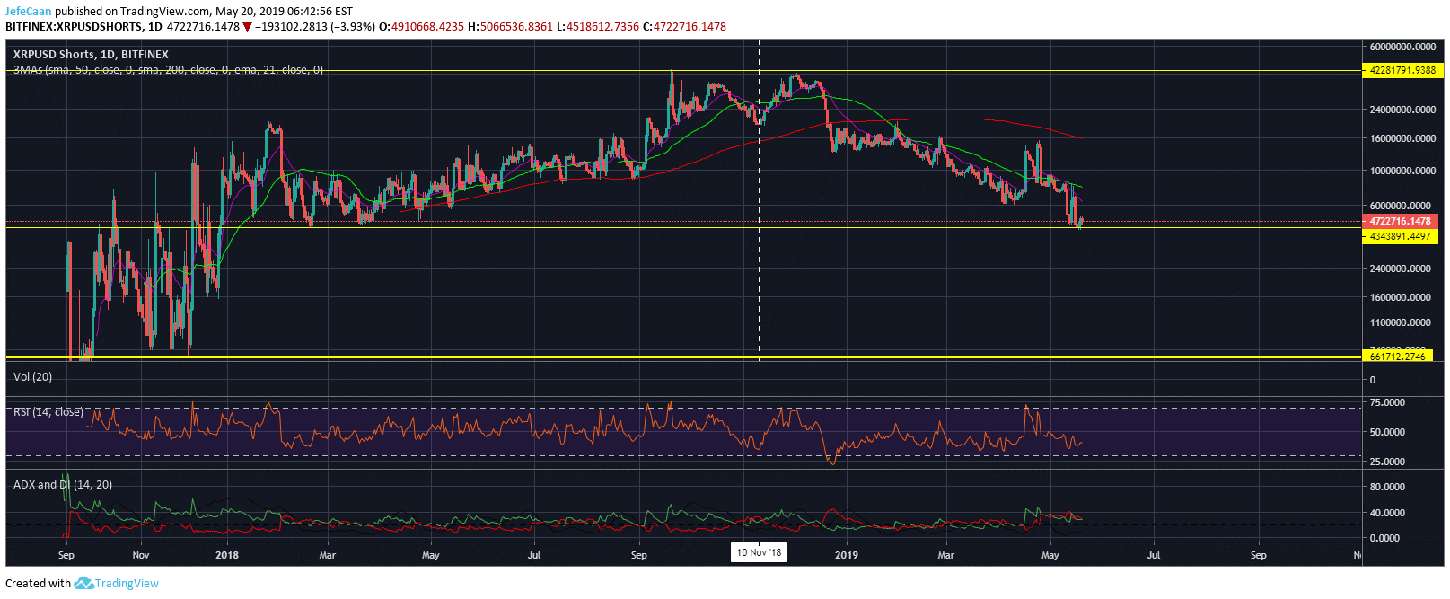 The learning curve is very steep one in this market. A lot has to be learned faster in a limited time and surprisingly most cryptocurrency enthusiasts have been very keen learners. Perhaps this is because this the first time most of them have not only had any investing or trading exposure but they got to see whole market cycles come to completion. This means that investors in this market are now very careful about what they want to invest in and how they want to invest. As time goes by, people are going to weight cryptocurrencies like Ripple (XRP) on its own merits and demerits rather than the price action of Bitcoin (BTC).

The daily chart for XRPUSDShorts shows that the bears might be preparing to push again as the number of margined shorts has found a key support. As the number of shorts rises, we might see further sell pressure on XRP/USD that could pull the price further. Ripple (XRP) is very likely to decline to $0.15 or lower levels by the end of the year which would be a good spot for accumulation for most Ripple (XRP) enthusiasts. The cryptocurrency still has a lot of partnerships going on and is confident that it can beat SWIFT. Ripple (XRP) has a good shot at mainstream adoption which is why it is likely to remain as the third largest cryptocurrency by market cap for a long time.