Ripple (XRP) is down almost 10% for the day after facing strong rejection at a key trend line resistance. If the price starts to decline from here, it would be at a major risk of testing the bottom of the descending channel considering it has never tested it. This would push XRP/USD below $0.10 and a lot of stop losses might be triggered. Ripple (XRP) was one of the hottest investments during the previous bull market but it was not available on Coinbase and investors did not have many options to buy it directly with fiat. However, a popular trading platform eToro offered the cryptocurrency back then and a lot of people bought the cryptocurrency there.
Now, the problem is that back then most of the cryptocurrency trades on eToro had stop losses. This means that investors that bought near the top of the previous bull run still have their stop losses at significant risk of being hit during the next downtrend. If Ripple (XRP) falls below $0.10 most of those stop losses will be hit and a selling frenzy will be triggered. This is very significant because the Ripple (XRP) community is very active there and most bagholders holding at deep losses can be found there. Ripple (XRP) has a high risk of a decline from current levels because it is still a part of a major descending triangle that is highly likely to break to the downside. The next few months are going to be very critical for Ripple (XRP). Investors should watch for catalysts like an SEC crackdown that could push the price towards new lows this year.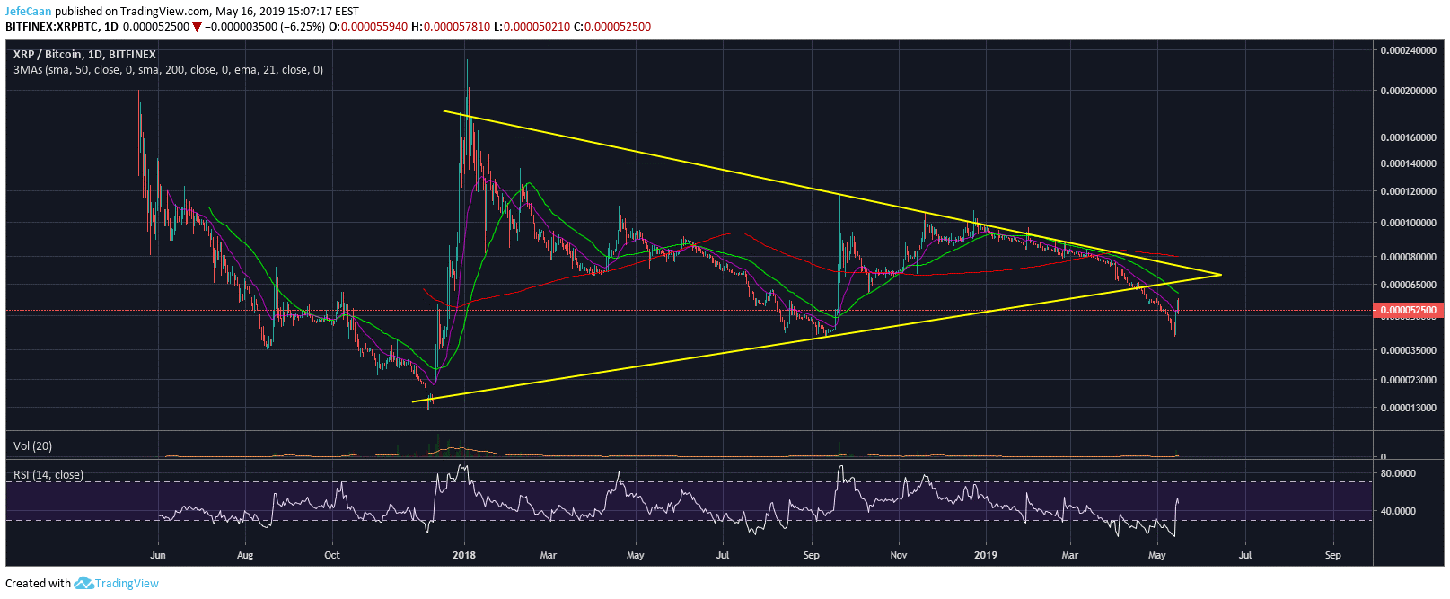 Ripple (XRP) proved to be a very lucrative investment during the last bull market. If the cryptocurrency can remove doubts as to its legal status and maintain transparency regarding movements of funds from escrow, we might see it regain some of the bullish moment that it lost since the beginning of the year. The daily chart for XRP/BTC shows that Ripple (XRP) has broken below a critical trend line support against Bitcoin (BTC). The price could still rally towards this trend line to test it as resistance in the days ahead but chances are it will face a strong rejection as the tables are turning and the market is about to enter another downtrend.

Investors are still hopeful that Ripple (XRP) might rally past $5 during the next market cycle. That being said, it could fall below $0.10 this year towards the end of the bear market. Ripple (XRP) is down more than 88% from its all-time high but that does not mean it could not fall further. In fact, Ripple (XRP) has avoided a full scale correction in the past. While most of the market plunged deep into red, Ripple (XRP) stayed afloat. There is no such thing as avoiding the inevitable in a market. A correction can be delayed but it has to happen sooner or later.