Bitcoin (BTC) has once again pumped hard in a parabolic manner. The price climbed above $8,000 and touched $8,326 before facing a strong rejection. It is about to fall below $8,000 but it is not yet clear if this frenzy has come to an end. Technical indicators on the daily chart for BTC/USD have not been this bearish for a long time. The RSI is higher than it has ever been throughout the bear market. It is hovering around 86 today on the daily time frame and has now run into a strong resistance. NVT indicator on the daily time frame points to an even gloomier outlook as the price is massively overbought. Interestingly enough, the NVT is now at 209.42 while it topped out at 182.95 at the peak of the last bull run. The Fear and Greed Index has also reached a new all-time high at 78 (extreme greed).
The parabolic path BTC/USD has taken now is no different than the one seen between 2017 and 2018. In fact, the current parabola can be said to be a mini version of the last bull run. While a lot of cryptocurrency enthusiasts are over the moon with this 'rally' calling for Bitcoin (BTC) to shoot to $10,000 or $20,000 from here, they do not realize how bearish it actually is and what its implications are. Every time the price rallies in this manner, it corrects in a brutal way. We do not have to look a lot farther. Just a quick glance at the parabolic trajectory of the 2017-18 rally is enough to show us what happens next when the rally tops out. Now, the reason I for one am more bearish on BTC/USD than before is because this move has created some serious problems.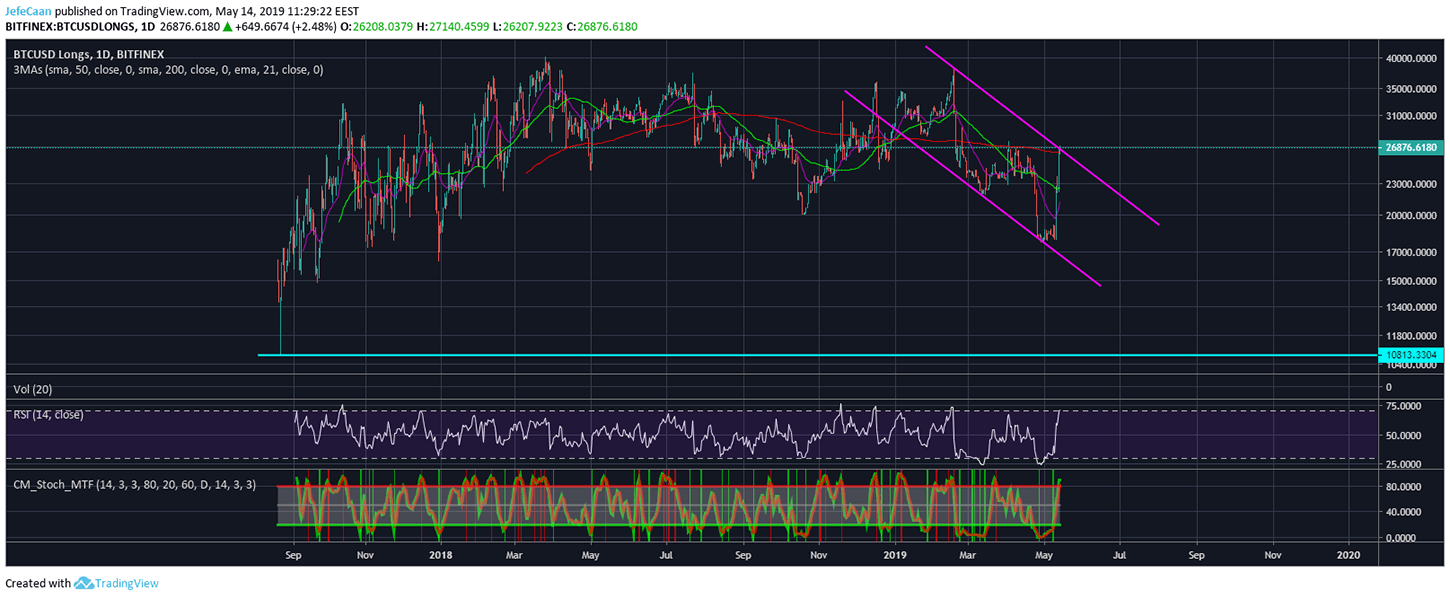 Chart for BTCUSDLongs (1D)
First of all, this move has sparked a new wave of bullish euphoria in the markets that is now going to take a long time to fizzle out. Before a trend reversal, it is important that the market inflicts maximum pain on traders and investors. We have seen the market inflict that pain on the bears, whether fair or unfair that is another debate. There is manipulation in every market and traders cannot just blame the whales for their losses. It is important to know yourself and your enemy before you enter a fight. The bears are often more skeptical which means they often lose on opportunities but they do not make as much losses.
Most retail bulls on the other hand are quite gullible. A few pumps to the upside were enough to turn even the most respected traders from bearish to bullish. You cannot just go from a no to a yes without a maybe in between. However, the frenzy has had that effect on most people as everyone is afraid not to miss out on the next bull run. It is unfortunate that the price had to be pumped in this manner but the end result of all this will be a steady decline that is going to last a lot longer than before. It is going to wipe out a lot of overly optimistic bulls and it might now take longer than September, 2019 for the ongoing bear market come to an end.