Bitcoin (BTC) is about to make its next big move as the volume has been on a steady decline for the past few weeks. In the next few days we are going to see a big breakout but what traders want to know is whether this breakout will be to the upside or the downside. For a while now we have been discussing how BTC/USD is heavily overbought on major time frames and it is long overdue for a pullback. That being said, we have never discounted the possibility of a move to the upside before it eventually comes down. A lot of other traders and analysts have made calls for a rally to $10,000 first before the price comes crashing down. That rally is still possible but its probability has now decreased and in this analysis we will discuss how and why.
The 4H chart for BTC/USD shows that the price broke the bullish pennant but failed to breakout. It is reasonable to say now that this bull pennant was in fact a bull trap. A lot of people expected it to break to the upside towards $10,000 but that is not what we see. What we see is that BTC/USD broke out of this pennant and then started sliding around the top of the pennant as it did not have the momentum to rally higher. That being said, it still possible that the whales might spark some more interest by printing a few green candles to the upside to trap in more bulls. However, the probability of this rallying extending to $10,000 is now very low. Since last week, there have been a lot of posts on possible bear cases seen on different forums. This is likely to have made the bulls more cautious. Even if they believe that the price is headed to $20,000 from here, a lot of bulls would want to wait for a healthy retracement first.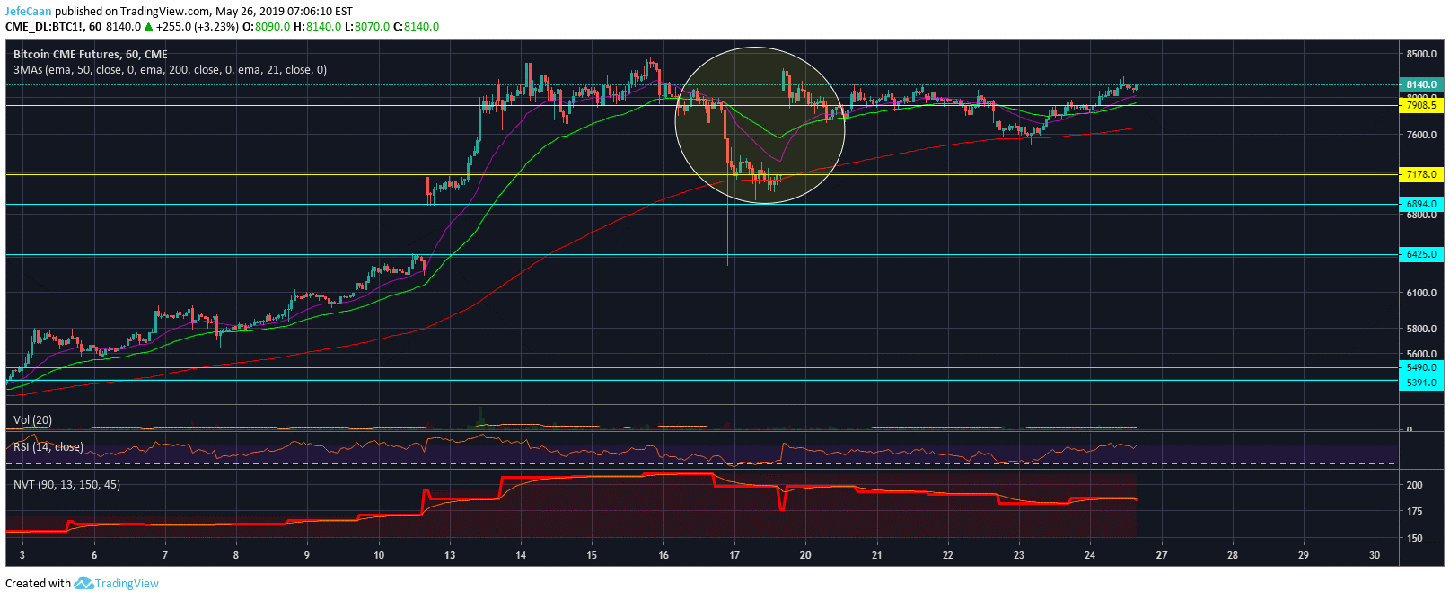 As for the bears, there are more reasons to believe the price is going down than going up. A quick glance at the 1H chart for Bitcoin CME Futures shows us how big a gap the price left when it shot up on a weekend when futures trading was closed. The price did retrace after that but it did not fill the gap. So, added to the long list of reasons that the price of Bitcoin (BTC) has to come down, the bears now believe that this gap has to be filled. This is true because gaps eventually get filled sooner or later most of the time. At this point in time, the market is more readily filling gaps to the upside than the downside, but eventually we are going to see this big being filled. The whole trading activity on most exchanges comprises largely of wash trading which means it does not matter what the average Joe thinks.
The insiders know full well where the price of Bitcoin (BTC) is headed from here. I have to admit that the way this manipulation was staged since the beginning of the bear market is nothing short of genius. First they made everyone believe $6,000 was the bottom, then the price fell below it and that zone became strong resistance. Then they expected that traders and analysts who swear by lines and patterns on a chart would suddenly change their minds if that resistance is breached in one go and sure enough they did when BTC/USD shot through $6,000. The first half of dumb money had already been shaken out but now it is the more sensible dumb money that they have trapped this time. As we have mentioned before, there is no bull market until most of these desperate traders and investors are shaken out.