Ripple (XRP) is all set to break past the 50-day1 exponential moving average as the price has now found a strong support around the $0.3236 mark. This is a very strong support that would be very hard to breach during the next downtrend which is why XRP/USD now has better prospects of breaking the symmetrical triangle it is trading into the upside. The VPVR indicator on the 1D chart for XRP/USD shows that the price will run into a strong resistance soon as it breaks out of the triangle. However, Ripple (XRP) is still quite oversold on both the daily and weekly time frames compared to most other cryptocurrencies. This is why it might have more room to rally short term as the price has already been oversold for far too long.
The cryptocurrency that used to be at the forefront of every rally has now seen a declining interest since the beginning of the year. That being said, Ripple (XRP) aficionados are still quite active on Twitter as before. The Ripple (XRP) community is still expected to see explosive growth long term as the cryptocurrency has a strong use case and a real shot at mainstream adoption compared to most other coins including Bitcoin (BTC). This is because Ripple (XRP) transactions are both faster and cheaper compared to other cryptocurrencies. It would thus not be surprising to see a large number of online retailers start accepting XRP during the next bullish cycle. Ripple (XRP) also has a lot of connections and partnerships in the financial industry which means it is in a better position to make deals with big corporations like Visa, Mastercard or Paypal for payment gateways.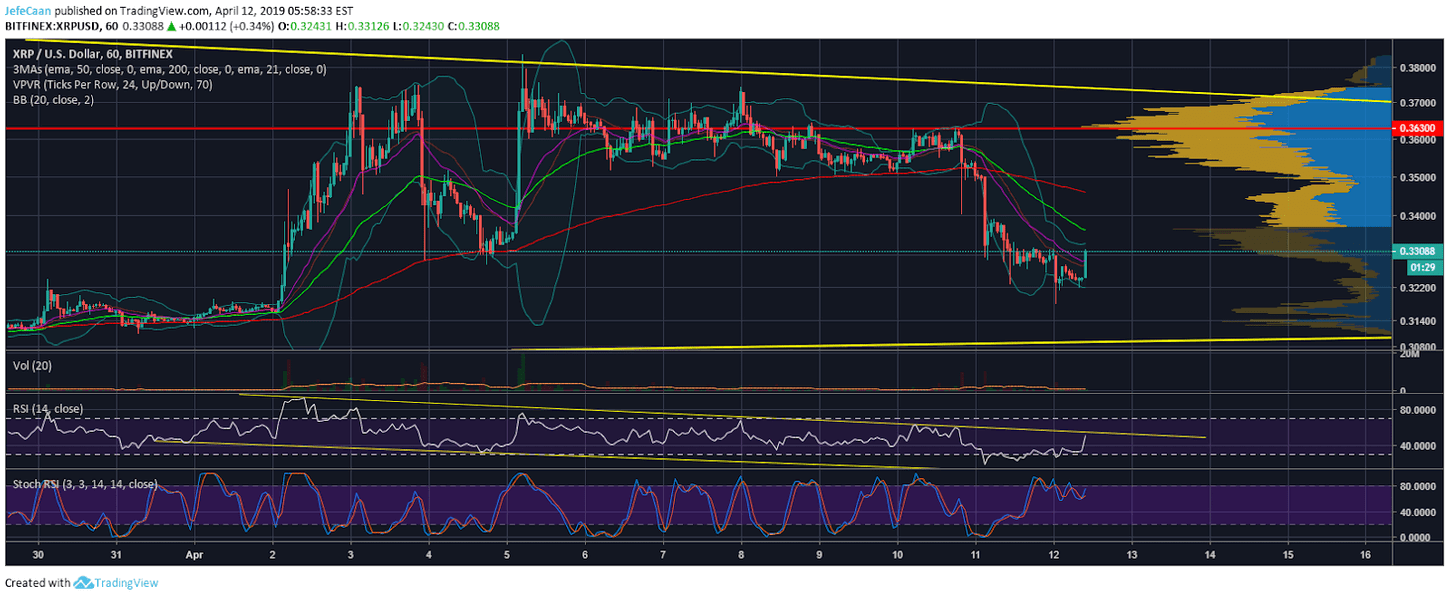 Big banks and financial institutions like JP Morgan may issue their own cryptocurrencies but Ripple's use case does not end there. In fact, companies like Visa and Mastercard could benefit a lot from its distributed ledger technology for online transactions. Cryptocurrencies like Ripple (XRP) are here to stay. The reason we have not seen a big move to the upside in XRP/USD so far is because Ripple (XRP) is already somewhat overpriced compared to other cryptocurrencies. The sweet spot for most investors and traders would be around $0.20 per coin which is very likely during the ongoing cycle.
Ripple (XRP) like most other cryptocurrencies has yet to find its true bottom despite more than a yearlong of bear trend that has seen the cryptocurrency lose more than 90% of its value from its all-time high. Certainly, the price cannot possibly decline 100% unless Ripple (XRP) is a scam. Even scam coins like Bitconnect did not decline 100% and still have some value. So, if anything this is a good time to be dollar cost averaging to buy Ripple (XRP) for long term. That being said, investors have to be mentally prepared for a sharp correction to the downside in the weeks and months ahead because we do not think Ripple (XRP) has bottomed yet.