Ripple (XRP) just broke more than a year long trend line support against Bitcoin (BTC) despite the fact that the price has been massively oversold against Bitcoin (BTC) for weeks now. This is very alarming and if BTC/USD continues to decline further, we could see Ripple (XRP) decline despite its long term oversold conditions. The price has now fallen below the Bollinger bands on the weekly chart and eyes further decline as the price is now trading below its trend line support. If XRP/BTC closes the week below this trend line, we could see it turn into a strong resistance and the price will have a tough time breaking past it in the future. It is important to note that XRP/BTC has already faced a strong rejection at its 50 week EMA and is expected to decline further.
As long as the price remains below the 50 week EMA, there is little to no hope of a trend reversal. In fact, if it closes the week below the current trend line support, we could see the price see significant further downside as it is visits this trend line as resistance in the weeks ahead. The weekly trading volume is on a steady decline and interest in the cryptocurrency is fading. Ripple (XRP) once used to be the coin that would lead most rallies during bullish comebacks. Now, it seems to be just another forgotten cryptocurrency that has had its days. Ripple (XRP) has been the face of bad news and negative developments since the beginning of the year. Although the cryptocurrency can be credited with having a proper use case unlike thousands of other coins, investors are still not very eager picking up Ripple (XRP) at current prices.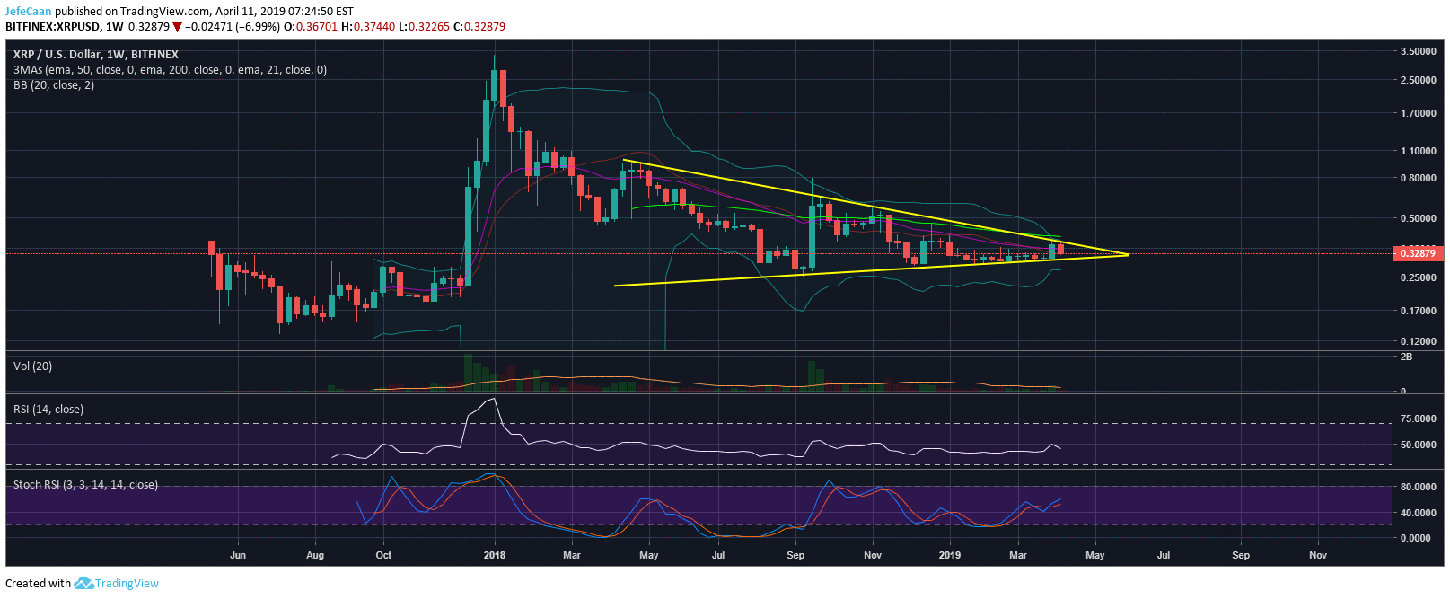 Ripple (XRP) has faced a strong rejection at the 50 week exponential moving average against the US Dollar (USD). The price has started to decline towards the bottom of the descending triangle. The Bollinger band is tightening signaling a strong move ahead. This move has a higher probability of pushing Ripple (XRP) above the descending triangle than below it. However, traders need to be careful as this could be a fake out as XRP/USD is still overbought on major time frames. That being said, Ripple (XRP) still has more room to run as it is less overbought compared to other cryptocurrencies and is about to break out of a yearlong descending triangle.
The weekly chart for XRP/USD shows that price has demonstrated extreme weakness since the beginning of the year and sentiment towards Ripple (XRP) remains negative. This is why it might be a good time to start accumulating some XRP before the next minor rally to the upside. Ripple (XRP) like the rest of the market is due for a major decline in the weeks and months ahead but it is still in a position to stage a short term bullish comeback now that it has declined significantly in the last 24 hours.