The price of Ethereum (ETH) continues to remain very vulnerable despite the fact that the price has now made a successful rally past the 21 day EMA. The bears have regained control once again and the bulls are afraid to step up. The Fear and Greed Index is back at 50 (Neutral) from 60 (Greed) yesterday. This goes now to show that the bullish euphoria that led to the series of rally over the past few months is finally coming to an end as most traders and investors anticipate a major decline in the weeks ahead. The daily chart for ETH/USD shows that the RSI is now trading atop its trend line support and if the bulls fail to regain control soon, we could see a sharp decline that might end up seeing the price break straight below its trend line support.
Ethereum (ETH) has formed a bearish pennant that it has yet to break out of. If and when the price breaks out of this bearish pennant, it will decline significantly towards its true bottom. This decline is expected in the next few months which could push the price of Ethereum (ETH) below $60 per coin. We have already seen that the market still reacts strongly to even the slightest of bad news which means there are still plenty of weak hands and quick buck artists around. In order for the price to stage a trend reversal, we will first have to see most of these weak hands forced out. The price cannot rise while traders and investors who are unnerved by a few dollars move to either side are still around. There was a time when most traders were talking about selling their houses and their kidneys to buy Ethereum (ETH) if it ever falls to $400 per coin. Now, it is trading below $200 and nobody wants to pick it up.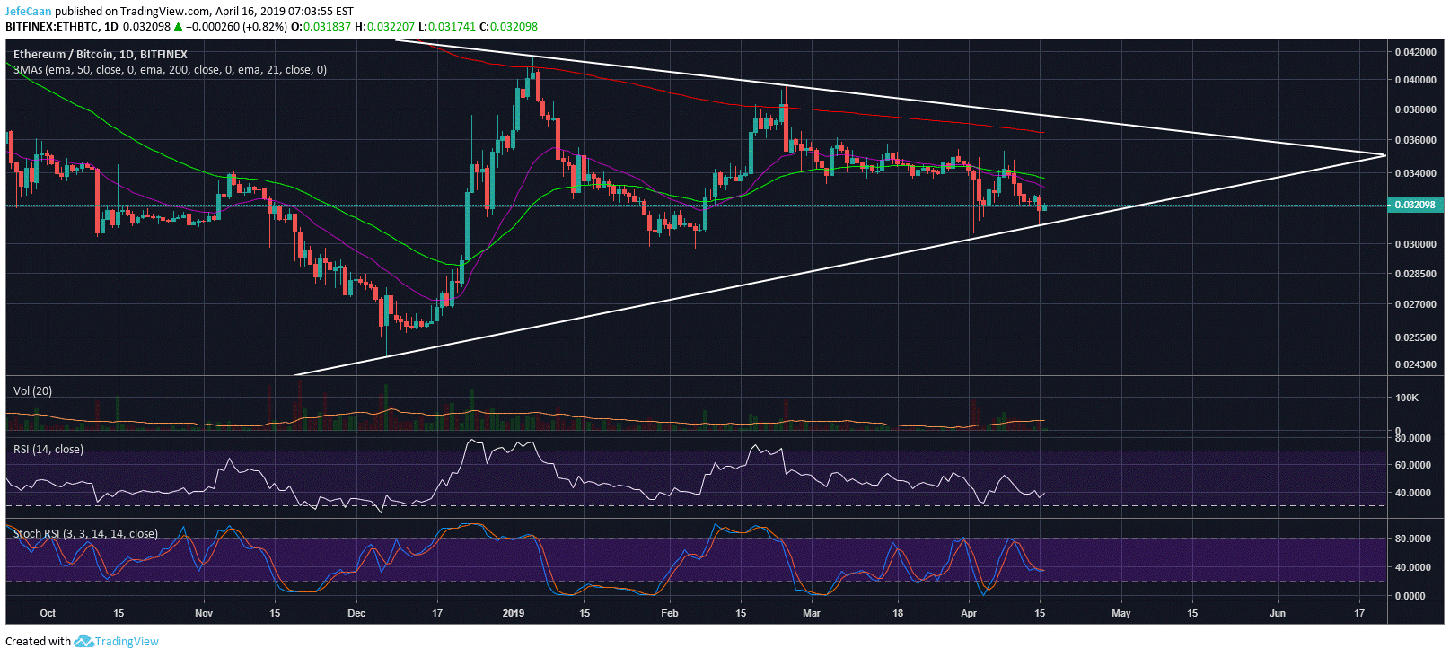 Chart for ETH/BTC (1D)
Sentiment whether positive or negative does not take time to change. Fundamentals on the other hand take time to change. Ethereum (ETH) might have its problems but it is still a wonderful project with a lot of long term potential. As the cryptocurrency market evolves, we will see a lot of big corporations start adopting Ethereum (ETH) one way or the other. Most big corporations like Amazon and Microsoft are already interested in Ethereum (ETH) but they do not want to associate themselves with it while it is in experimental phases.
Cryptocurrencies might have created a lot of buzz and hype the past few years but we are still in experimental phases. Ethereum (ETH) may succeed or it may not which is why it is not unreasonable to see that people do not want to pick it up at current prices just yet. If it was not an experiment, it would not have lost more than 90% of its market cap to a bear market. So, while Ethereum (ETH) is a good project with a lot of future potential, it is important not to confuse its price with the technology.