Ethereum (ETH) is on the verge of another major decline as the price fails to break out of the bearish pennant it has been trading in since the beginning of the year. However, the way the Stochastic RSI has cooled off on the daily chart for ETH/USD hints that we might see a false break out that could see the price revisit the 200 day exponential moving average and possibly break slightly above it to mislead traders into thinking the price has broken past a critical resistance. However, it will most likely close below the 200 day EMA leaving a long wick to the upside. This happened back in October, 2018 before a major decline. The price rallied above the 21 day EMA and left a long wick to the upside when it ended up closing below the 21 day EMA after the fake out.
As long as Ethereum (ETH) trades between $100 and $200, we are going to see a lot of such fake outs and shake outs. This is the ideal range for market makers to profit off wannabe traders who are looking to hit it big on one or two single trades. The price is overbought on the 4H time frame but the daily Stochastic RSI still has ample room for a rally to the upside. This has now made the whole setup as confusing as the market makers want it to be. Most of the traders and analysts have turned bearish all of a sudden and they are expecting a sharp decline to the trend line support. However, the fact that the daily Stochastic RSI is now near oversold territory suggests that the decline is not going to be this straightforward. In fact, we could expect a lot of confusing moves in the short term that is going to unnerve both the permabulls and the newfound bears.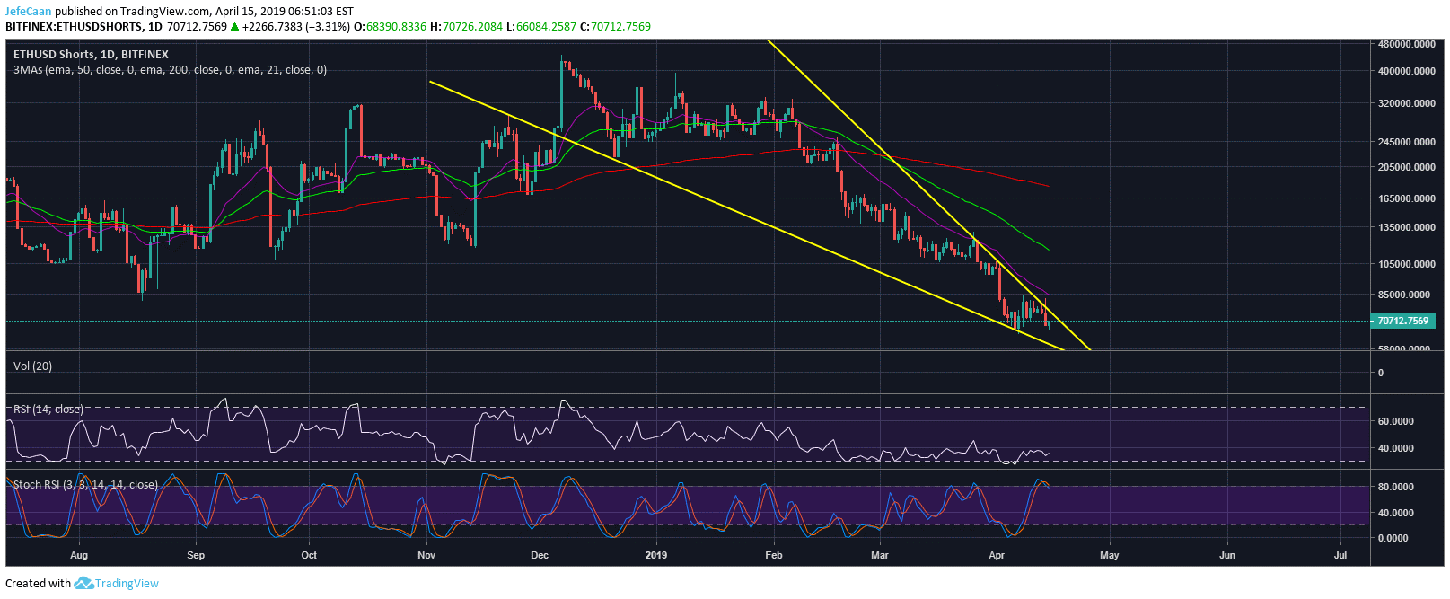 Ethereum Shorts are also on the verge of a major decline which will have to coincide with a strong move up in Ethereum (ETH). The daily chart for ETHUSDShorts shows that the number of margined shorts has now declined significantly within the falling wedge but the Stochastic RSI shows that there is room for further decline. This decline would follow from most retail bears exiting the market which is where the professionals come in. As ETHUSDShorts decline further within the falling wedge, it become easier to break out.
As the number of margined shorts breaks above the falling wedge, the bearish momentum would rise aggressively which would reflect in the price action of Ethereum (ETH). The next two months are going to be critical for Ethereum (ETH) and we expect the market to experience maximum pain during that time. The price of Ethereum (ETH) is very likely to decline to $60 or lower during its next major decline that would see it find its true bottom before the beginning of the next bullish market cycle towards the end of the year.