Bitcoin (BTC) broke above the ascending triangle yesterday to stage a fake out that trapped most aggressive bulls that were ultimately forced out of their positions when BTC/USD started to nosedive. The price has declined more than 6% for the day and could now find some relief as bulls FOMO back into the market to buy the dips. The Stochastic RSI on the hourly chart is now heavily oversold as the RSI has declined to a trend line support which means there is a high probability that the bulls could take control from here. That being said, the price is expected to consolidate for a while before it can make any moves higher. Bitcoin (BTC) still remains heavily overbought on larger time frames but the bulls could push towards $6,000 short term to test the previous market structure that the price broke in November, 2018.
It is extremely unlikely for the price to breach past $6,000. It will most likely be stopped around $5,800 or lower and would see a sharp rejection after that. However, that may not stop most bulls from entering aggressive long positions after the recent pull back. The Crypto Fear and Greed Index shows is now two points higher than yesterday which means the bullish euphoria could continue for a while and we may see the index reach February, 2018 levels or even higher if Bitcoin (BTC) continues to rally from here. Needless to say, that does not end too well for retail investors but it is not going to stop most of them from buying into the market expecting a rally to the moon. So far, the average bull is not convinced that this is not the bottom. A lot of people in the crypto community expect the price to just pierce straight through the previous market structure around $5,800-$6,000 and fly towards $8,000.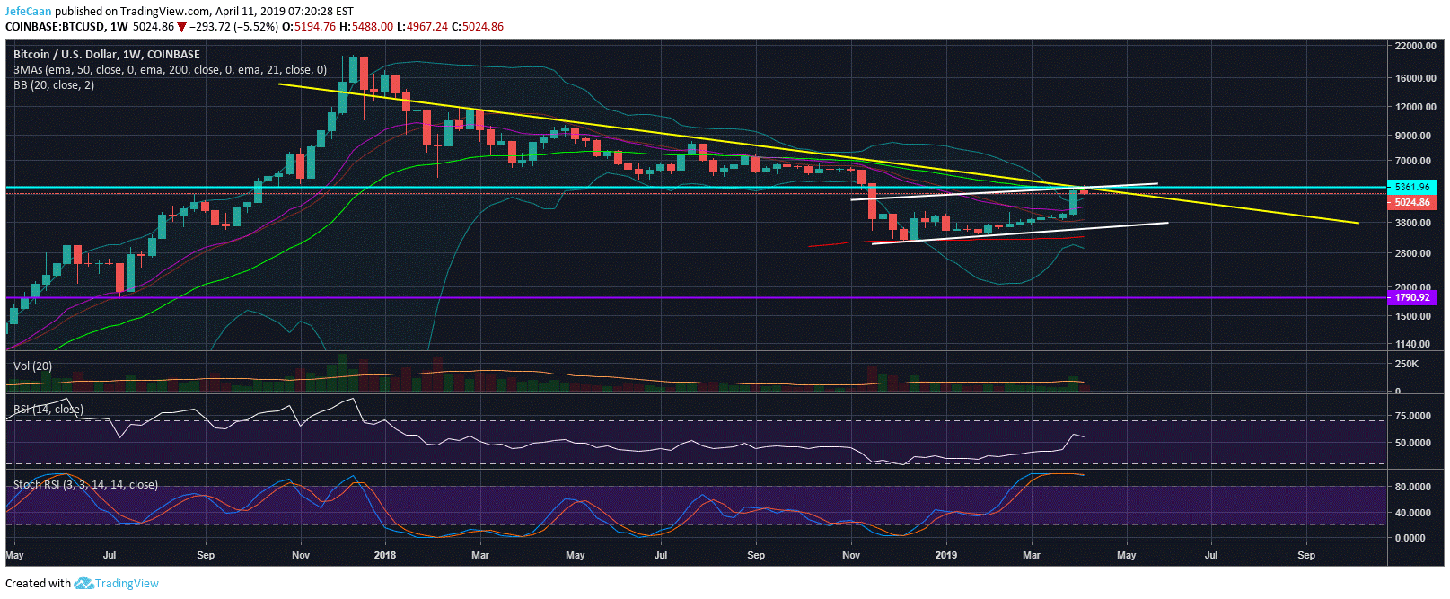 It is alarming to see that people are still this bullish even though Bitcoin (BTC) has been through more than a year of bear market by now. Those that are new to this space will think that the sentiment is always going to be this positive because Bitcoin (BTC) is a wonderful invention that could change the world forever. Well, if people cared so much about Bitcoin (BTC) how come BTC/USD fell from $20,000 all the way to $3,200? All of us know that major banks and hedge funds want a piece of Bitcoin (BTC). So, why did those people not FOMO into the market? Well, that is because they knew that the price will have to decline as it has in the past.
History may not repeat itself but it does rhyme. During the previous cycle, we saw the Mt. Gox hack happen which obliterated the positive sentiment. There was no reason to believe that Bitcoin (BTC) could survive the hacking and subsequent shutdown of an exchange that controlled 70% of its trading volume. Now, that points to two things. First, the sentiment has to be completely crushed before we see a trend reversal. Second, Bitcoin (BTC) will keep rising and falling as it has in the past but it is here to stay.