Bitcoin (BTC) has finally closed the week above $4,000 like we expected it to. This will have very important consequences in the weeks to come. However, traders are more interested in knowing what it means for now. Looking at the 1H chart for BTC/USD, it is clear that the price might now make its move towards $4,185 now that it has closed above $4,000. That being said, investors need to be more confident because this is not the time to be buying for long term. In fact, the price is heavily overbought on larger time frames and it is only a matter of time before we see another strong decline to the downside. The next big crash as we have mentioned before it expected to be more devastating and will likely correspond with the crash in S&P 500.
So far, the price is in a good position to rally higher from current levels. Last week's close was also instrumental in turning the momentum in favor of the bulls again. The bears have been anticipating a drop for a long time now and it is likely that another small move to the upside will convince them to give up. Although BTC/USD is massively overbought on the weekly time frame, it still has room to trade on the daily and 4H time frame. This means that the ongoing week has a higher probability of favoring the bulls as they fight for control. The bears on the other hand seem to be losing control as the chances of a decline at this point are low. Most of the retail bears trade with high leverage which means a few small moves to the upside could either liquidate them or scare them into closing their positions and the rest will follow suit.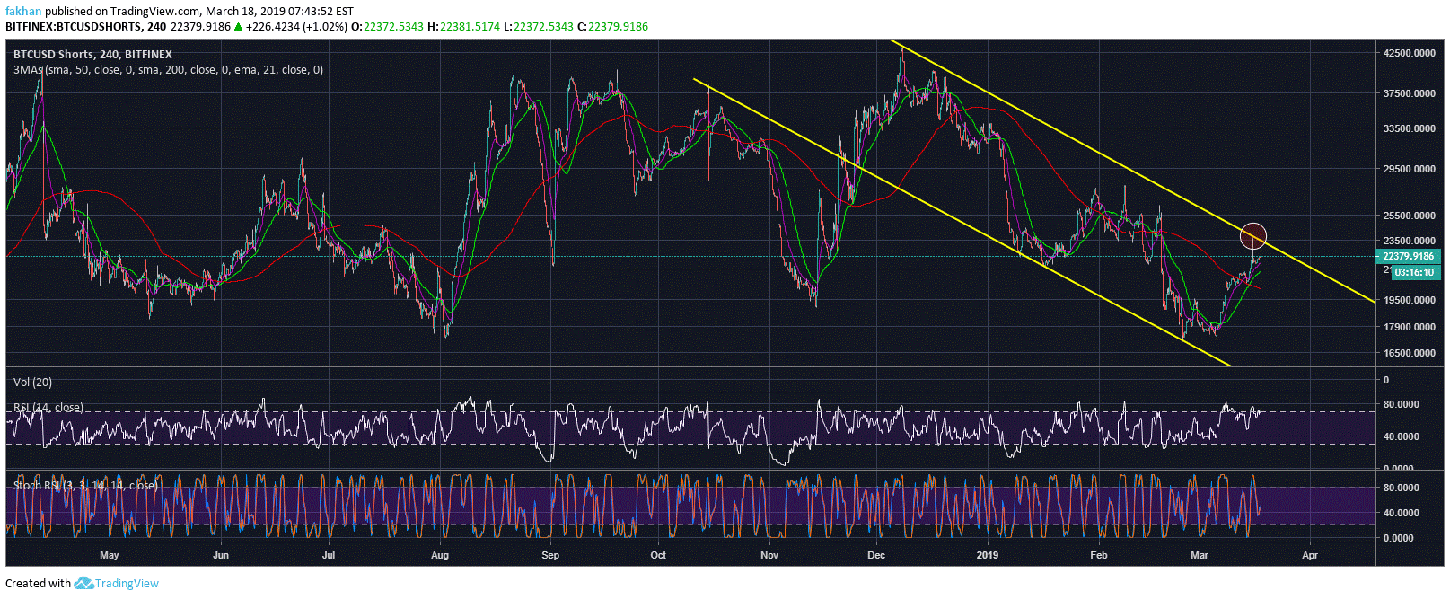 The 4H chart for BTCUSDShorts shows exactly what is going on. The number of margined shorts reached a strong barrier at the trend line resistance and as we can see it was rejected strongly back in the descending channel. We expect the number of margined shorts to decline heavily in the days ahead. This decline will be a lot more aggressive this time as the bears have long been waiting for a decline but when they don't get it, they will give up. Please note that most of the people shorting BTC/USD at this point are very inexperienced. Only a small number of people shorting Bitcoin (BTC) at this point are professional traders who understand what they are doing.
Being short on Bitcoin (BTC) when the price has declined more than 80% is no different than buying Bitcoin (BTC) when the price was trading around $15,000. This is because the retail traders want to go with the flow whereas the professional traders understand it is risky but they want to squeeze every last drop while they can. The weekly close above $4,000 means that BTC/USD could now drop straight to $3,000 or lower levels at any time. The price is oversold short term and might make a few moves to the upside but the long term outlook is clear and a trend reversal is not to be expected without a sharp decline to Bitcoin (BTC)'s true bottom.