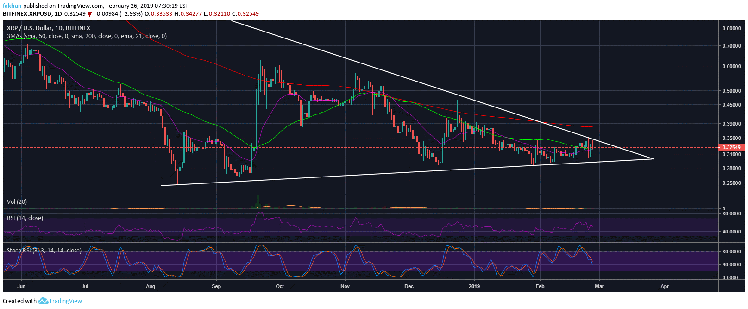 Ripple (XRP) has been known to make the occasional independent move every now and then but recently it seems to have lost its bullish charm. While some believe it to be a result of the loss of dominance due to the entry of JPM coin, others believe it XRP/USD has had a good run and is now due for a long correction before it can rise further. However, we believe that Ripple (XRP) has been trading out of sync with Bitcoin (BTC) and the rest of the market. The bearish pennant that we see in the case of most cryptocurrencies is not seen in the case of Ripple (XRP). In fact, if anything, the daily chart for XRP/USD shows that Ripple (XRP) might be due for a massive breakout if the golden cross seen on the chart comes to fruition.
For the past few weeks, there have been some signs that Ripple (XRP) might do something out of the ordinary to make another run while the rest of the market trade sideways or enters another extended correction. This observation was further strengthened by the recent listing of Ripple (XRP) on Coinbase Pro. In light of all of these developments and further possible developments to come, it would not be surprising to see XRP/USD make its own moves in the days ahead and rise aggressively to defy Bitcoin (BTC)'s pull once again. The daily chart shows that both the RSI and the Stochastic RSI look very favorable for such a rally and the price is also holding strongly above the 50 day moving average. The only resistance that we see short term is the 200 day moving average which will ultimately have to be broken if the price intends to rally successful after breaking out of the wedge.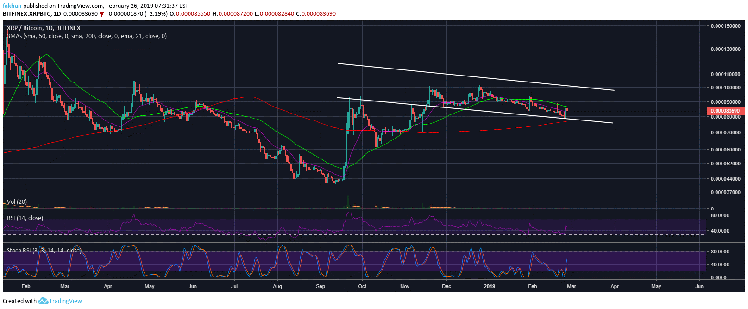 Ripple (XRP) has recently been the second largest coin by market cap but has now lost that title back to Ethereum (ETH). We believe that Ripple (XRP) enjoyed that position and it gave it a sense of credibility and acceptance that we have not seen before. This is why we expect that there might be an attempt to reclaim that title back. Vitalik Buterin of Ethereum (ETH) recently took to twitter to praise XRP for its adoption and partnerships but there is no comparing him with Brad Garlinghouse, the CEO of Ripple (XRP). The Ripple (XRP) team is a group of hardcore business professionals who are exceptionally good at what they do. They may not have a superior product to Ethereum (ETH) but what they lack in tech and product; they make up for it in business skills, ambition, partnership, outreach and strategic planning.
There is still a looming threat that could prevent the golden cross from coming to fruition and that is the potential death cross on XRP/BTC. If this comes to completion, all bets are off and Ripple (XRP) investors might have to wait a long time for the price to recover even to its current levels. That being said, as long as that does not happen, there is every reason to believe that Ripple (XRP), in light of recent signs and developments, is poised for another independent rally that might surprise the crypto community once again.